How to attract customers to your website
.
Get discovered and booked online. It's time to grow your service business.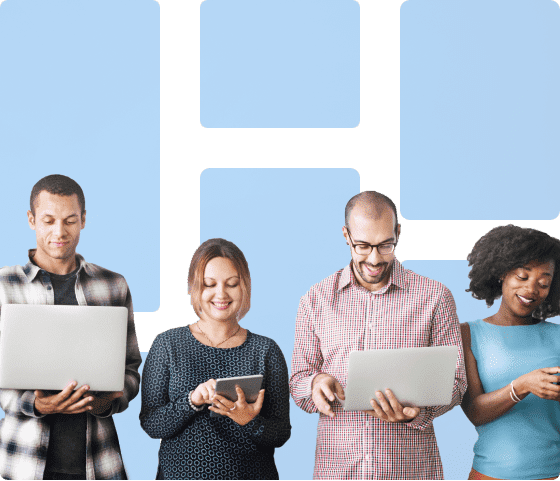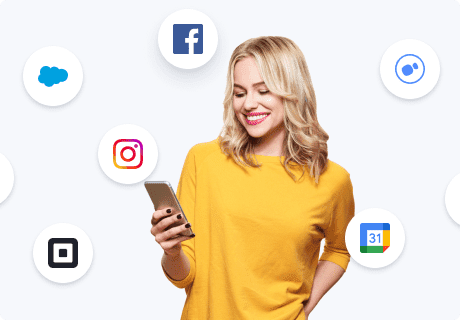 How do I get my business noticed online?
It's a question that every business owner faces. If you're online, you have to consider how to get more visitors to your website. At Setmore, we work with organizations of all sizes to develop features and integrations that get you discovered.
Learn how to improve your website's performance and get more eyes on your services. We'll cover everything from increasing traffic to your website and Booking Page, to SEO and enhancing your social media presence.
Let's get your business in front of your ideal customer ASAP.
Up for discussion.
Making your business stand out in search results
Booking Page and website optimization tips
Adding booking options to your online channels
Understanding who your website is reaching
Utilizing data to better your booking experience
Have processes in place to capture leads online
If any of these concepts sound daunting, we've got your back throughout. Follow our step-by-step instructionsthat break everything down. A few simple tweaks could be all it takes to get more customers through your virtual doors.
Over 70% of small business owners think online marketing is very effective or effective for attracting new customers (Fundera). Optimize your website for search engines
.
What is website optimization?
Website optimization (or SEO) refers to strategic changes that enhance your site's visibility in search engine results pages (SERPs). Both your Booking Page and website can be optimized. They work under the same rules specified by Google.
There are a number of practical ways to improve website performance and increase your visitor count.
1. Improve your Google search ranking.
Keywords for website optimization.
A crucial element of site optimization is selecting the best keywords to include in your content. Incorporating the most relevant keywords in pages can help you appear higher in search engine results.
For example, if you run a salon in Palm Springs, you'd want your site to appear when a local prospect searches 'blow dry palm springs'. By using this phrase on one of your site pages, Google can understand your service offering better. When that happens, your site is favored and moved up in search results, for this particular keyword and a handful of related ones.
Selecting the right keywords and tailoring content around what your target audience is searching helps boost traffic. Your content satisfies a demand, so your visitors are also more likely to perform an action, like book an appointment.
Keyword research is the first step of an effective search marketing strategy for any service business. Drill down into what your ideal customer is looking for and answer their questions with new pages or blog posts.
And, to make things sweeter, you can find the right keywords for your local business for free 🏆
5 of the best free tools for keyword research.
Implement keywords in your site page copy, blog posts, guides, video content and more, so search engines recognize you as an authority in your field.
Optimizing your page titles (or title tags), meta descriptions, image alt-attributes, and URLs will also help your business rank higher for local searches.
How to optimize your website for Google.
Here's a quick run-through of small business SEO tips for improving web traffic.
Google is a pro at spotting pages that are stuffed with keywords. Choose your target keywords carefully so your site is not negatively impacted.
Providing new content regularly is one of the most important factors to improving your visibility.
The longer your users spend on your site, the better. This tells Google you're serving high-quality content that viewers find useful. Keep an eye on metrics like bounce rate and clicks per session (See Analytics section).
Links to your website from social media and relevant sites show that others find your content valuable (so Google should too!).
Ensure your website is optimized for mobile visitors, as more people are searching and conducting transactions on their iOS and Android devices.
To learn more about website optimization, check out these free SEO training courses from Hubspot and Google.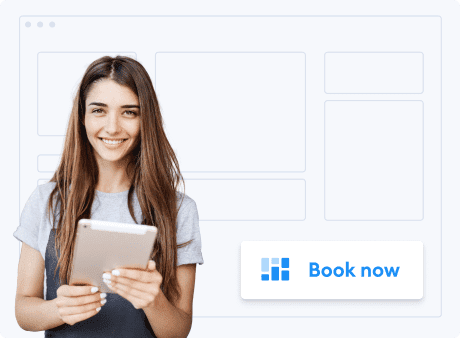 2. Why do small businesses need a website with booking options?
A website booking system empowers visitors to self-schedule appointments 24/7. There's no need for them to call or email you directly to confirm. Get ahead of your competition by making it simple for clients to book your services online.
Every Setmore account comes with a customizable Booking Page. If you don't already have a website, your Booking Page can be used as your online storefront.
If you have a business website, display a sleek 'Book Now' button on any page. The button links straight to your Booking Page, allowing clients to browse your service menu, select a convenient time slot, and pay for appointments.
Benefits of the booking widget from Setmore.
Take appointments after-hours and capitalize on global traffic
Accept debit and credit card payments in advance with Square
Create staff profiles and direct customers to particular specialists
Automate booking confirmations and reminders for customers
Link your Booking Page with WordPress, Shopify, Wix and more
Options to change your Booking Page's language and currency
Brand your Booking Page with your business' logo, colors and photos
Get real-time calendar updates with each booking from your site
Read more about personalizing your Booking Page in our set-up guide.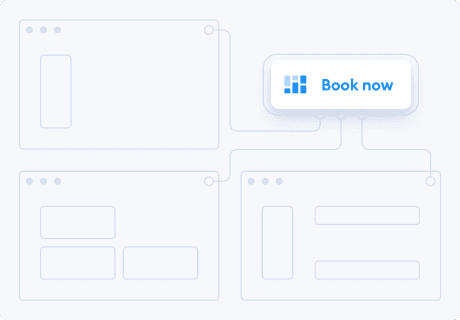 3. Raise awareness with local link building.
Your website domain is like a digital business card. The trick is to hand it out wherever you can, just as you would at a networking event. The more places your Booking Page or website appears online, the better chance you have of being discovered by new customers.
Generating links from other websites boosts your domain authority, a key factor in improving your visibility in SERPs.
Consider reaching out to local news sites or bloggers and asking them to collaborate on content. Guest posting or adding your company to a directory are additional ways to build backlinks to your website.
Sharing is caring.
With Setmore's EasyShare feature [Coming soon], you can view individual URLs for your services and staff in one place. Share your full Booking Page URL or the most relevant links with digital outlets easily. You can also drop links into emails, LinkedIn posts and more, to drive traffic to your Booking Page.
How to use EasyShare for your link building campaign.
Log into your Setmore account (sign up here 🏆)
Click the icon in the left-side navigation bar.

Find the booking link you'd like to share.
Copy the link and paste in emails, articles and more.
Need some help? Here are step-by-step instructions for using the EasyShare feature. [Coming soon].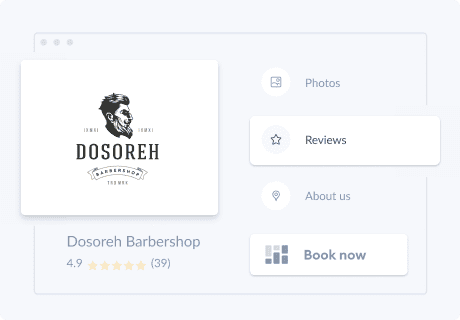 4. Bring that branding to your Booking Page.
Personalize your Booking Page's branding and make your business easier to find online.
You can customize your Booking Page URL in 3 easy steps so it features your business name. You could also target relevant keywords in your URL (e.g by service type or location), helping your Booking Page appear in local searches.
Top it off by adding your logo and brand colors. As a Setmore admin, you're also able to display customer reviews and an Instagram stream to showcase your skills.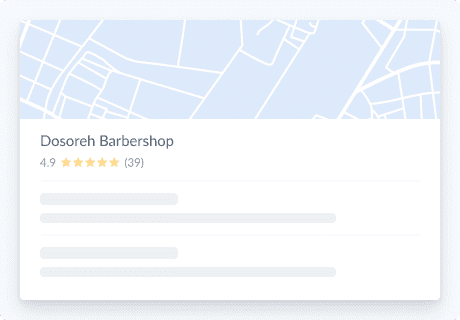 5. Get listed on Google Maps
A Google business listing is vital to brick-and-mortar businesses getting found. If you're wondering how to get your business on Google Maps and in local search results, start by creating a Google My Business account.
It's free to sign up and edit your profile. Not only does GMB improve your Google search ranking and visibility, it allows you to share company information, photos, reviews and special offers. Select business types can even add a booking option in their listings to get appointments from SERPs.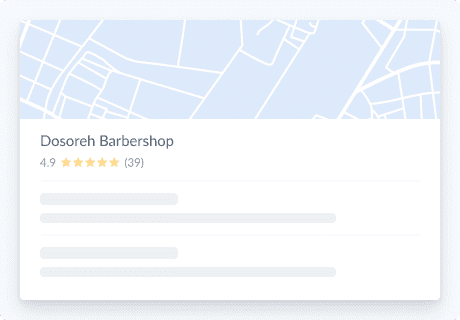 6. Which leads us to… enhancing your Google business listing.
Reserve with Google is a free tool for service businesses based in the US. Gain an edge on local competitors with a 'Book' button, which enables you to accept bookings from Google Maps and SERPs. There's no need for searchers to even visit your site.
No matter where your appointments come from, the details are centralized in your Setmore calendar. When a searcher clicks 'Book' in your Google listing, your Booking Page appears and showcases your services and availability.
How to set up appointment booking on your Google listing.
Log into your Setmore account or sign up for free.
Navigate to Apps & Integrations > Reserve with Google. Check if your business is eligible. If so, click the 'Activate' button.
Confirm your company address and that your business is Google-verified. If not, you can get verified on Google My Business
Select 'Submit to Google' and wait for activation. This typically takes 72 hours.
For illustrated instructions, view our support article on how to add a 'book' button to your Google listing.
Take advance payments for your services with the Square integration. Your customers can checkout directly from your Google listing 💰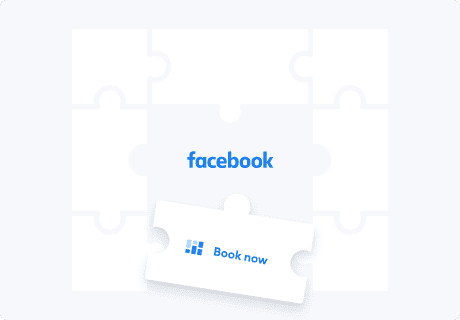 Use social media to promote your business
.
According to Adespresso, there are 2.8 billion active users on Facebook per month. This is closely followed by Instagram, which has over 1 billion active users. If you're thinking about how to market a small service business, social media opens you to an expansive pool of prospects. Here are some cost-free ways to use social media to grow your business.
Monetize your Facebook page.
Enable customers to schedule appointments directly from your profile and posts. By adding a 'Book Now' button, your content goes beyond simply promoting to capturing more customers.
The button is connected to your Booking Page. When your online audience clicks, your service menu, fees and availability appear. Turn likes and shares into new appointments for free.
Your Facebook ads can also feature a booking button. Encourage viewers to take action right away, at the peak of their interest. Booking and payment details land instantly in your calendar.
Set up your Facebook appointment booking system.
Log into your Setmore account or create one for free.
Head to Apps & Integrations > Facebook and click 'Activate'.
Authorize Setmore to connect with your Facebook account.
The 'Book Now' button will appear on your Facebook page, linking visitors to your Booking Page.
For more, read our guide on how to set up appointments on a Facebook business page.
Generate appointments on Instagram.
Instagram is all about getting seen, so let's transform those views into bookings. With the Setmore-Instagram integration you can add a 'Book Now' button to your Instagram business page.
Let profile visitors schedule and pay for appointments directly from your posts, stories and ads. One click they can access your full Booking Page, without having to leave the Instagram app.
Get booked in an Insta-nt.
Log into your Setmore account or sign up for free to get your Booking Page URL.
Open your Instagram profile and navigate to Edit Profile > Contact Options.
Choose 'Add an action button' and 'Setmore' to continue.
Paste your Booking Page URL where prompted and click 'Done'. The 'Book Now' button will appear on your Instagram page, directly viewers to your Booking Page.
Check out our support article for more details on the Setmore-Instagram integration.
Stream your latest Instagram posts on your Booking Page and show potential customers what they're in for. Find out how.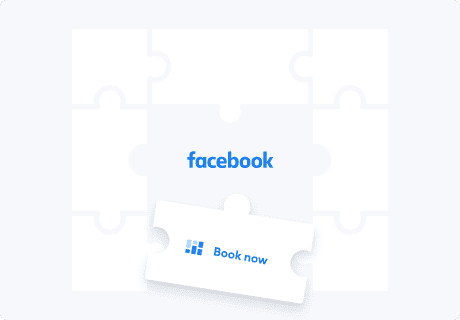 Get to know your audience.
.
To grow your service business online, you need to understand how visitors are engaging with your website. Audience analytics provide insights into what attracts users to your site, how they find you, their demographics, and how they behave when they reach your site.
You can use this data to improve your customers' online booking experience and inform your marketing activities. Check out these free audience analytics tools that you can use to get traffic to your site and increase bookings.
Use Google Analytics to track website visitors.
With the Setmore and Google Analytics integration, you're able to add tracking codes to your Booking Page and record visitor activity.
What data can Google Analytics collect?
Visitor demographics, e.g age and location
The interests of your visitors
Your top-selling services
How long users stay on your Booking Page
What your traffic is coming from
What links are clicked the most
Your most popular content
How users navigate between pages
Use this data to identify if your Booking Page is reaching your intended or ideal audience, where most of your bookings come from, at what point visitors abandon the booking process, and more. With insights specific to your account, you can optimize your Booking Page to give customers more of what they want.
Tracking helps you create customer personas to ensure your marketing targets the right prospects. For example, if you find most of your customers prefer to book through Instagram, you can invest more in your organic posts and advertising.
Make your marketing work smarter and give your promotions a greater chance of being interacted with.
Set up GA tracking for your Booking Page.
Log into your Setmore account or sign up for free.
Create your Google Analytics account and add your Booking Page details.
Click the 'Get Tracking ID' button.
In Setmore, head to Apps & Integrations > Google Analytics.
Enter your GA Tracking ID where prompted and you're ready to monitor your online traffic.
For more details, read our guide to the Setmore-Google Analytics integration.
Monitor visitor activity with Google tags.
Google Tag Manager is a free tool that tracks how users interact with your website. Implement snippets of code on your Booking Page or site to explore how visitors behave. Understanding the motivations of your traffic enables you to tailor your online booking process.
What can Google Tag Manager track?
Traffic volume
Link clicks
Page clicks
Page views
Scroll depth
Time on page
Abandoned shopping carts, and more
Connect Setmore with Tag Manager to determine how to structure your Booking Page and maximize conversions. For example, you may consider moving popular services to the top of your service menu, or amending prices for services that have high engagement but low bookings.
Set up Google tags for your Booking Page.
Sign up for a Google Tag Manager account.
Create a 'Container' and copy the Container ID.
Log into your Setmore account (or sign up for free).
Head to Apps & Integrations > Google Tag Manager.
Paste the Container ID in the form where prompted and save.
When you create new tags in GTM, they'll automatically be added to your Booking Page and allow you to track behavior.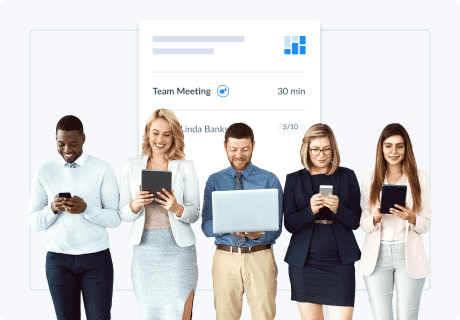 Email marketing for small business owners
.
At present, over 4 billion people around the world use email (Statista). Additionally, email is the second most-favored channel for sharing business-related content with peers, behind LinkedIn (Demand Gen Report).
Promotional emails aren't limited to your subscribers. One person could view your content and forward it to countless others, increasing awareness of your services.
Email marketing is one of the most cost-effective ways to market a small business and build a loyal fanbase. The key to successful email list building is to provide relevant, valuable content that encourages subscribers to continue engaging.
Benefits of email marketing for service businesses.
Emails have a greater ROI than many other forms of digital marketing. DMA states that for every $1 invested on emails, businesses can expect an average ROI of $42.
It's simple to measure the effectiveness of your campaigns. Most email platforms provide metrics like open rate and link clicks.
You can reach customers with personalized offers at any time, year-round.
80% of small-medium businesses can't be wrong. Email marketing is their primary tactic for customer retention (Emarsys).
An effective email marketing flow automates the sales funnel. Segment your leads and customers and ensure they're catered to.
According to Statista, 49% of consumers would like to get promo emails from their favorite brands weekly. Go ahead, they're waiting to hear from you.
Creating a video lead magnet.
A lead magnet is a valuable piece of content that's offered to your clients in return for their email address. It's the cornerstone of many email marketing strategies for small businesses. Give potential clients an incentive to become a subscriber, nurture the relationship and encourage them to book your services.
The Setmore and Teleport video integration can assist you in developing lead magnet ideas for your service-based business. In addition to facilitating free virtual meetings, Teleport allows you to record your screen and download footage. Why not create a training video, webinar or tutorial, and offer it as a lead magnet to prospects?
Not only will this help raise awareness of your business, it positions you as an authority in your field.
Offer further convenience to clients that reach out by automating 1-click Teleport links for appointments. These display in your customers' email confirmations and enable you to provide virtual consultations (and classes with Pro) to subscribers across the globe.
Ready to add video events to your email list building strategy? Here's how to host and record video meetings for free with Teleport.
Automate your email list building.
Capturing client details during the booking process is one of the simplest ways to build your email list. New clients are already highly-engaged with your business and likely to book again if you provide top-notch service. Create more return visits by engaging your latest customers with targeted emails.
Setmore integrates easily with Mailchimp, MailerLite and Constant Contact. Once activated, you can automatically export customer details to your preferred email list at the time of booking. That goes for contacts added via your calendar, Booking Page and the 'Customers' tab in your app.
Keep the conversation going year-round and provide customers with relevant updates and offers to stay fresh in their minds.
Learn about email marketing automation with our Mailchimp, MailerLite and Constant Contact integration guides.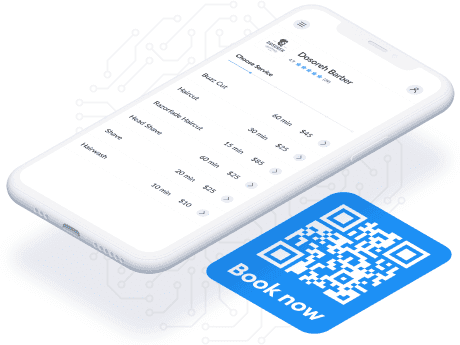 Watch this space
.
QR codes are coming soon to Setmore. One scan with a smartphone camera and your audience is directed to your Booking Page. Add a code to your storefront, merch and more.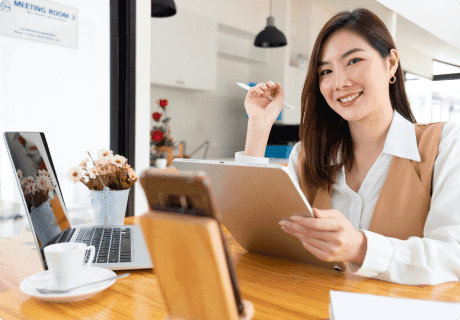 How to get more clients for your service business
.
Put your best foot forward and get your business seen. For further support on how to activate our free business marketing tools, read Setmore's support guides:
Make the magic happen, we'll make sure it happens on time.
Sign me up