Accept payments online with Stripe
.
Add a payment gateway to your calendar and Booking Page with the Stripe integration.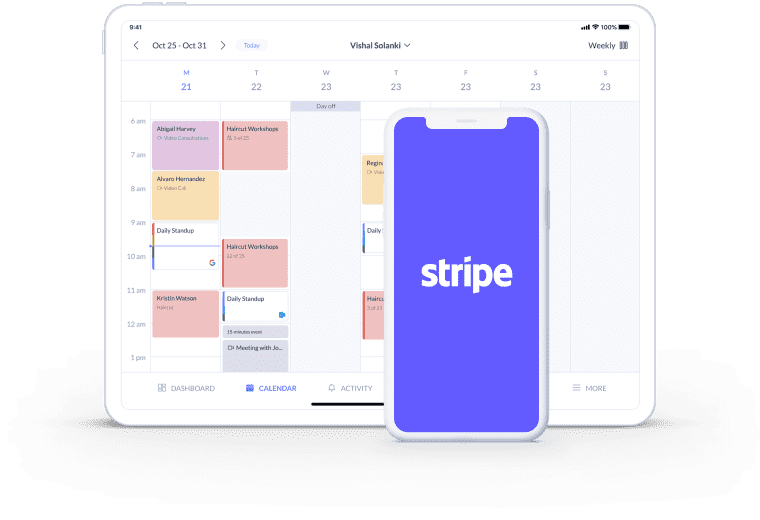 Get paid online 24/7

Use your customer-facing Booking Page to take secure debit and credit card payments for appointments.

Your all-in-one solution

The Stripe online payment integration allows you to take prepayments, add discounts, send receipts and more.

Access Premium features

Accept payments with Stripe, set recurring appointments and automate text reminders with Setmore Premium.
Track every transaction with the Stripe payment integration
.
Get paid for appointments in advance with Setmore and Stripe. Accepting card transactions straight from your Booking Page ensures a higher commitment to attend.
Use this integration to set up a streamlined POS system, monetize virtual appointments and take secure global payments.
How long does it take to integrate Stripe?
Activating payments through Stripe takes just a few minutes
In Setmore, go to Settings > Payments and click the 'Activate' button.
Sign in with your Stripe details to allow Setmore to connect.
Head to Settings > Payments > Booking Page and follow the prompts to begin taking payments through your Booking Page. It's that simple.
Simplify your payment process
.
Increase your bookable hours with Setmore and Stripe appointment payments. Connecting your accounts allows you to view transaction details straight from your calendar, generate digital receipts and process payments online or in-person.
Save hours on confirming payments and focus on customer experience.
Turn your online channels into payment portals
.
Use Stripe to accept payments online for appointments gained from any digital channel. Whether a customer books through your Booking Page, website or Facebook, they can pay ahead of time quickly and easily.
Request full or part payment - via credit or debit card - prior to confirming appointments.
Automate routine financial tasks
.
Your Stripe booking plugin works in the background to take payments and keep transaction details updated. Centralize your payment information and spend less time on bookkeeping.
With Setmore and Stripe, you have comprehensive appointment and revenue data to inform your business' financial strategy.
Reach a global audience with your services
.
FAQs
.
Although fees vary by country, Stripe will charge US-based users 2.9% + 30 cents per transaction. Setmore doesn't add any additional fees, so you can book as many appointments through your Booking Page or calendar as you like.

No. Setmore merely acts as a pass-through for data that's sent to and from Stripe. Your customers' credit or debit card info is never stored in our servers.

Once you have Stripe activated in your Setmore Premium or Pro account, go to Settings > Payments > Booking Page. Follow the prompts to activate Booking Page payments. You'll be asked if you'd like payments to be mandatory at the time of booking. If so, customers will be given five minutes to submit payment while booking, otherwise their chosen time slot will become available to other customers

You can apply discounts or fees on a transaction-by-transaction basis when processing payments through your calendar. However, any discounts or taxes you apply to transactions made through your Booking Page will apply to all transactions made through your Booking Page

Yes! Create a class or group event and customers can reserve their spots online. If you have a Free account, you can get paid with Square. With a Premium or Pro account, you can take payments via Stripe or Square

Yes, you can add a video meeting link to any appointment type on your Booking Page. If you have a Free account, you can host Teleport video meetings with up to 4 people and get paid with Square. Premium and Pro subscribers can also accept payments via Stripe or PayPal and host larger groups with Teleport Premium or Zoom
For more information, check out our Support Center

Make the magic happen, we'll make sure it happens on time.
Sign me up