Stream Instagram Pictures and Get More Appointments
Your digital photo album that's built for online photo sharing. Instagram is a great way to market your business if your services produce some eye-catching visuals (e.g. haircuts, personal trainers, designers, artists, etc.).
How it works with Setmore
Stream your Instagram photos directly to your Booking Page, allowing you to show off your work and encourage customers to book an appointment. Only photos with a specific hashtag (which you provide) will be imported.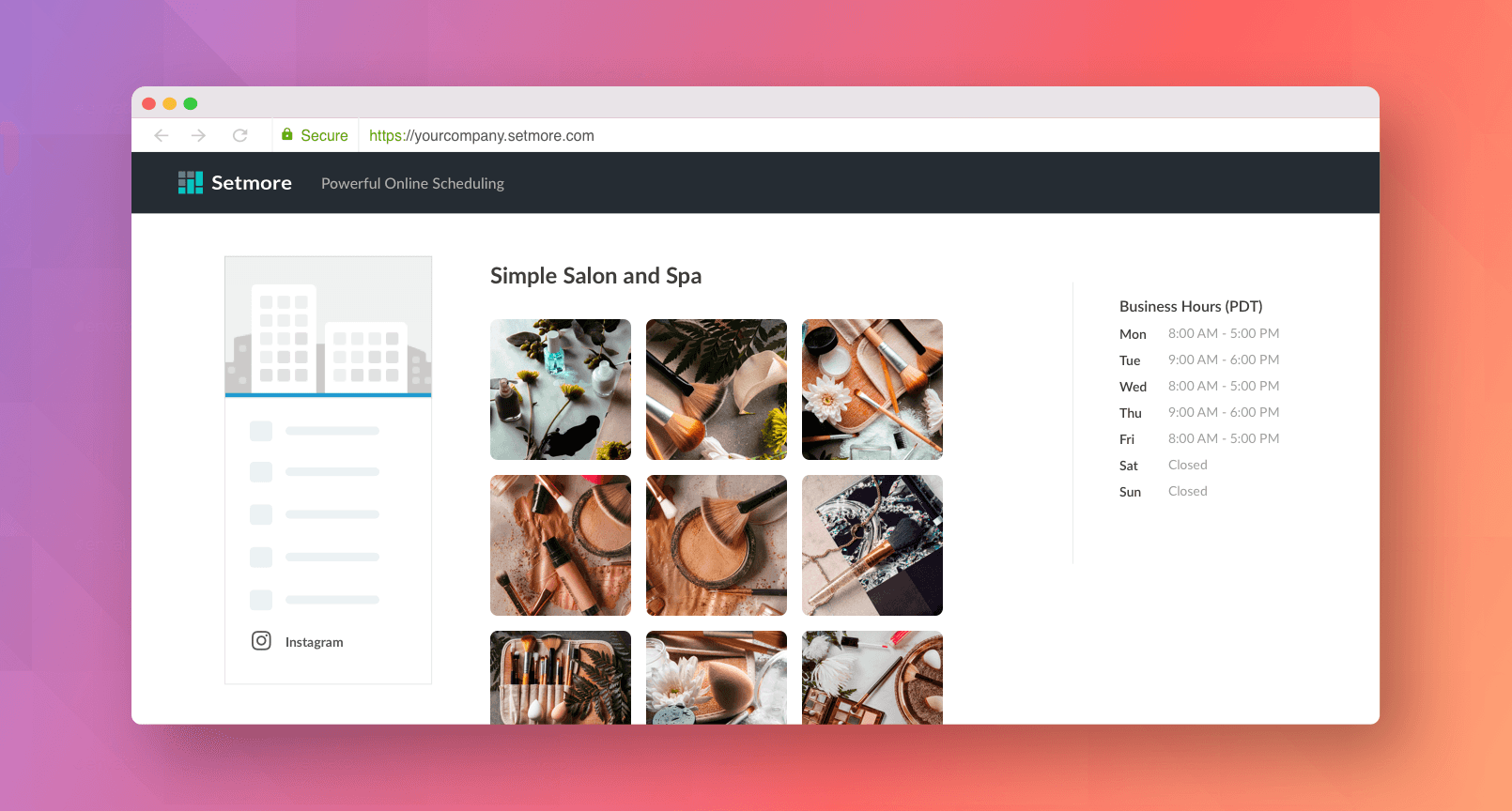 Visit Instagram.com
Showcase Photos, Book Appointments with Customers
Every Setmore account comes with a free online Booking Page, allowing your customers to schedule appointments with you anytime day or night. With the Instagram integration, you can liven up your Booking Page by streaming photos directly to it. Customers will get to check out all your amazing work while deciding what services they want to book for themselves.
Setting up the plugin is super easy. If you haven't already, sign up for a free Setmore account to get started!
Use Stunning Photos to Boost Your Business
If you already have an Instagram account that's filled with visually-rich, engaging images then this integration will have the most impact for you. Do you run a salon, a bake shop, a dance studio, or give personal training lessons? Look for opportunities to take interesting photos and post them online, directly from your phone. Look up competing businesses in your industry to see what they're doing, and look for examples that inspire you.
Use the Instagram integration for Setmore if any of the following apply to you:
You use Instagram to interact with customers or followers online.
You regularly take high-quality or interesting photos related to your work.
You want to get more likes on your Instagram photos, while giving customers the opportunity to schedule an appointment with you online.
Filter Photos on Your Booking Page by Hashtag
Once the integration is activated, you can choose a hashtag and Setmore will only stream photos from your Instagram account with the specified hashtag. This can be useful if you want to highlight some professional photos that are originally sourced from your personal Instagram page, or if you want to narrow down which photos get streamed by a sub-category (such as "haircuts," for a salon that does both haircuts and hair color).
Install the Integration in a Snap
Link your Instagram account to your Setmore account in a few easy steps, no coding experience required:
Step 1: In your Setmore account, go to Apps & Integrations and click on the Instagram feature.
Step 2: In the Instagram sub-menu, click Activate and follow the prompts. You'll need to authorize access for Setmore to continue.
Step 3: Specify a hashtag and Setmore will only stream photos with that hashtag to your Booking Page.
Frequently Asked Questions
When I click "Activate" in the Instagram sub-menu, the window closes abruptly and doesn't show that the integration was activated.
Make sure that you are logged out of Instagram in your web browser prior to activating the integration. You may do this by opening your Instagram page in your web browser, then click the gear icon next to your username and select "Log Out." Setmore needs a fresh Instagram login from within the app in order for the permissions to be shared correctly. If all else fails, try activating the integration in a separate web browser.
Follow Setmore on Instagram
Do you have a killer Instagram page for your business, with tons of high-quality photos of your work? We love seeing and promoting work from Setmore users. Follow Setmore on Instagram and see what other Setmore-powered businesses are creating!