Book and host Zoom appointments
.
Automatically add Zoom meeting links to appointment confirmations. Connect Setmore and Zoom today.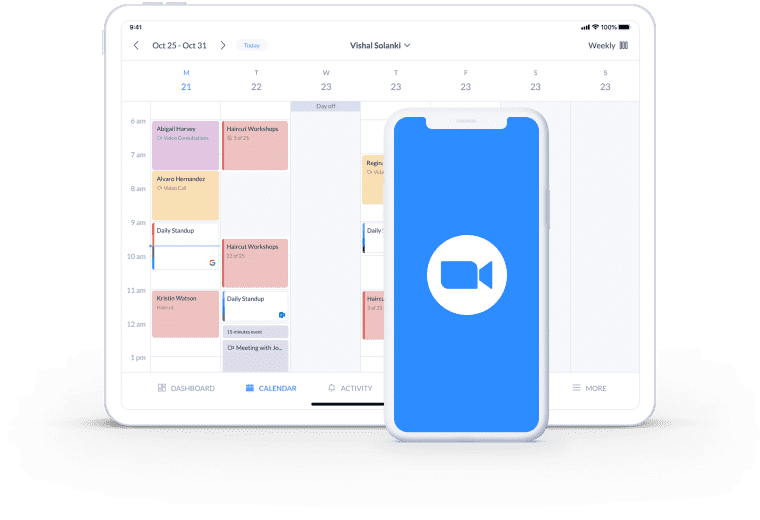 Share 1-click Zoom links

Pick the 1:1 or group services that require a video meeting. When an appointment is booked, Setmore sends a Zoom link to you and your customer.

Automate personalized reminders

Make no-shows a thing of the past with automatic email and text reminders for your Zoom appointments. Keep your staff and customers in the loop.
Your all-in-one Zoom appointment scheduler
.
Zoom is a cloud-based platform that lets you video call, chat and collaborate virtually. Integrate Zoom with Setmore to book and host online meetings, classes, webinars and more.
Automatically add video meeting links to appointment confirmations and chat face-to-face with a click.
Setting up your Zoom scheduling app
.
The Gmail booking plugin from Setmore is hosted in the GSuite Marketplace. To install it, log into your Gmail account
Log into your Setmore web app and head to Apps & Integrations > Zoom.
Click 'Activate' and assign your Zoom user ID to your staff profile.
Select the services and classes that should be video-enabled.
Let Setmore automatically create Zoom meeting links when a video appointment is booked. Links are sent to staff and customers in their appointment confirmations and reminders.
Looking for a full step-by-step guide? Check out the Setmore-Zoom integration support article.
Less organizing, more connecting
.
Reduce time spent arranging meetings with a Zoom appointment booking app. Your Booking Page displays your availability in your customer's timezone.
When they book a video-enabled appointment, Zoom links are automatically generated via Setmore. These 1-click video links are sent in booking confirmation emails to both of you.
Open your services worldwide
.
Offer virtual consultations and reach customers across the globe. Your Zoom booking software from Setmore enables you to host 1:1s, group classes, webinars and more.
Take payments ahead of time from your Booking Page and let participants join from Anywhere.
Book multiple Zoom meetings at once
.
Reserve time in your calendar for repeat sessions, from regular Zoom classes to standing team catch-ups. No matter how far in advance you book, all guests receive automatic reminders to attend.
Turn one-off Zoom sessions into daily, weekly or monthly appointments with the flip of a switch.
Booking Zoom meetings made easy
.
FAQs
.
Yes. To join meetings, both the staff member and customer must have the Zoom app downloaded on their computer or mobile device. To host video meetings without any plugins, try the Teleport integration.

Yes. Whether you or your customer books a Zoom meeting, the automated link will appear in the email confirmations and email reminders sent to both of you.

No. Currently, you can connect only one user ID to a Setmore staff profile. We're working on multi-level user ID mapping that will be launched in the near future.

No. The Setmore-Zoom integration is a Pro and Team feature.
For more information, check out our Support Center
Make the magic happen, we'll make sure it happens on time.
Sign me up