Book Appointments with Customers from Your WordPress Site
The quintessential open-platform website builder and a mainstay for online businesses. WordPress lets you build websites for free (with paid monthly plans for expanded functionality).
How it works with Setmore
Embed your Setmore Booking Page on your WordPress website to start taking appointments online. Setmore provides easy copy-and-paste code that you can input directly into your website's source code, or you can install and deploy the Setmore plugin for WordPress.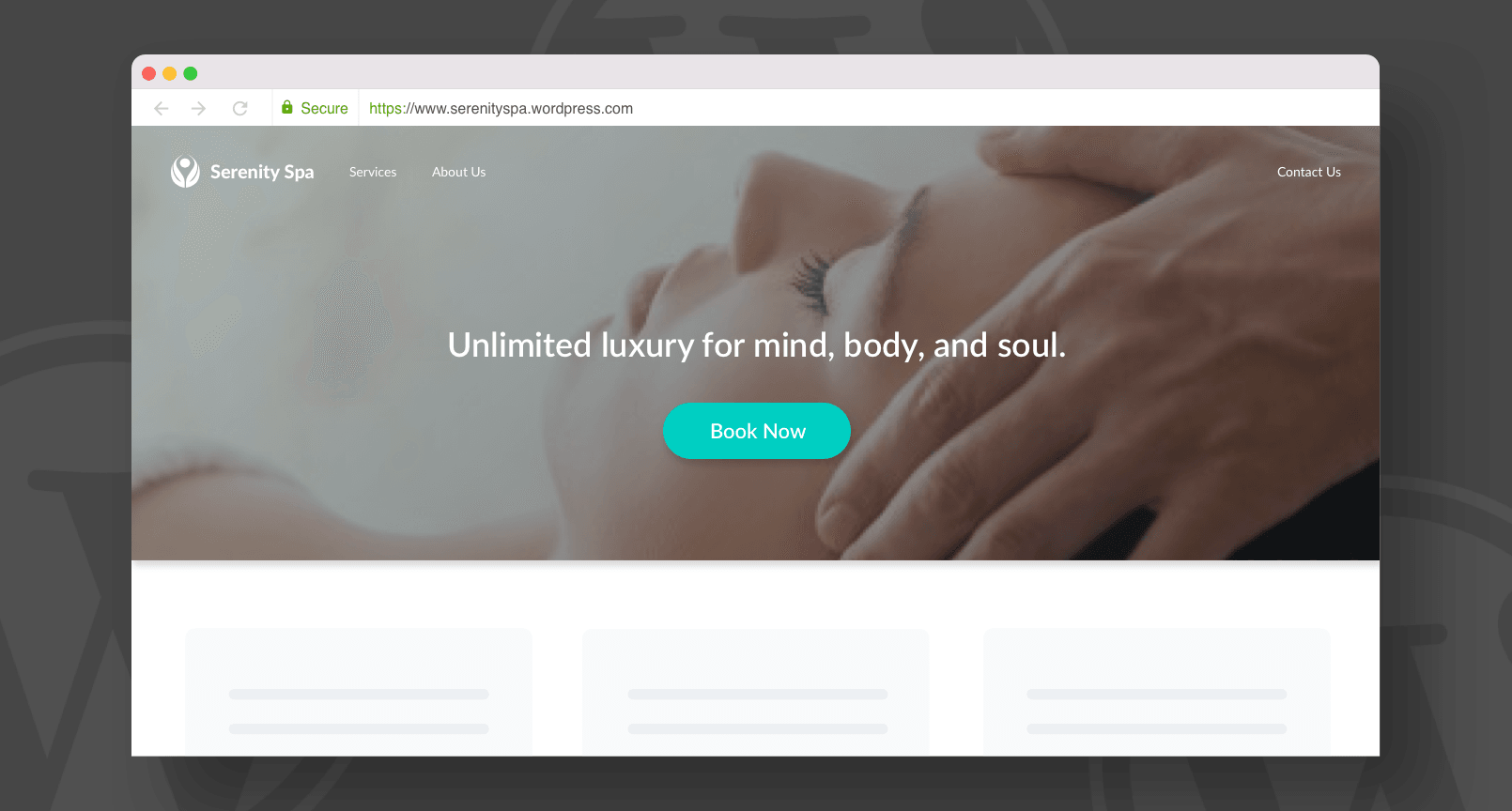 Visit Wordpress.com
Setmore Expands Your Ability to Reach Customers Online
What's the one thing you need to create a winning online presence that serves your business and helps you grow? Customers need to be able to book appointments with you online! When customers call in to schedule an appointment, you risk losing them if they encounter a busy line or have to leave a voicemail. By making it as easy as possible to book an appointment online through your WordPress website, you maximize your chance of converting your online visitors into paying customers.
Don't have a Setmore account? Sign up for a free and get started in minutes.
Automate Customer Intake with Online Booking
Without Setmore on your WordPress website, all customers can do is absorb information. Setmore allows them to turn research into action by booking an appointment online.
You'll be able to make an impact with Setmore and WordPress if any of these apply to you:
Most customers find your business through a search engine.
You want to turn your blog into an appointment gateway that lets customers book online.
Your services are simple enough that customers can pick and choose what's best for them.
Your services are complex, but you want customers to be able to book an initial consult for more information.
How-To: Adding the "Book Appointment" Button to WordPress
The below method will add a "Book Appointment" button to a specific page on your WordPress website:
Step 1: In Setmore you'll select how you want the Book Appointment button to behave (such as, should the Booking Page open in a new tab or in a lightbox? etc.).
Step 2: Setmore will auto-generate a snippet of code that links directly to your Booking Page.
Step 3: In WordPress, you'll open a page to edit and paste the snippet of Setmore code directly into the page HTML. Then, save and publish your changes!
Frequently Asked Questions
Can I customize the way the "Book Appointment" button looks?
While Setmore offers a default visual for the button, it's actually just an image file that links directly to your Booking Page. You can easily sub in your own button image and link it to your Booking Page URL.
How can I add my company logo and contact details to my Setmore Booking Page?
Setmore gives you a wide range of options to customize the information that appears on your Booking Page. Most of these options can be found under the Apps & Integrations > Your Booking Page (Configure) > Company Details menu.
Can I remove the Setmore logo and branding from my Booking Page?
Yes, you may remove Setmore brand elements from your Booking Page by upgrading to a Setmore Premium account. Once you upgrade, you can disable the brand elements by navigating to Apps & Integrations > Your Booking Page (Configure) > Booking Policies, and scroll down to the option for Setmore Branding.