Schedule Appointments with Customers from Facebook
The most widely used social media platform in the world, Facebook provides business-ready pages to help you connect with customers and share your content online.
How it works with Setmore
Add a "Book Now" button to your Facebook page and let customers schedule your Setmore services from Facebook. Customers will see featured services they can choose from.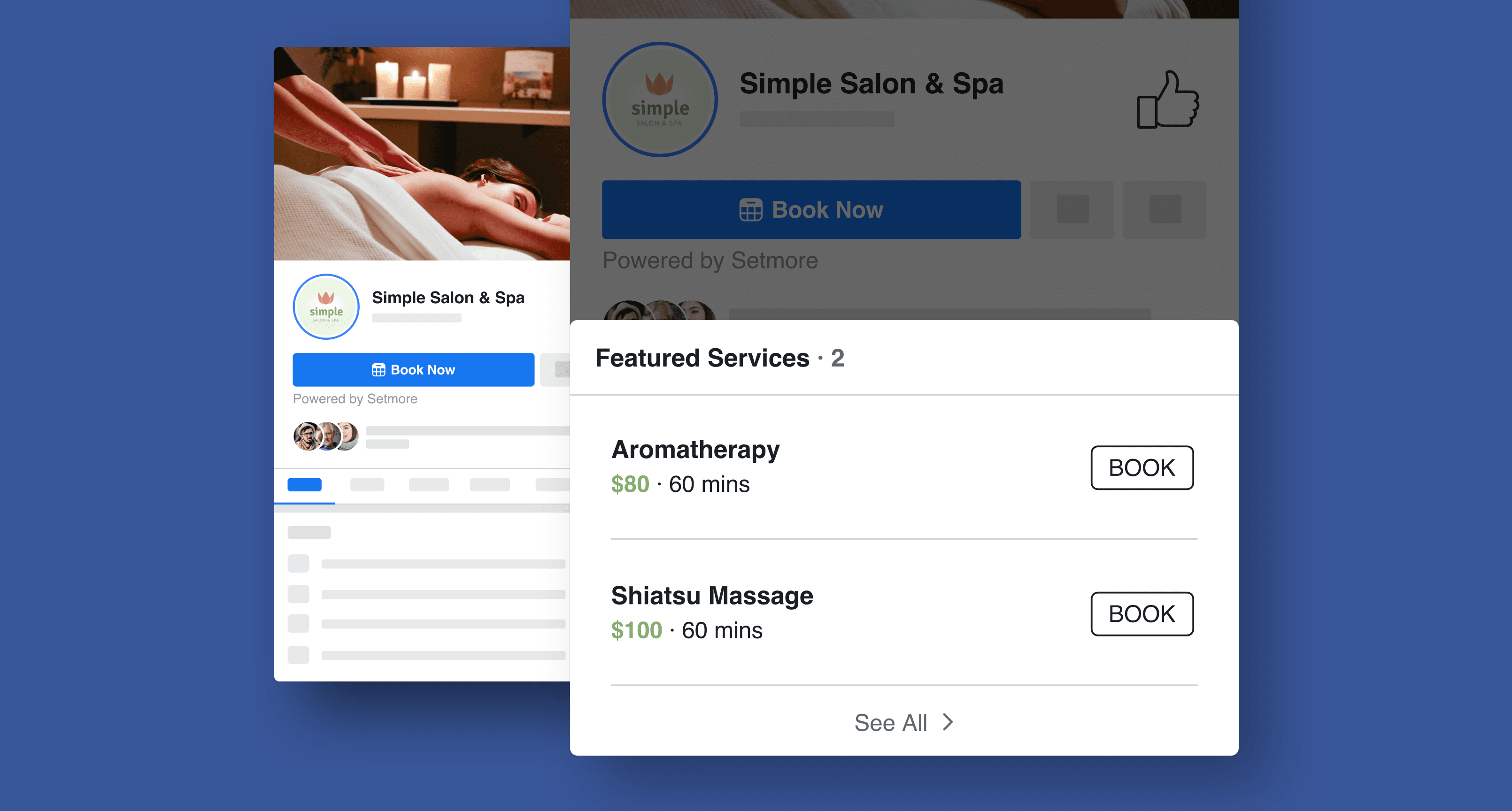 Visit Facebook.com
Go from Likes and Shares to New Appointments
With Setmore linked to your Facebook business page, your customers will be able to schedule appointments with you online. With one click or tap, Facebook will send customers to your Setmore Booking Page, empowering your business to convert more followers into customers.
This integration works for customers on any web browser, and for people viewing your business page in the Facebook app.
Don't have a Setmore account? Sign up for free >
Drive More Traffic to Featured Services
Are there special services that are your best sellers? Or do you have underperforming services that you'd like to draw more attention to? The Setmore integration will add a "Featured Services" section to your Facebook page, allowing customers to scroll up to 10 services and jumpstart the booking process.
Instantly Create "Book Now" Posts
In just a few clicks or taps you can launch a unique "Book Now" post to your timeline. This makes it easy to regularly promote your services, and reduce friction for customers to start a new appointment. With Facebook you can launch your promo posts to your page followers for free, or supercharge your post visibility with a paid boost.
Getting the Most from This Integration
This integration works great for any business with a Facebook page. Not only is it free to activate and use, but also by giving your customers another way to book appointments with you online, you'll most likely see an uptick in new appointments overall.
Use the Setmore integration for Facebook if any of the following apply to you:
You use Facebook as your business's main website.
You often interact with customers or message them directly in Facebook.
You use Facebook to share content about your business with your followers.
Activate in 3 Easy Steps
The Setmore integration for Facebook is easy to activate from any desktop or laptop browser:
Step 1: Log into your Setmore account and navigate to Apps & Integrations > Facebook.
Step 2: Click the "Activate" button in the Facebook menu. You'll be prompted to log in and authorize your Facebook account for use with Setmore.
Step 3: Once activated, the "Book" button will appear on your Facebook page and customers can start booking with you immediately.
Click here for full step-by-step instructions >
Frequently Asked Questions
Can I activate this integration from my Facebook mobile app?
Yes, Facebook gives you the option to link to your Setmore account. When you click "Add a Button" in your Facebook app, choose the "Book Now" option and then select "Connect Another Tool." Then follow the prompts to add your Setmore account and you're good to go.
How do I change my featured services?
Our teams are working on adding the ability to update your list of featured services. Once we've added this feature, you'll find it in the Apps & Integrations section of the Setmore app, under the Facebook card.
Can I connect Setmore to my Instagram account too?
Yes, a standalone integration is currently offered. Click here for setup instructions >
Follow & Like Setmore on Facebook
We post platform updates, tutorial videos and new blog posts on a weekly basis. Follow the Setmore Facebook page to stay up-to-date.