Set up your Booking Page
.
Accept appointments online with your free Booking Page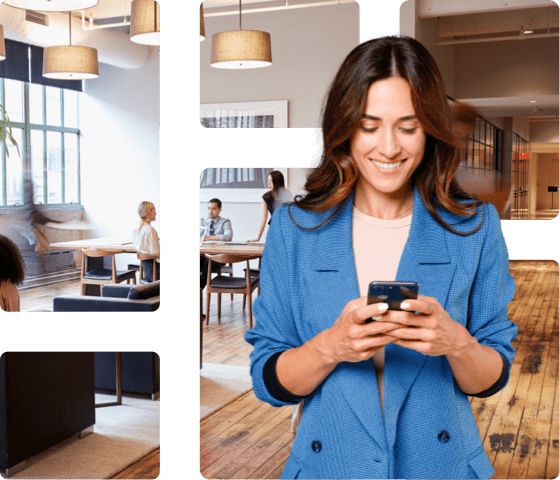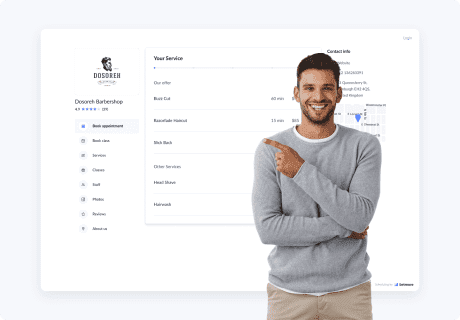 Meet your Booking Page
.
Your Setmore account comes with a free customer-facing Booking Page that displays your services, staff and availability online. Customers can self-schedule appointments 24/7 without needing to contact you.
When an appointment is booked, the details automatically appear in your Setmore calendar. Your customers also receive personalized email reminders to help reduce no-shows.
The magic of automation.
Answering calls and emails takes up valuable time. Your bookable hours should be spent sharing your skills, not manually confirming appointments.
An online Booking Page eliminates the back-and-forth. Set yours up to accept appointments while you work, after hours and on-the-go.
On the agenda:
Elements of your Booking Page
Customizing you Booking Page
Understanding back-end configurations
Taking payments from your Booking Page
Turning online traffic into new customers
Booking Page elements
.
Let's start with the essentials. Here's what your Booking Page features.
Your logo
For the sharpest look, use a square image. This ensures there are no empty spaces around your photo.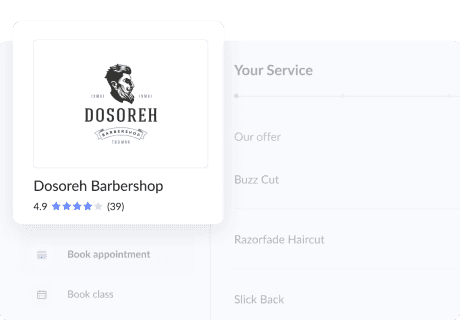 Navigation
Visitors can navigate between your services, reviews, photos, company information and more.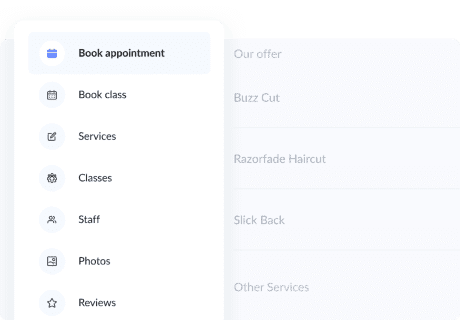 Appointments
Here's where visitors choose a service, provider and time slot. They can also add personal information and, if required, make a payment.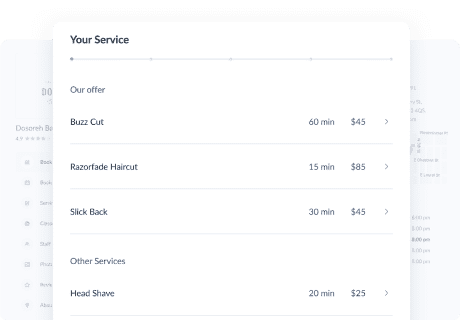 Setmore branding
When you upgrade to the Pro or Team plan, this can be removed.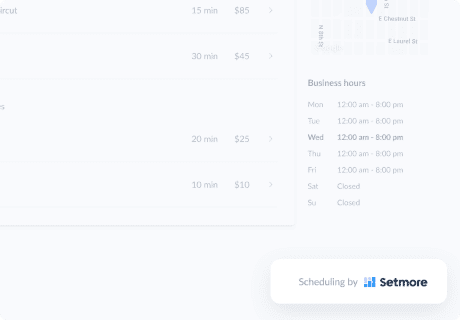 Your Booking Page adapts responsively to different screen sizes, providing an optimal customer experience.
*Please note that you can customize certain elements but not the overall template of your Booking Page (e.g. the background color).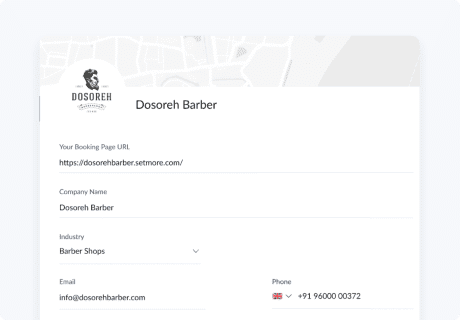 Customize your Booking Page
.
To get the most out of your account, ensure you complete the 'Company Details' section: Apps & Integrations > Your Booking Page (Configure) > Company Details.

Personalize your Booking Page URL. The best ones are short and sweet. Edit yours to make it easy for customers to remember
Display your company logo or add a photo of your team.
Let customers know how to reach you by keeping your contact information up-to-date.
Set your business apart: Create a sleek, branded Booking Page and enhance your credibility to online visitors.
Add thumbnail images for services and staff.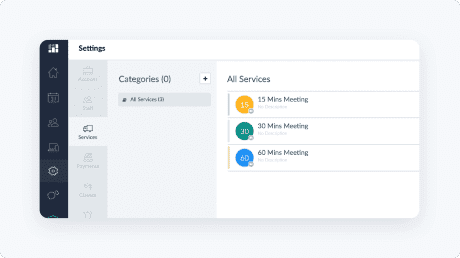 Upload images for your services and staff to give your audience an elevated experience. To add a service thumbnail, simply:
Navigate to Settings > Services.

Click your service of choice to bring up it's details menu.
Click the thumbnail to upload an image.
To add a staff thumbnail, navigate to Settings > Staff and follow the above process.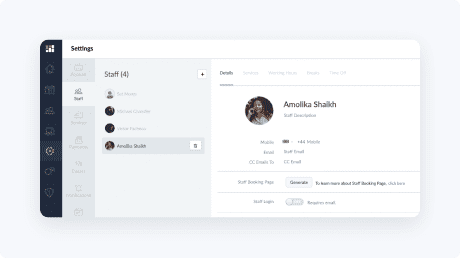 Your Booking Page's time slots sync with your staff's working hours. Ensure each team member's availability is updated, so customers book at times that suit everyone.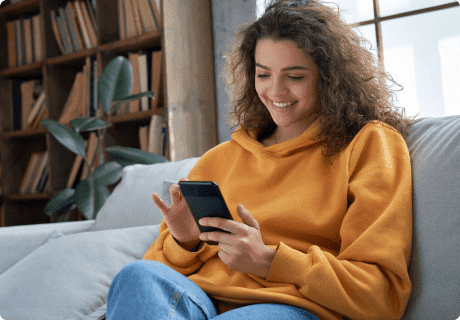 Scheduling, the way it should be
.
Account admins are able to manage how customers self-schedule online. To update your Booking Policies, navigate to Apps & Integrations > Your Booking Page (Configure) > Booking Policies.

Appointment lead time
Determines how soon before an appointment your customer can book.

Booking slot size
Choose whether customers can book 1-hour appointments, 30-minute appointments, or a custom duration that works best for you. For example, if you select a 1-hour booking slot size, slots appear at 9:00, 10:00, 11:00 and so on.

Scheduling window
How far in advance an appointment can be scheduled.

Contact fields
Add custom form fields and get to know your customers better. Phone and email details are taken by default.

Want to dig even deeper?
Your company's experience of Setmore, and that of your customers, means the world to us. Here are additional personalization ideas to streamline scheduling.
Booking Page pop-ups
Provide vital information front-and-center with a custom pop-up message. Customers see your pop-up as soon as they land on your Booking Page. Showcase T&Cs, your cancelation policy and more.

Show local time
Cater to customers from all over the world by converting your availability to individual time zones. This feature is ideal for those who offer video services. You can also share your Booking Page in different languages.

Customer logins
Prompt each customer to create a username and password before confirming their appointment. This feature helps prevent duplicate bookings from taking space in your calendar.

With unique logins, customer details update in the background. When an appointment is scheduled, contact information syncs to profiles automatically. Additionally, profiles centralize appointment history and payment data.
Switching logins on or making them optional is ideal if you have a regular inflow of customers (e.g. salons)
Switching logins off works better for one-time services (e.g. scheduling a job interview)
Visit the Booking Policies menu to discover more options to personalize client scheduling.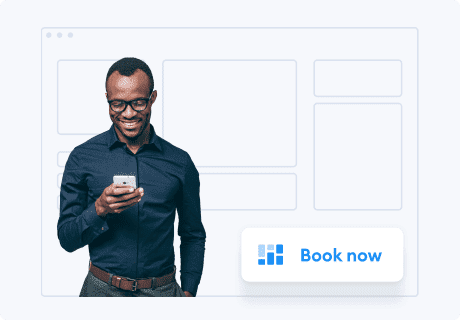 Turn traffic into customers
.
Accept appointments from your company's website by adding a 'Book Now' button to any page. When clicked, your Setmore Booking Page appears. Turn browsing into booking and capitalize on your site traffic.
Find out what your highest traffic site page is - for most businesses, it's the home page. Display your booking button here to get most eyes on it.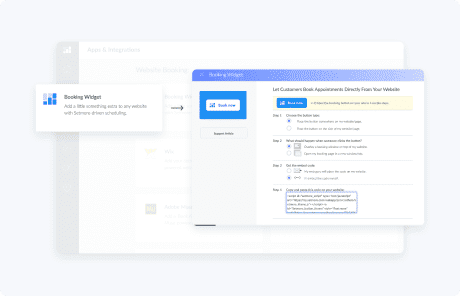 Adding a booking button using a website builder
.
Your site can feature as many 'Book Now' buttons as you like. Link customers to your full service menu or the most relevant services.
In your Setmore account settings, go to Apps & Integrations > Booking Widget.
Complete the details and select "I'll embed the code myself". Copy the code.
Follow the steps provided by your website builder to add a widget on one of your pages.
Each website builder has slightly different instructions, but activating your booking button only takes minutes. For illustrated instructions for WordPress to Shopify, visit the website integrations section of your app.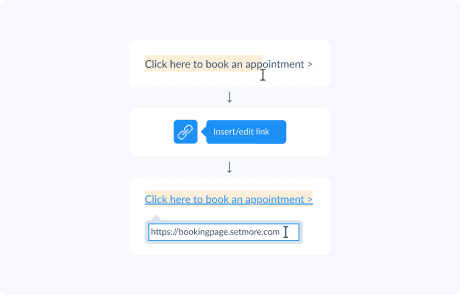 Hyperlinking text or images to your Booking Page
.
Most website builders and blog platforms allow you to create hyperlinks for a string of text. Here's a straightforward way to connect a site page to your Booking Page.
In your Setmore account, go to 'Apps & Integrations' and copy your Booking Page URL.
In your website builder, open a page to edit. Locate the text or image that will link to your Booking Page and select 'Insert/edit link'. This is typically indicated by a chain links icon.
Paste your Booking Page URL where prompted and save changes. When the reader clicks this element, they'll be directed to your Booking Page.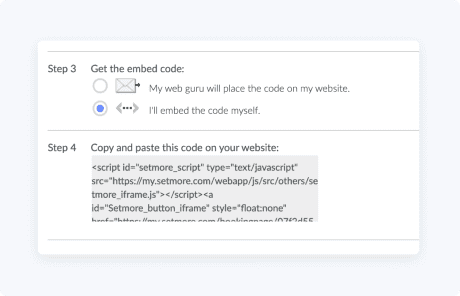 Creating direct links within your website's HTML
.
Having full access to your website's HTML allows you to personalize the placement and appearance of your booking button.
In your Setmore account settings, head to Apps & Integrations > Booking Widget.
Complete the details and select "I'll embed the code myself". Copy the code.
Open the HTML file of the page that will display your 'Book Now' button. Paste the code in the location you want it to appear.
Save the file and changes to your server, and you're all set.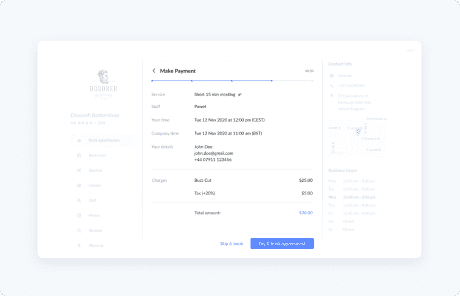 Take payments through your Booking Page
.
Enable customers to pay for your services in advance, directly through your Booking Page. You can request full or part-payment, and specify whether payment is mandatory before a booking is confirmed.
After your customer picks a service and appointment time, they are able to pay securely by card or digital wallet.
Requesting payment ahead of time is an invaluable way to encourage commitment to attendance.
Read how to:
Activate Booking Page Payments
Receive deposits for your services
Accept payments through your calendar
Sync transaction information with your go-to accounting apps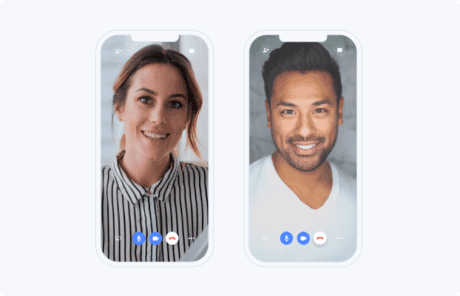 Schedule and host virtual appointments
.
When the Teleport video integration is activated, you'll be prompted to select services that require video. Virtual services can be confirmed through your calendar and Booking Page. For each appointment, Setmore adds a secure video link to staff and client email confirmations. At the start time, simply click the link to meet online. No wait times, no downloads.
Virtual consultations reduce the need to travel, enabling you to connect with a wider audience. Your Teleport meeting room can be customized with a logo, background image and welcome message for a professional, branded experience.
Learn more about hosting video meetings with Teleport, Zoom and Google Meet.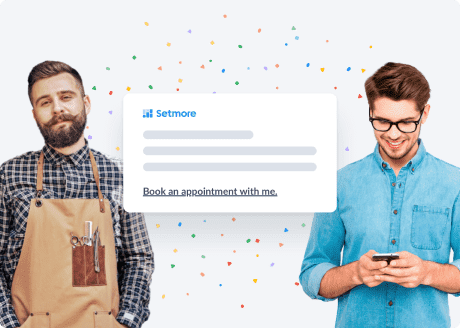 Get your Booking Page seen
.
Open your services to a wider audience by optimizing your Booking Page for every online channel
Email signature - Add a Booking Page link to your Gmail signature to cut down on the back-and-forth.
Social media - Connect the Instagram and Facebook 'Book Now' buttons to your Booking Page. Customers can self-schedule appointments from your profiles and posts.
Marketing and sales - Attach links within articles you publish online, your LinkedIn profile, and targeted email campaigns. This allows for simple B2B appointment scheduling like product demos, all the way to virtual interviewing.
Print materials - Include your Booking Page link on your business stationery or printed promotions, like flyers or convention displays.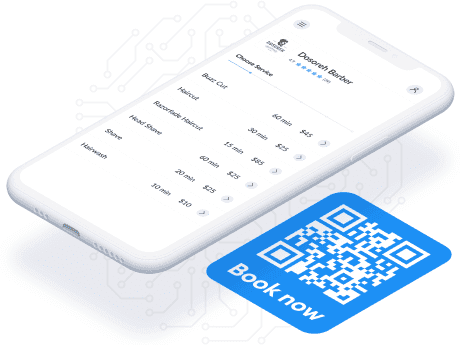 Scan and book
.
Your unique, scalable QR code provides an instant route to your Booking Page. One quick scan with a smartphone camera and your audience can view your services and confirm appointments online. Feature it on business cards, outdoor ads, branded vehicles, your website and more.
No matter where customers discover your services, ensure they can reserve your time immediately. With an accessible online booking process, your business gains a competitive edge and offers total convenience.
Next steps
.
Check out our guides and blog.
To learn more ways to share your Booking Page, read our latest guides and posts. Boost engagement with customers and utilize your app's newest features and integrations.
Head to the Support Center
Access 100+ articles on all things Setmore. Every article comes with detailed step-by-step instructions and screenshots to help you get the most out of your app.
Chat with Team Setmore.
To learn more ways to share your Booking Page, read our latest guides and posts. Boost engagement with customers and utilize your app's newest features and integrations.
Make the magic happen, we'll make sure it happens on time.
Sign me up