Boosting your sales is both an art and a science. With so many online and offline avenues for leads to discover your business, investing in the right ones gives you an edge over competitors.
Explore our guide on how to generate new leads and tailor your customer acquisition strategy. We'll cover everything from targeted marketing efforts and engaging content, to increasing accessibility and utilizing data analytics.
But first, what is lead generation?
Lead generation is the process of engaging consumers with the goal of making a sale. Leads are individuals who have shown an interest in your products or services. They may have clicked one of your ads or asked a question using your website's chat widget.
When a lead discovers your brand, or first engages, they may not be fully ready to purchase. However, you can capitalize on their motivation, even if they're passively comparing businesses, and turn leads into customers.
Personalized re-engagement is needed for this. For example, through retargeting ads, you can remind leads of your offering while they continue to browse. This could be later in their decision-making journey when there is more urgency to purchase. Sending the right message at the right time brings a lead back to your business, encouraging them to complete conversion.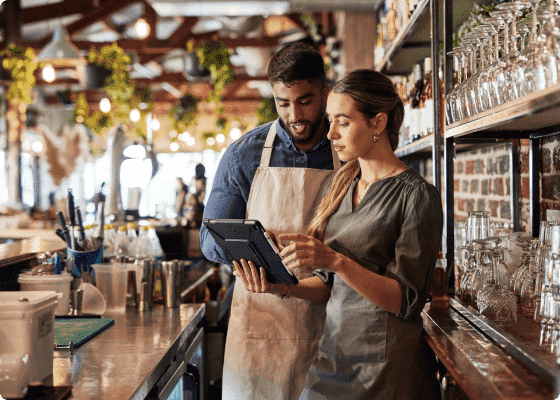 10 ways to generate leads for your local business
.
Looking for ideas to generate quality leads? Here are some tried and tested methods for businesses of any size.
1.

Reconnect with past referrals

.

Many businesses acquire referrals through word-of-mouth or a branded referral program. Referrals may have engaged with your business online, or even come to you for a consultation, based on someone else's recommendation. If they didn't purchase soon after, be sure to follow up as they might still be shopping around.

As past referrals have knowledge of your products or services, you're not starting from scratch. The intro stage is over and it's all about tailoring your approach to their specific needs.

Send personalized emails featuring a booking link, or promote an exclusive offer for their first purchase only. If you've launched a new service that relates to their initial query, or a new location that's closer to where they're based, ensure you notify your leads right away. Not only does this add value to their brand experience, it re-engages them with specific, relevant information.
2.

Ask for new referrals

.

Business Wire reports that a satisfied customer typically tells 11 people about their experience. To maximize the likelihood that you'll get recommended, be sure to incentivize referrals.

Offering rewards based on successful referrals motivates your customers to keep sending leads your way. This can enhance the efforts of your sales and marketing teams, as customers turn into brand ambassadors.

People trust referrals from their network more than any types of marketing. In addition to setting up a referral program, be sure to share positive feedback on your website, social media pages and anywhere else people look to learn about you. When people search for a service provider, they find authentic quotes from real people that champion your brand.

Learn about referral programs to generate qualified leads for your business
3.

Establish credibility in your niche

.

Content is crucial to establishing your brand as credible and experienced. Not only does it drive traffic to your website and social media pages, but valuable content positions your team as experts.

Being perceived as well-informed and engaged with consumer trends gives people more confidence in your products or services. This helps a small business to compete with larger enterprises with multiple branches.

To generate online leads with content, start by creating the following.
Optimized site pages: Incorporating relevant keywords brings in high-quality leads from search engine results. With localized landing pages, you can rank for location-based searches and compete for leads in specific areas (See point 7 in this guide).
Blog posts and guest posts: When considering how to generate leads with content marketing, it helps to post articles on other brands' websites. Your business is instantly showcased to their loyal following. For higher quality leads, ensure brands that you partner with have a relevant audience to your services.
How-to videos: According to Sprout Social, video is the most engaging type of content to consumers. Not only are video posts shared more often than text posts, they're discoverable in Google search results. Try making how-to videos that feature your services and show your expertise through answering a common question.
Appearing on podcasts and hosting webinars also enables you to create snippets of educational content to share across email marketing and social media.
Learn more about repurposing content for social media
4.

Generate leads for free in online forums

.

Generate organic leads by answering questions in online communities like Reddit and Quora. These channels help to build your profile as an industry leader, enabling you to share your knowledge and contribute to discussions.

Alexa reports that 61% of Quora's traffic comes from search engines, so responding to the right query could mean countless leads discover your brand name and services. Simply create a profile, run searches to find relevant topics and respond to queries related to your industry, productivity, business processes and so on.

Each Quora discussion page is indexed by Google. If your answer includes local keywords, it has a chance of being found via search engine results. Keep in mind that your responses should be solution-driven and include only relevant links.

Interacting in forums, groups and online communities is a high-value, low-cost way to:
Increase long-term traffic to your site and other content
Chat with leads and other business owners
Raise brand awareness by giving personalized responses
Be seen as an informed, helpful leader in your industry
How to generate leads online by sharing your booking link in Quora
5.

Identify new leads through your network

.

Depending on your industry type, building connections in person can be a huge driver to sales. For example, countless wedding planners, bridal hair stylists and floral designers attend local and national trade shows in an effort to drum up business. Events like these highlight your brand to attendees in a particular area. Impress them, personalize follow-ups and turn them into leads.

You can also connect with other professionals and discuss potential partnerships. Through collaborating, your business is showcased to another brand's customer base. You can leverage their credibility and audience to bring more leads to your door.

Ensure you utilize your team to generate leads at events – this promotes their individual skills and introduces your brand to the most people. Whether the event is large or small, there's a chance it'lll receive coverage. Make your presence known, e.g. through your booth design or a press-worthy activity, and get featured in event-related articles, videos and social media posts.

How to generate your own leads with a QR code for business cards
6.

Generate local leads from events

.

Throwing a branded event enables you to showcase your products or services. You can curate your own platform to share your expertise and generate leads. Incentivize attendance by attaching a special offer that encourages people to take time out of their busy schedules.
Throwing a loyalty event: Invite your most engaged, high-value customers to an exclusive event that rewards their loyalty. To generate leads, ask them to bring a friend who can share the experience.
Throwing an awareness event: To establish your presence in the local area, throw an event that demonstrates your products or services and offers attendees a discount. If you don't have a subscriber list yet, you could invite people to sign up through social media, or advertise at related local businesses. For example, if you run a new barbershop, you could leave flyers or display a poster at a nearby tattoo studio or suit retailer. Ensure that their brand resonates with your target audience to generate quality leads.
Read our 8 budget-friendly tips to host a branded event
7.

Optimize your website and offer online booking

.

To rank higher in search engine results, ensure that your website pages are Google-friendly and include relevant keywords throughout. Websites that appear in the top 3 search engine results receive over half of total clicks and are typically seen as more credible.

You can find the best keywords to target with tools like Ahrefs Keywords Explorer, SEMRush, AnswerThePublic and Google Trends. Incorporate terms with low competition and high search volume as these help your site to achieve visibility faster. You should also prioritize landing pages that target service and location-specific keywords to usher in leads from your local area. An online booking button converts leads without them needing to reach out for an appointment.

Explore how to generate leads from your website with local SEO

SEO lead generation offers long-term, cost-effective results in comparison to many other marketing channels. For example, leads from paid advertising are paused when you stop paying the ad fees. Monitoring your traffic and website's visibility for different keywords allows you to continue tailoring your pages and get the highest-quality leads over time.
8.

Add your info to directories

.

Create listings in local directories to generate leads online. When people are looking for a service provider, they'll use a directory to learn about nearby businesses. Unlike marketplaces, the bulk of directories do not take commission from any sales that they facilitate. Directories act as digital phone books that show consumers their options based on service type and location.

One of the most popular directories is Google My Business. You can optimize your Business Profile to appear in local Search and Maps results. It features your business' contact details, reviews, photos, a Q&A and more. You can even display a 'Book' button using Reserve with Google that allows leads to schedule appointments independently.

When people are comparing providers, make sure your Business Profile is visible in Google results and enable instant booking to get ahead of competitors.

Read more about completing your Business Profile and Reserve with Google
9.

Partner with micro influencers

.

Influencers endorse brands and spread word about different products and services to their network of followers. Collaborating with the right public figure can generate leads for your business because they already have an engaged audience.

If this is your initial step into influencer marketing, connect with micro influencers that have a strong profile in your local community. This type of influencer has up to 10,000 followers and promotes smaller businesses. When searching for influencers to potentially work with, ensure that their brand aligns with yours and that their content quality is high. This makes it more likely that your offering with resonate with their following and that the influencer can create valuable posts without an overload of input.

Read more about how to find and connect with influencers

To get the most out of influencer content, attach an offer or discount code as extra incentive for leads to convert.

You could even go one step further and create an affiliate program for multiple influencers. Each influencer would receive a unique affiliate code, helping to track whose content brings you the highest quality leads over time.
10.

Generate leads on social media

.

Having a clear understanding of your target audience is important when choosing the social media platforms to invest in. Rather than creating pages on every platform, spend time building a presence on a select few. Your industry might also inform what platforms are best to use, e.g. if you run a nail salon, visual platforms like Instagram and TikTok are a must.

Generate leads on Facebook

Facebook is still the most popular social media platform with almost 3 billion active users (Buffer). To generate free leads on Facebook, start by customizing your page with a logo, a compelling description and essential links. A unique and consistent message throughout your page differentiates your business in a saturated market.

In addition to optimizing your posts with relevant hashtags and conversing with customers, influencers and other brands, bring traffic to your page by posting in relevant Facebook groups. Sharing knowledge, providing solutions and discussing industry developments highlights your expertise, reflecting well on your brand image and services.

By investing in Facebook advertising, you can also select a target audience for your ads based on demographic. This way, your content reaches Facebook users that are more likely to become leads.

Generate leads on LinkedIn

Targeting B2B clients? LinkedIn is the ideal place to generate quality leads. However, your success is often dependent on the strength of brand's page and employees' presence. When potential clients click through to your brand's page from a post or ad, they need to see that your business is credible. Ensure that you complete your page (e.g. with contact details, industry, an 'About us', specialties and a booking link), post regularly and communicate in relevant LinkedIn groups.

Your brand's page could be shared with multiple people within a lead's organization, so make your USPs known. A curated page, shareable LinkedIn articles and consistent flow of conversation enhance your promotional posts and ads, showing that you're not only there to sell, but also to engage with other leaders.

LinkedIn can also help you to contact the most relevant people in an organization. By checking their job title and remit, you learn who's best to pitch to. Alongside this, your ads and sponsored content can be targeted based on business size, business location and more.

Learn more about choosing the best social media channels for your brand
Summing up
.
These are just 10 of our go-to local lead generation tips. We'll cover more ideas like PPC ads (getting your site on page 1 of SERPs instantly) and cold calling at a later time.
No matter how amazing your services are, you don't leave people to discover your business independently. Get creative in how you raise awareness of your brand, as that personalized approach will your spotlight your business in a crowd of competitors.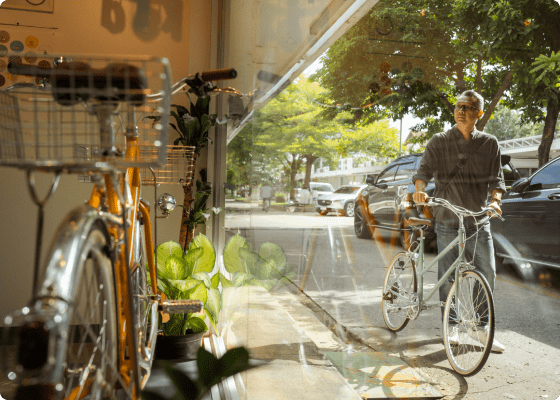 Deliver your magic with Setmore.