At present, 4.9 billion people use social media. That's two-thirds of our planet's population. With new platforms hitting the market regularly and cultivating an active daily user base, social media enables companies to build their brand, promote their products and convert leads.
Let's discuss the basics of branding your business on social media, so your story, USPs and customer experience shine through.
What is social media branding?
Social media branding is the process of establishing your brand's identity on various social media platforms. It involves using these platforms to communicate with your target audience, build recognition and create a perception of your brand.
Utilizing Facebook, Instagram, TikTok, LinkedIn, YouTube or a mix makes your brand more accessible. People are able to learn more about your mission and expertise, and have a direct route to engage with you. Brand-building with social media extends the reach of your business – people can discover you, become fans and turn into customers.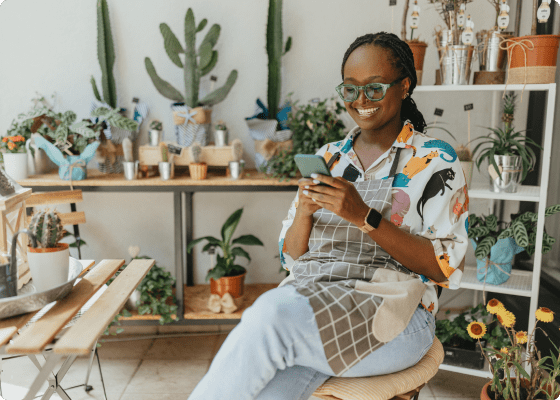 How to brand your business on social media
.
A social media branding strategy is essential to aligning your customers' online and offline experience. Your content plays a key role in telling the world what drives you, and gives a clear impression of what sets your business apart. Here are 10 social media branding ideas to try.
1.

Find the best channels to connect with your audience

.

Knowing how to brand yourself on social media starts with identifying the right channels to invest in. Boosting your online presence isn't down to creating an account on every social media platform. This typically dilutes your content and means you'll spend time targeting the wrong audience.

Instead, consider who your services cater to and where they're most likely to interact. Different social media platforms are utilized by different demographics. For example, according to Wordstream, the majority of Facebook users are 25 to 34 years old, while most LinkedIn users are 46-55. Both platforms are also used completely differently, with LinkedIn being the top choice for professional networking.

This infographic gives a top-level view of how each platform's audiences differ: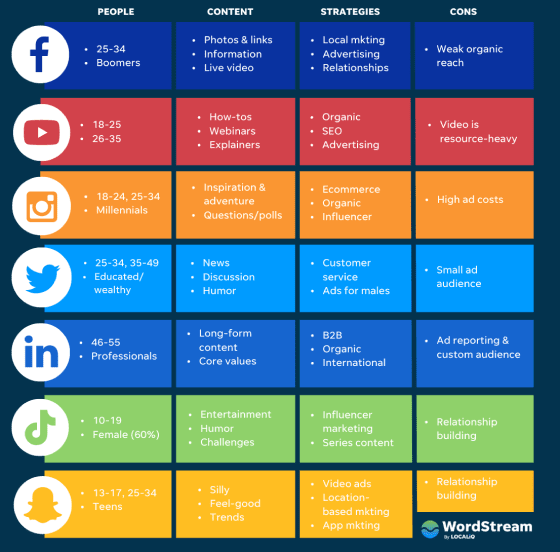 2.

Optimize your bio and profile info

.

Every social media platform enables you to share information about your business on your profile. Utilize the 'About' or 'Bio' section to summarize your brand, the products or services you offer and where you're located.

Bios vary in length depending on platform. On Instagram, Twitter and TikTok, your profile description can be up to 150 characters. On Facebook, LinkedIn and YouTube, you're  allowed longer descriptions, so make use of the space but keep your copy easy to scan.

Incorporating keywords related to your niche also helps with discoverability via the platform and Google Search.

Complete your profile in full, including contact details, industry type, location(s), opening hours and important links. If the platform provides space for multiple links, you can feature your website, a press release, your latest article, your Booking Page, FAQs and more. Think about what visitors will find useful and what will reveal the most about your brand.

To capitalize on views, likes and shares, you can also include a 'Book now' button on your Facebook and Instagram pages. When a visitor is most engaged with your content, they're empowered to schedule an appointment online.
3.

Display your logo consistently

.

One of the easiest social media branding strategies is to feature your logo prominently across each profile. Uploading your logo as your profile pic enables social media users to identify your content quickly, connecting the dots based on a unique design.

Building your brand through social media relies on establishing the main brand elements. If you don't have an official logo yet, create one for free using Canva, GetStencil, LOGO or similar. With some budget, you could hire a professional artist from UpWork or Fiverr to design a standout logo for you.
4.

Share your expertise

.

Branding through social media marketing involves sharing educational content to position yourself as an industry leader. This cultivates trust in your brand and confidence in the quality of your products or services. When planning what to release, consider the following:
Lead with the benefits: What discussion points could help your ideal audience? From how-to videos to product recommendations, post content that solves a problem or answers a frequently-searched question.
Show what you know: Talking about industry trends, consumer expectations and your own experience associates credibility to your brand. If you're an expert, you stand out from competitors and people attach more value to what you're selling.
Keep it snappy: Your Instagram caption shouldn't read like the blog post it's promoting. Sum up the value of the blog post in a few words and encourage people to click through and read more. Social media copy should be easy to absorb and relatable to your ideal audience.
Be engaging: Aside from feeding your fans information, invite them to share their thoughts. Be sure to ask questions, set up polls and chat in real-time for more authentic interactions.
Through compelling and insightful content, not only do you build your brand on social media, but you also create opportunities to boost sales. If you run a service-based business, add a booking link to your content so it raises awareness *and* increases bookings.
5.

Repurpose high-value content

.

A reliable flow of valuable content plays a crucial role in branding on social media. However, not every brand has the time and resources to draft new content daily. The solution: Ensure that you recycle and repurpose your existing content.

Your audience becomes desensitized to content that's simply reposted over and over. Think about different ways to share the same content so it continues to get views past the initial release.
If you have an article published two or three years ago that's still relevant, reshare it using a different caption or message angle.
If you have a how-to guide that needs refreshing but still gets traffic, update the information and present it again. With more relevant details, you might find that readers stay engaged longer and navigate to more content.
Repurpose existing content in a different format. For example, convert a blog post into an infographic, edit a full-length video into a Reel or YouTube Shorts, or turn a series of tweets into a narrative.
Curate past content around a specific theme or topic into a compilation post that your target audience can benefit from. Ideas include top 10 posts, a collection of customer testimonials and a roundup of quotes.
When planning future content, consider how you can reshape it and prolong its relevance. In the long-term, this means less time creating content but more snippets to share.
6.

Use striking visuals

.

Effective branding through social media helps your content to stand out while people tap and scroll. On average, people spend only 1.7 seconds viewing a piece of content on mobile devices and 2.5 seconds on desktop.

Posts needs to capture your audience's attention right away and sail above content from competitors. Establishing your different brand elements, like colors and tone of voice, give your content a distinct character and consistency. Your posts become easy to spot, even in a sea of other copy, images and video.

When planning different content, keep the following in mind:
Use high-quality images
Maintain a consistent visual style and color palette
Incorporate eye-catching typography
Keep designs simple and uncluttered
Use visual elements that align with your brand identity
Experiment with different formats, such as infographics or videos
Optimize imagery for each social media platform's specifications
Download editable templates from Canva and GetStencil
Include a strong call to action in your visual content
Developing a set of brand guidelines aligns your team on how to represent your business online. Read more about how to start.
7.

Showcase the people behind your brand

.

One of our go-to social media branding tips is to be authentic in your communication. Give potential customers an understanding of what's important to your brand, rather than an overload of sales-driven content.

Building your brand on social media is dependent on offering people an interesting, relatable narrative. Share content that genuinely reflects your brand's personality and unique voice to go beyond a transactional connection.

Sprout Social reports that 2 in 3 consumers find short-form video to be the most engaging type of content. Post behind-the-scenes videos of your campaigns, hosting live Q&As from your office, and highlighting your team's achievements. This humanizes your brand and helps your audience to connect on a peer-to-peer level, often leading to higher-quality conversation and longer-term engagement.

Once your brand guidelines are in place, utilize your team as ambassadors and allow them to share spontaneously. Not only does this vary your content across platforms, but you provide a mix of curated posts and more 'real' off-the-cuff content. If team members tag themselves, or use their own accounts to mention your brand, their content could also reach five times the audience of your business account (G2).

Real-time content across Instagram, TikTok and YouTube is ideal for creating anticipation around new products, campaigns and events. Your social media becomes a place to cultivate brand perception and bring a face (or faces) to your business.
8.

Partner with influencers

.

When it comes to using social media for branding, consider collaborating with relevant influencers to promote your story and services. Whether they're local influencers or household names, these public figures have a loyal and engaged audience. By partnering with the right person, you can leverage their reach and credibility, and generate buzz for your brand.

Look for influencers whose content aligns with your brand values and target audience:
Search for hashtags related to your niche
Use social media listening tools to find influencers who post related content regularly
Create a list of keywords related to your niche and conduct simple searches on Google or YouTube. Early in SERPs, you'll find articles, videos and more content by high-profile influencers. Include location-based keywords to find micro influencers in your area.
Attend industry events or conferences to network with influencers in person.
Short on time or need help negotiating? Leverage influencer platforms or agencies to find and connect with relevant influencers.
Depending on the route you take to finding an influencer, think about the following:
Start by building familiarity and engage by liking, sharing and commenting on their content.
Reach out with a personalized message, demonstrating your interest in their work.
Make the value of collaborating clear, by proposing ideas that benefit both parties.
Set expectations and guidelines on types of content, posting schedule and compensation.
Typically, you'll partner with an influencer with a larger following than your brand's to increase awareness. Be sure to attach exclusive content, discounts or experiences to their posts as this could convert more leads.
9.

Use relevant hashtags

.

When branding with social media, utilizing hashtags supports discoverability and establishes the topics your brand is invested in.

Drafting a new post? Be sure to include relevant keywords in the caption or description (no spaces and preceded by #, of course). For example, if sharing a dental care tip, relevant hashtags would be #dentalcare #dentalcaretip #oralhealth and #oralhealthtip. With hashtags, your social media post can be filtered to an audience that's interested in its specific theme. People who follow particular hashtags will also see your content regularly in their feed.

Along with evergreen hashtags, you should track:
Emerging hashtags that are popular at a certain time. These can inform new content to create, help your brand to join a discussion, and bring a burst of traffic to your profile. If incorporating emerging hashtags, ensure that they're 100% relevant to your content.
Niche-specific or less-saturated hashtags that help to avoid your posts getting lost. Although they have less reach, your posts are more likely to be seen due to lack of competition.
For branding purposes, we recommend developing hashtags that are specific to your business or a campaigns. These can facilitate conversation and generate UGC for your profiles. Branded hashtags tend to gain more traction when they're memorable, the benefit of usage is clear, e.g. when the hashtag enters the user into a prize draw, and when the hashtag is used by both customers and your team.
Read more about platforms to find the right hashtags, dos and don'ts, and the impact of using branded hashtags in your content.
10.

It's all about variety

.

When it comes to social media and branding, creativity is high-priority. While it's good to research past trends and campaigns to understand what resonated with your target audience, originality helps to build your brand on social media.

Test different post content and formats to determine what drives the most engagement, for example:
Competitions with exclusive rewards
Interactive quizzes and polls
Live webinars and virtual events
Social media takeovers
How-to videos from your team
Branded photo filters
Collabs with influencers
Content on philanthropic efforts
UGC to capitalize on mentions from followers
Once you've established your main brand elements, you could also launch a social media advertising campaign. As you pay for ad placement, your content will display to a more targeted audience than organic posts. Ads on platforms like Instagram can be formatted differently too, with the option to include photos, Reels or even full-length videos. For extra convenience, place a 'Book now' button next to the call-to-action.
Happy posting!
Social media platforms are invaluable (and free) tools to build your brand's profile, get new customers and increase loyalty. To save time while ensuring a regular flow of content, you can schedule your posts ahead of time using tools like Hootsuite. But remember that on-the-fly content and authentic UGC often appear more sincere and representative of your brand's personality. A mix is a must.
Include your team in creative ideation, especially if they're social-media-savvy and motivated to act as brand ambassadors. And, be sure to monitor the impact of your content so you can adapt your approach based on audience engagement.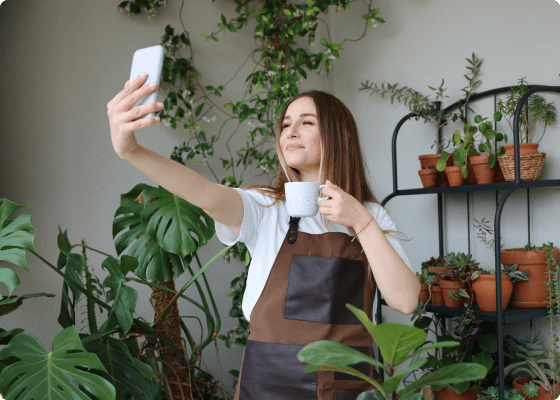 Got your brand tips for social media? Read these next
.
Deliver your magic with Setmore.