Brand loyalty is crucial to achieving growth and establishing a community that champions your business. According to Zendesk, 72% of consumers are loyal to at least one brand. This connection goes beyond simple transactions to advocacy, which develops positive word of mouth and a better reputation for your business.
Wondering where to start? Explore our comprehensive guide on the ways to build brand loyalty and measure engagement over time.
What is brand loyalty?
Salesforce's CEO Marc Benioff once said, "A brand is a company's most important asset." This is even more evident when the brand successfully brings in and retains loyal customers who become supporters or brand advocates.
Brand loyalty describes when customers continue purchasing from a business because they believe in its value, quality and reputation. When customers are loyal to a brand, their purchase decisions aren't driven by low pricing. Typically, they're willing to pay more for products or services from a brand they trust.
Apple, for example, has established a brand-loyal audience across the globe. It boasted an impressive Net Promoter Score® (NPS) score of 72, which is nearly 20 points higher than the industry average. This score is determined by customer satisfaction and loyalty metrics; Apple's customers are willing to pay higher prices for its products because they're perceived as top-quality and connected to a positive brand image.
Brand loyalty vs. customer loyalty
.
It's worth noting that brand loyalty is different to customer loyalty. Customer loyalty is mainly influenced by cost factors like deals and discounts. The prices of products or services need to fit within a customer's budget. Walmart is an example of a company that prioritizes customer loyalty, basing its image on offering low prices for quality items. As a result, customers see Walmart as a go-to, reputable place to find affordable products.
While customer loyalty hinges on cost, brand-loyal customers remain loyal even when faced with tempting offers from competitors. Their commitment is rooted in the belief that the quality of their preferred brand is unmatched. This type of loyalty doesn't stop at the checkout and often involves an emotional connection between the customers and brand.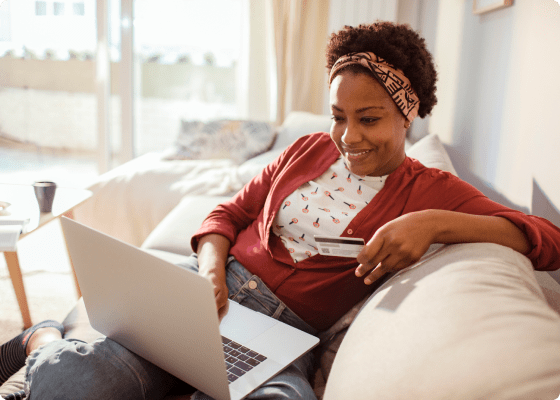 Why is brand loyalty important?
Per Harvard Business Review, building brand loyalty leads to profitable outcomes such as cross-selling and upselling opportunities, reduced marketing costs and word-of-mouth referrals. In fact, businesses with a high NPS or satisfaction score experienced 2.5 times faster revenue growth than their competitors.
Besides a significant boost in profits, the benefits of brand loyalty include:
Loyal customers willingly promote a brand and its services
Loyal customers become valuable brand ambassadors as they offer positive reviews and testimonials, effectively advertising your brand with no extra costs. Their opinions can convert new leads who research your brand online, also reducing costs for customer acquisition.
You don't need to overextend marketing efforts to loyal customers
According to Econsultancy, 82% of businesses agree that customer retention costs less than acquisition. Brand-loyal customers naturally return and stay in the loop with your offering, enabling you to spend less time and budget on reengagement.
You highlight the ideal customer segment to target with premium offerings
Because loyal customers are less concerned about cost, you can introduce them swiftly to new premium-priced services. There's less fear that they'll switch to competitors – although it's important to consider economic constraints that may impact their purchasing power.
Loyal customers give you insights to improve your offering
Securing interviews with customers can be a challenge, but people who already love your brand are more likely to get involved. Because they have the most experience with your services, loyal customers have thoughts on how to make your offering more unique or competitive.
The stages of brand loyalty
.
We've covered 'What does brand loyalty mean?' and the importance of brand loyalty. Now let's discuss for the different stages of brand loyalty that create more return visits and long-term advocacy.
Awareness
Consider a customer who discovers a new fitness apparel brand through social media ads. They visit the website to learn more and become knowledgeable of the brand as an option in the market. This awareness stage is critical to establishing a significant initial connection.
How you approach leads and customers shapes their perception of your brand, impacting whether they continue engaging. If you fall short, people may turn to competitors for a better experience.
During this stage, remember that clear and transparent communication is vital to building trust. Highlight the unique value your brand offers and articulate how you meet the needs of your target audience. Also, keep in mind that loyalty is not yet guaranteed or even on the table – the lead or customer is still getting to know your brand.
Focus on creating a positive and memorable experience by providing exceptional customer service, addressing concerns promptly and going the extra mile to exceed expectations.
Preference
At this stage of brand loyalty, a customer would have made their first purchase and consider the product or service to be of high quality. They start to develop a preference for your brand over others, but they're not entirely loyal just yet.
It's possible for some customers to form an attachment to your brand at this stage, but their loyalty doesn't run deep. They could still be drawn elsewhere by the right deal or offer. Reinforcing the value of their preference and continuation to shop with you is paramount. Keep highlighting what you can do for them but ensure that messaging is personalized. This shows that you recognize them as individual customers through tailored communications and promotion of specific items.
A tailored approach helps to strengthen their preference and move them closer to becoming loyal advocates for your brand.
Insistence
Here, the customer becomes an advocate for the brand, consistently choosing and recommending it. They remain loyal regardless of competitors' offers due to personalized experiences, exclusive benefits and a connection to your team.
Although it becomes easier to increase profits without spending more on advertising, your loyal customers expect increasingly intuitive communication. McKinsey & Company found that 71% of consumers expect customized journeys, highlighting the importance of utilizing data, collecting feedback and segmenting your audience.
By tracking engagement and spend, you can share the most relevant content, special offers and rewards with particular customer segments, based on their preferences and purchase patterns. The Insistence stage is all about solidifying that your customers are part of your brand community; you know them and they know you.
5 ways to increase brand loyalty
.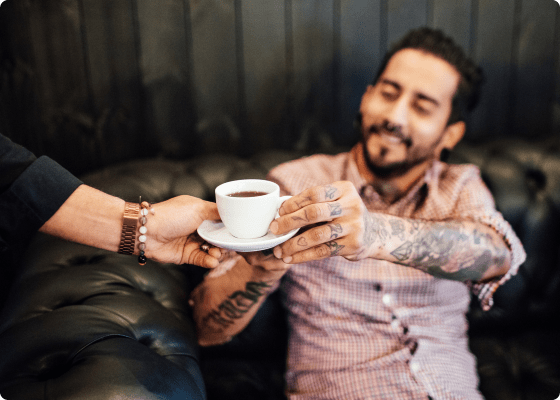 1.

Prioritize exceptional customer service

Customers evaluate every interaction they have with your team, so ensure that specialists are friendly, helpful and efficient. Your customer support team should be easily accessible and capable of resolving issues promptly – online and offline.

Ensure that your social media channels reflect the same level of service given in person. Replying quickly to questions and concerns on every active channel gives customers the timely response they've come to expect. You could even add a live chat widget to your website to provide real-time, 24/7 assistance.

For those who run service-based businesses, introducing online booking options is a gamechanger. With 91% of consumers favoring self-service portals (Freshworks), you can offer extra convenience to both new and loyal customers. A booking link on your social media, site, emails and more, enables your customers to easily schedule appointments when it suits them.
2.

Implement a brand loyalty program

Rewarding customers for their loyalty is a proven way to encourage repeat business. Coniq indicates that loyalty program membership is meaningful to 71% of consumers. Offer discounts, gifts and exclusive offers to show appreciation for your customers' continued support.
Types of brand loyalty programs
Points-based
Customers earn points for specific actions (e.g. spend) and redeem them for rewards and exclusive experiences. Starbucks has a popular program where patrons collect a stamp for every purchase and use them to collect branded merch like tumblers and planners.
Tiered
This builds on the points style of program by segmenting customers into different tiers based on their level of engagement. Higher tiers typically receive enhanced perks such as early access to sales, sneak peeks and annual gifts.
SheFit awards customers with 'crowns' for actions such as signing up, social media engagement and birthdays, Customers progress through different tiers, unlocking more new benefits as time goes on.
VIP
This builds on the tiered style of program by offering extraordinary perks to the highest tiers. An example is The Beauty Insider program at Sephora that offers exclusive products to its most frequent, highest-ranked shoppers. There's a clear distinction between Beauty Insiders and lower tiers, adding a layer of exclusivity to the status.
Need a hand putting together and managing your loyalty program? Check out these tried and trusted software solutions:
LoyaltyLion: Create custom loyalty programs and manage points-based rewards, referrals, personalized offers and customer segmentation.
Smile.io: In addition to managing points-based rewards, VIP and referral programs, this platform integrates with leading eCommerce platforms.
Yotpo: This comprehensive customer engagement and loyalty solution manages loyalty programs, user-generated content, reviews, ratings and referrals.
Not only are loyalty programs ideal for retention, they also aid new customer acquisition, with over 70% of consumers more likely to recommend a brand if they like their program (Bond).
Get some tips on creating a loyalty program
3.

Seek and act on customer feedback

77% of consumers prefer brands that request feedback (Microsoft), so be sure to listen to suggestions and concerns regularly. You can create online questionairres using SurveyMonkey or Google Forms and ask customers about their satisfaction levels and what to introduce or change.

Ensure that you monitor social media platforms for mentions of your brand and services, including both direct messages and public posts, to gauge your customers' sentiment.

This feedback is invaluable to making improvements and communicating changes to your customers and new leads. Review and categorize feedback received to identify common themes or pain points. Tools like sentiment analysis or word cloud generators provide insights at scale. After this, prioritize feedback based on its impact, feasibility and alignment with your business goals.

Demonstrating that you value input and take action fosters trust in your brand and shows dedication to improving customer experience.

Automate review requests to collect feedback with Setmore
4.

Build a community

Your customers' emotional connection to your brand is integral to loyalty. When your values resonate with them, when they feel part of your story, and when your services provide value to their lives, your customers transform into a community.

The most engaged customers purchase 90% more often and spend 60% more, reinforcing the value of reliable, personalized communication. Consider creating a forum for customers to connect with each other and your brand. Encourage discussions, share exclusive content or perks, and facilitate interactions. This builds a sense of belonging and a bond that surpasses adding to cart.

Many businesses utilize team members as brand ambassadors on social media. Curated posts, BTS videos, Q&As and how-to content humanize your business and put faces to your brand. A cost-free example is regularly appearing on IG Live to engage customers in a real-time, authentic manner.

Alternatively, you could implement community platforms like Vanilla Forums or Khoros Community and build a custom, branded community experience, e.g. with user profiles and discussion boards.

Read more about how to use social media for brand-building

Building a community also makes it easier to introduce a referral program. When customers are treated like peers, it's more likely that they'll want to share your brand with the people in their lives. Plus, there's more incentive for them to stay engaged if successful referrals come with rewards.
5.

Share knowledge, online and in-person

A brand shouldn't limit communication to only sales-focused messages. Provide valuable content that helps to solve problems and educates people about your services. Conductor recently reported that businesses that educate customers are 131% more likely to secure their loyalty, highlighting the impact of sharing tips and insights to building trust.

In addition to posting content that empowers customers and puts you forward as a thought leader, consider throwing an exclusive event. This could be in-person or virtual, serving to:
Connect with your most-engaged customers and reward them
Bring in new leads by giving invited customers a plus-one
Introduce customers to your experts who can showcase their skills
Promote new services with a demo and persuade loyal fans to book
Create UGC to share online and raise further awareness of your brand
From webinars and competitions, to co-branded partnership events, there are many event types that enable you to educate, market and upsell. Your community feels valued and gains beneficial knowledge, while your business celebrates with and retains more customers.
Explore how to create brand loyalty with budget-friendly events
Consistent branding needs to be prioritized to give your customers an aligned experience and confidence in communicating with your business. Whether they visit your premises or DM you on Facebook, they should see the same brand elements and receive the same level of care.
More than anything, if you run a service-based business, providing your customers certainty is key to create brand loyalty. Whether they book online, by phone or in-person, your customers should feel assured that your time is reserved without any hiccups. When it's straightforward to meet you, they'll keep wanting to.
How to measure brand loyalty
.
It's important to analyze brand loyalty to ensure your efforts are having an impact. One of the most common ways of measuring brand loyalty is to conduct a customer survey. Ask questions to understand how valued they feel, whether they'd recommend your business, and how engaged they are with your brand.
Here are 3 metrics to keep in mind:
Customer satisfaction
Measure how well your brand meets your audience's expectations. Customer satisfaction encompasses various aspects of your brand, such as prices, convenience, team expertise and overall experience. Ask questions like:
How easy is it to book an appointment?
How efficiently does our help desk resolve issues?
Perceived quality
Measure the degree to which your brand or the quality of its offering meet your customers' expectations. Ask questions like:
How simple do you find our product to use?
What 5 words would you use to describe our brand?
Perceived value
Measure the value a customer places on your offering, as it relates to their life. For example, a customer might think you gave them the best haircut ever, but that your shop isn't conveniently located. Ask questions like:
Would you try another service provider if they were more conveniently-located?
What could we offer to keep you shopping with us?
To create a survey, consider software options like Typeform and Qualtrics. Ensure you have a clear purpose and audience for the survey as this will give direction to your questions.
When creating your questionnaire, include an introduction that provides context and a mix of question types like multiple-choice, Likert scale and open-ended questions. This will help you gather different types of data. Once you're satisfied with the survey design, share away. Many platforms enable you to share the survey link via email and social media, and embed it on your website.
After collecting responses, the next step is to analyze the survey data and extract meaningful insights. For further information, refer to this guide on survey analysis techniques.
Summing up:


Brand loyalty in marketing

.

The probability of a repeat customer making a purchase is around 60-70%, compared to 5-20% for a new customer, reinforcing how brands need a strong, engaging retention strategy.

Increasing brand loyalty will not only improve retention and customer satisfaction, it'll also help your brand to reach a new audience. Through leveraging customer reviews in your marketing and creating a community, your business showcases how it values patronage.

Additionally, according to Business Wire, satisfied customers will discuss your business with 11 people naturally. That incurs no cost to your business but could bring in countless leads over time.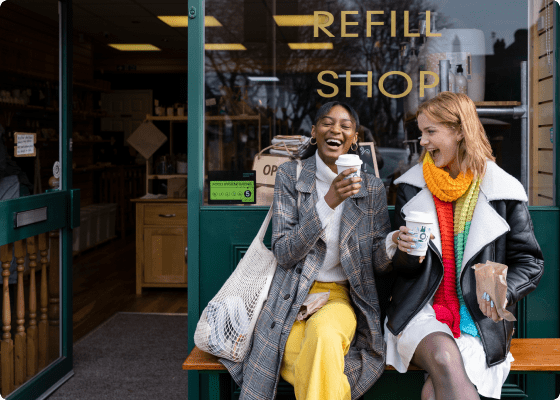 Got your brand loyalty strategies? Read these next
.
Deliver your magic with Setmore.