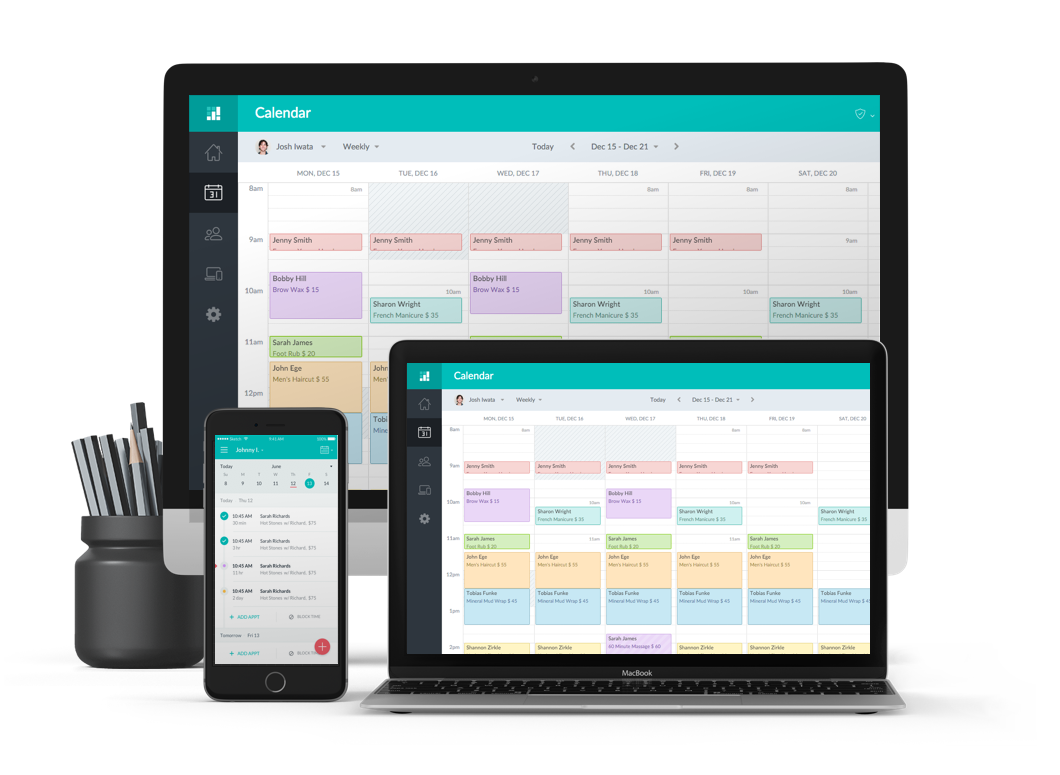 If there is one business which gets a constant flow of customers, it is the Salon business. Everyone needs a rockstar treatment to pamper their long locks or short curls. You might be the proud owner of a Salon which enjoys a sea of customers everyday. But have you ever considered using a systematic approach to manage customers, employees and schedules,
Setmore, reduces your scheduling and booking woes with a simple, yet efficient online booking system for salons, which does much more than appointment scheduling.
Setmore is an all in one solution which provides:
An easy to use online booking system for salons.
Your personalized online booking page - customers can book their own appointments.
Send text and email reminders to customers - reduce no-shows.
An integrated customer management system - store and process customer details.
An address book which automatically stores all your customer information.
Ensures there is no overlap of appointments.
Online Booking For Your Spa - Manage customer appointments online
At our core, we have built an online booking system which you can use to grow your salon business. Offer your customers the necessity of appointment booking without the hassle of waiting over the phone for a long time. Trust us, both your staff and customers will be extremely pleased that you chose Setmore as your online spa booking system.
Management
We help manage not only the appointments but also your staff schedules including breaks, time-offs, holidays and so on. Nothing is left to chance, we believe in providing the best possible solutions to manage both, your customer appointments and your staff schedules and timings.
Building a relationship with your customers requires time and effort. But above all, it requires the forethought of saving their information which can be accessed anytime and anywhere. We believe that investing your time and effort without knowing how to get in touch with customers is nothing but waste of time. Don´t you agree?

With Setmore, you don´t need to worry about such things anymore. Setmore automatically stores all your customer information including some special notes your staff might want to note for them.
Automatic notifications
The world offers too many distractions, and in their busy lives, you don´t want your customers to forget their appointments. We have integrated appointment notifications and reminders through sms and emails as a part of our booking system. This helps in reducing no-shows to your business and also helps in making your customers feel special.
Flexible Plans
Growth and change are an integral part of any business and this is a literal reality of the Salon business (the irony isn´t lost on us) and we applaud your business´s ability to understand this reality. Setmore also provides you the freedom of choosing a plan which you think is suitable for your business and at a very nominal price. Seriously efficient and remarkably simple to use, Setmore offers you just about everything you need to make your salon business completely organized and easily reachable. Our team also provide extraordinary after-service.