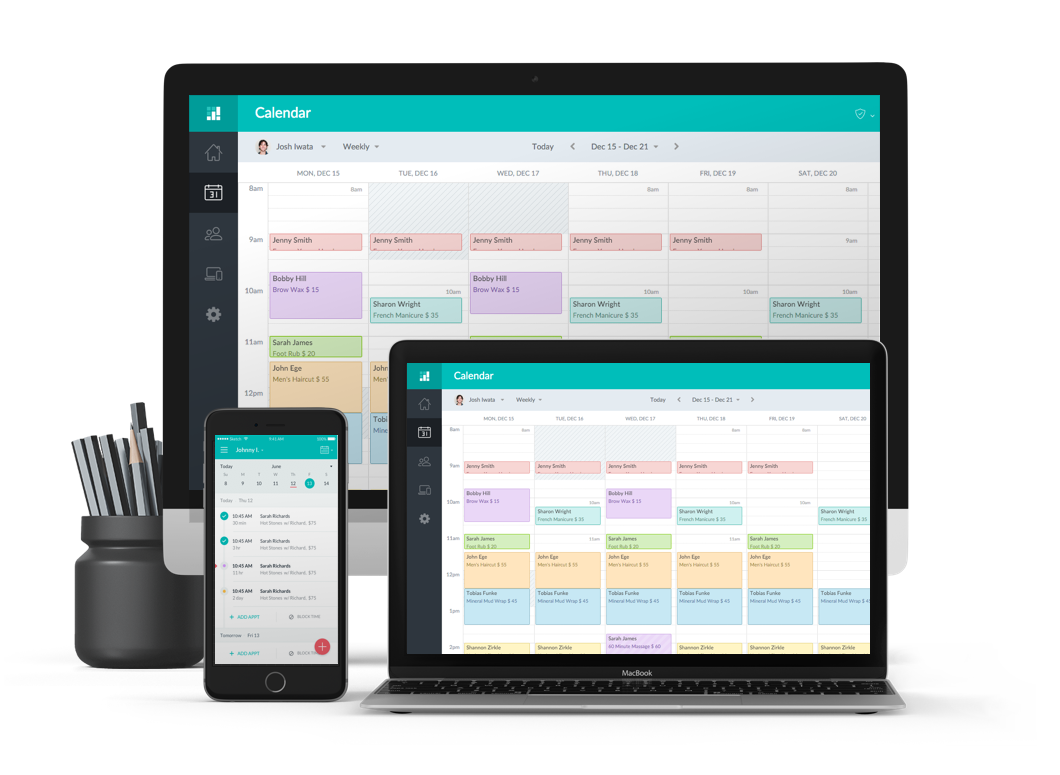 Combine field expertise and a superior grasp of a sector, you get a business opportunity that pays your bills. Consulting is a sector that has been on the rise for a long time and has branched into many subordinates over the years. Running a business that focuses on providing adept expertise to the clients is no walk in the park. Allocating your entire program to come up with a fix to your customer's scenario is as vital as managing the schedules, fixing up appointments, sending notifications and reminders, keeping track of any changes made to the schedulers. That's where things get complicated, when scheduling barges into your business and becomes an everyday process. When you devote majority of your time to do what you're good at, you bring more smiles and take a bigger paycheck and that's precisely what Setmore will help you achieve.
Setmore, is an online appointment scheduling software built to adapt to your consulting business and it provides you features to schedule appointments, agendas, store essential and auxiliary information and more. Setmore is a sleek online replacement for your archaic and heavy appointment diary. With a Setmore account, you get:
Room for 20 consultants, unlimited services, customers and appointments.
An automated reminder and notification system to follow up every booked appointment.
A customer facing booking page that's accessible all day to accept appointments from your customers.
The power to reserve appointments with just a few clicks.
The functionality to maintain profiles for customers and project their spending statistics.
Setmore mobile apps compatible with your Android and iOS mobile devices.
Don't just Share expertise, Share Scheduling!
Don't be a one man army when it comes to managing your appointments and business schedules. Make your crew of fellow consultants an integral part in managing appointments and much more. Create individual access logins and forget about sharing your Setmore credentials to another person.
If you thought only your staffs can participate in the scheduling process, well think again. Setmore is one of a kind appointment scheduling software that enables your customers to make appointments with your business on a booking profile that comes as a part of your Setmore account. What does it take for you to bring your customers on board? Just share your booking profile's URL and watch all the slots fill up in minutes.
Profile Your Clients and Customers
Your appointment scheduler is one of the earliest level of interaction between your business and your customers. Mark exclusivity in scheduling with an exclusive profile for all your privilege customers and clients. These profiles hold all the essential details of your customers and store the history of all the appointments booked to date. That's not all, your customers will not have the necessity to key in all their details every time they try to book an appointment with your business. With the customer login feature in place, you have a profile for your customers and will reduce the time spent on booking appointments all at one go.
Flexed Up For Your Business
The Setmore appointment scheduler is flexible to meet your business needs. We know that not all consultants work the same and so, Setmore bends to meet your business requirements in certain places. If you are satisfied with the email notifications, have a crew lesser than 20 members and are comfortable with limited features, you can ride the Freemium plan in Setmore for as long as you like. We don't even prompt for your credit card details when you register for a free account too.
If you require features like SMS reminders, a Payment system, the option to schedule recurring appointments and more, we've got different Premium plans available right for you. The booking page of your Setmore account can be embedded in your website and other popular web applications. Watch your booking page travel places even if you are restricted to providing consultation from one desk.
Don't miss out on an online appointment scheduler that resonates well with your consulting business. Create an account in minutes and forget about waiting for the the customers to call in and book appointments with your business. It's about time that your receptionist spends less time glued to the office phone.