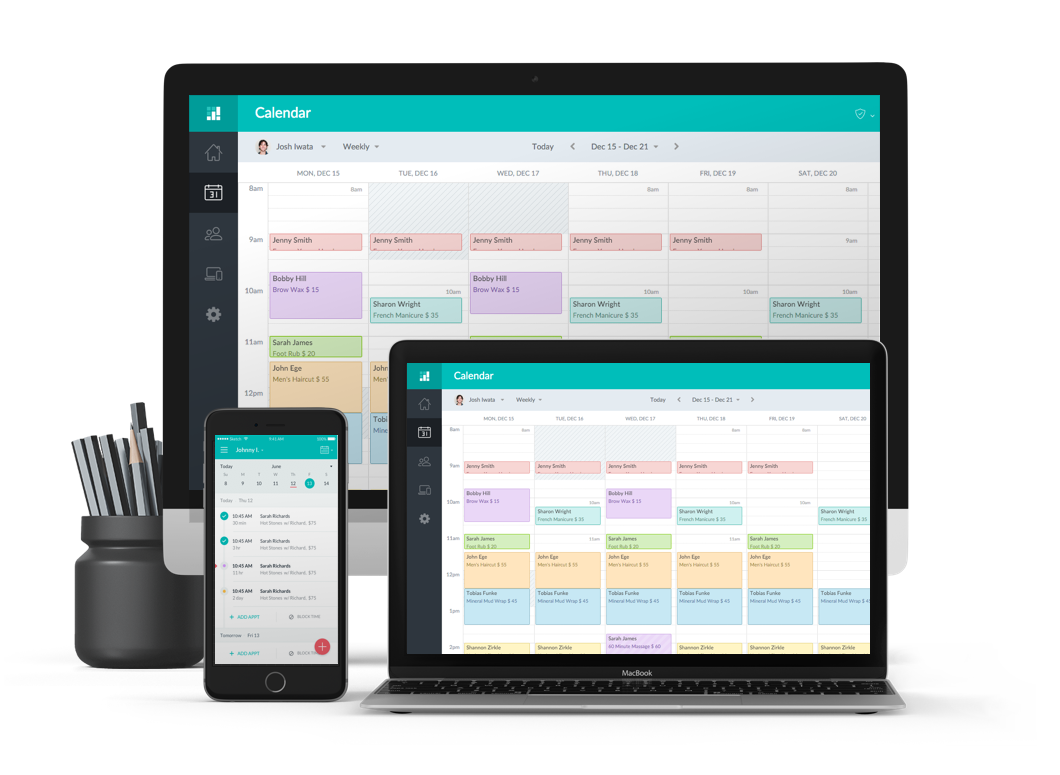 An automotive business is one of the most sought after and indispensable industries that serves those who rely on the public and other modes of transportation to conduct their daily routine and business. Your stint at an automotive showroom or a maintenance shop would back the fact that it takes more than an extensive subject knowledge to maintain the business efficiently and to maximize it. Absence of planning your work in a fast-paced atmosphere, as a car station, results in awful impacts like a defective vehicle being returned without intensive inspection, vehicle not returned to customer at the designated hour, and so on.
Setmore enriches your business with more satisfied customers, an organized workplace, cheerful staff, and a work-life balance more than ever. Setmore serves as the one-stop answer for your business scheduling and it:
Empowers customers for a rendezvous with your services via your Setmore booking page, Facebook, Google Plus, Instagram, and Wordpress.
Stores customer details in the cloud and is available at your fingertips.
Reminds customers of upcoming appointments for vehicles that are due check-up/service.
Enlarges your business boundaries with more satisfied customers that wish to come again.
Generates reports that help you track your company progress.
Facilitates safe online payment transaction.
Lets you print and generate receipts for services offered.
Can be accessed on iOS, Android, and mobile phones.
Customers that rush to an auto garage for a quick fix or a complete overhaul seek your prompt response, and immediate consideration. At times, you may not have space or capacity to provide a fair share of attention to every single customer. You could be excessively occupied in reviving up a dead engine. Consequently, these customers that feel forsaken subconsciously will never come back. They then become an easy and a willing catch for your competitors.
Remember how you miss out on test drive schedules? How about that one day you committed to fifteen same-day deliveries, but you delivered only eight on time? When you missed reminding a client who wished to be told consistently for a quick vehicle check up. How about the old lady down the street that wanted reminders for a water wash once in every week? You, beyond any doubt, missed it too!
Trusting Setmore with your business scheduling alleviates your burden in ways you thought were once impossible. Setmore is an online appointment scheduling application that supports all forms of automotive business in scheduling, managing staff, assigning work, reminding customers on upcoming appointments, online payment feature, social media synchronization, customer review forum and so on.
Schedule Management
A business involved in repairing and fixing all kinds of wheels is expected to receive, check, set, quality check, and deliver at an impeccable speed. Careless planning will result in a bad reputation via word of mouth and other social forums. Scheduling is the key to avoiding this and to streamline your day to day business activities. Customers seek someone who is reliable consistently. Setmore serves as your to-do-list in accommodating the possible repair requests in a day on your daily calendar.
Automatic Notifications
It could be disappointing when customers do not show up because they just forgot their appointment. However, you do not need to be disturbed about facing these no-shows any longer. Setmore can be upgraded to remind your customers of the appointment well in advance. You should do nothing more than set up a reminder. Setmore will send out automated SMS notifications to your customers well in advance prior to their appointment.
Managing Your Staff
More than mastering the art of making an engine live and run, it is fundamental to deal with your employees, and assign jobs based on their area of expertise and ability. With Setmore, managing and deleting tasks to your staff is simple, and all the more it is fun. Customers also get to choose their choice of personnel. This would make their carport routine a non-exhausting adventure.
Recurring Appointments
Certain services like body wash, oil check, wheel alignment and battery check require to be performed at regular intervals of weeks or months. Keeping this in mind, Setmore is designed to block appointments that repeat themselves at designated times, in just a click. As days roll, and a new month unfolds, you can be sure that reminders will go out at the set time. Start seeing the brighter side of your business with Setmore.
We have designed Setmore to be user-friendly, keeping in mind the fact that your business priorities tend to change with varying and hurrying needs. Setmore has helped companies around the world cultivate better client connections and accomplish business goals. Sign up for free now. You will thank this day in the not so distant future!