Sync Customer Appointments with Your Office 365 Calendar
Microsoft Office Suite's built-in calendar solution. New accounts come with your subscription to Office 365. Schedule and manage your personal appointments, work meetings, and various other events.
How it works with Setmore
Display Setmore events in Office 365 (One-way sync) and display Office 365 events in Setmore (Two-way sync; Requires Premium/Pro). Consolidate all of your calendar events and appointments in one place.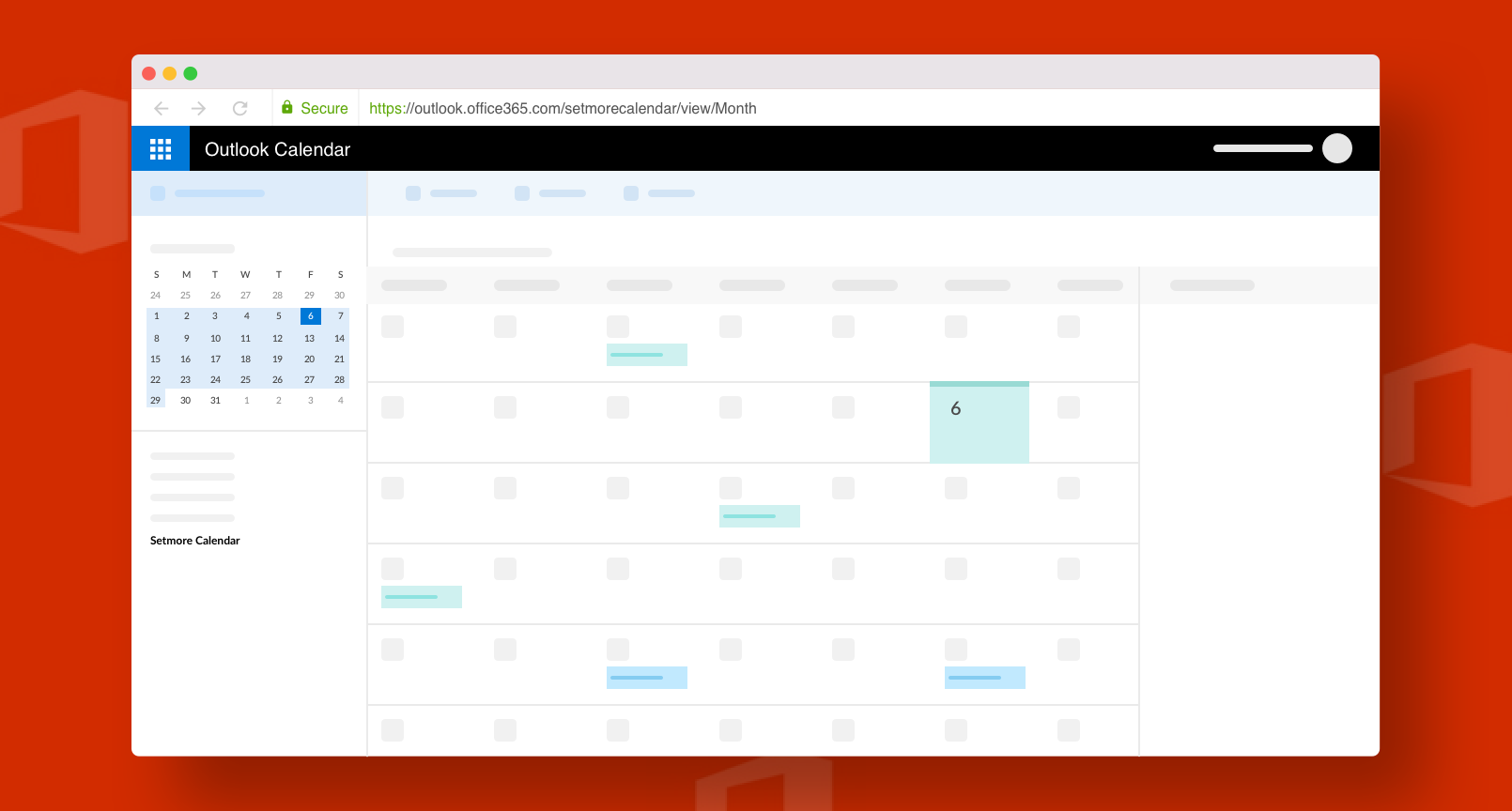 Visit Products.office.com
Combine Your Calendars for Easier Time Management
If you already use your Office 365 calendar to keep track of your meetings, lunches, and business engagements, then this integration is for you. By activating the one-way or two-way calendar sync with Setmore, you'll be able to see all of your Setmore appointments and classes on your Office calendar.
Still considering if Setmore is right for you? Seeing is believing - sign up for a free account today and book your first appointment in minutes.
One-Way or Two-Way Calendar Sync
The one-way sync option, available with the free version of Setmore, allows you to subscribe to a Setmore calendar from your Office 365 app. Doing so will export all of your Setmore events to your Office 365 account, but it won't import your Office 365 events into Setmore. For that, you'll need to activate the two-way sync.
The two-way calendar sync is only available with Setmore Premium or Pro. After you create your free account, upgrade to the Premium or Pro plan and try it out. If it doesn't meet your expectations you can request a refund within 30 days of your upgrade date.
Simple Activation, See Your Appointments Instantly
Activating the two-way calendar sync is as simple as flipping a light switch and it takes effect immediately. You'll see your Office 365 events in Setmore the moment you turn it on.
Step 1: In Setmore, go to Settings > Staff and choose a staff member profile.
Step 2: In the profile window, scroll down to the option for "Office 365 Sync."
Step 3: Click the On/Off switch to activate the feature. You'll be prompted to log in with your Office 365 account to authorize data sharing with Setmore.
Frequently Asked Questions
I don't see all of my Office 365 appointments in Setmore. What's going wrong?
If you're using the Office 365 app (instead of a browser login), first check to make sure that your Office 365 account is connecting to your Microsoft Exchange server. It may have not fully uploaded all of your calendar data. If you continue to experience issues, deactivate and re-activate the sync and wait five minutes.
Why am I getting a 500 error when I try to activate the two-way calendar sync?
When you activate the sync, Setmore will normally prompt you to log in with your Office 365 account. However, if you're already logged into Office 365 in a separate browser tab, this can sometimes upset the logic flow. To remedy the situation, log out of Office 365 in both your browser and your Office app, if applicable. Then try to re-activate the sync again.