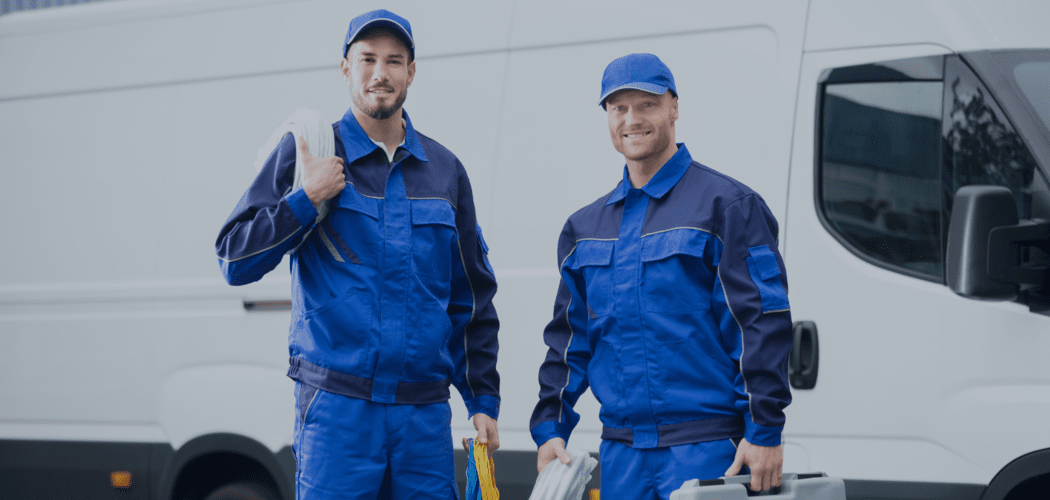 With winter around the corner, many home maintenance businesses are anticipating their annual booking surge. It's no secret: When it's cold out, customers opt to stay indoors. And now the chills have begun, homeowners want to ensure their spaces are prepped for more nights in.
As so many customers are looking for interior and exterior cleaners, it pays to make reserving your time easy. An online scheduling system enables self-booking 24/7, saves you time on confirming appointments, and helps your business compete.
Sweep the competition
September to January is a peak booking period for chimney sweeps everywhere. Whether you're inspecting or conducting a 6-month clean, you want to ensure you maximize your most in-demand hours. Automate your booking process with Setmore and free up time to see more clients.
Simply set up your custom online Booking Page with your service menu and availability. Your customers can view your available time slots and self-schedule their appointments. Bookings appear automatically on your Setmore calendar without you having to take a call or confirm manually. And, in the event of a cancellation, the free slot pops up on your Booking Page immediately. Forget about idle hands while you're in your busiest season.
Easy calendar syncing that'll floor you
The top two reasons why clients stop using a carpet cleaning service is low quality work and missing a booked appointment. (Office Pride) If your customer has taken time out of their day to greet you, they'll be less than impressed if you're a no-show. Whether you're stuck in traffic or accidentally double-booked, that customer is unlikely to reach out again. And, a bad review could impact your future opportunities.
What's the solution? Keep your calendar in check to ensure a top-notch customer experience and increased loyalty. Setmore aligns every one of your calendar events. Really. Your calendar, your team members' calendars and your customer bookings. Additionally, you can sync your Google or Office365 calendars with Setmore to get a full view of activity from 9 to 5, and beyond.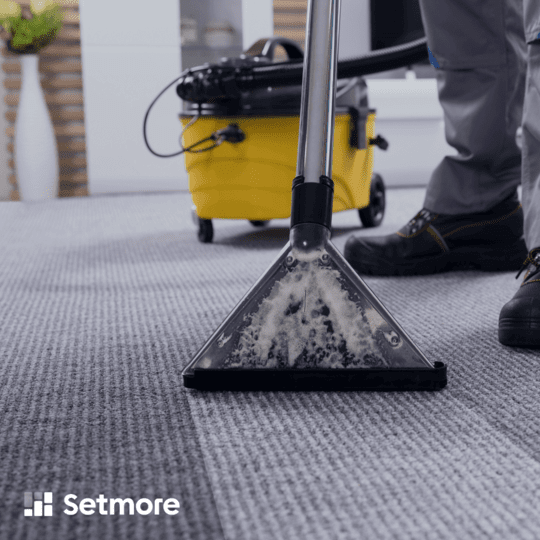 No matter your preferred device – desktop, tablet, iOS or Android – you get instant booking notifications to plan your time and travel accordingly.
Do you market your carpet services?
Carpets typically need a deep clean once every 12 to 18 months, but can require more attention depending on footfall. (Angie's List) Ensure each customer comes back to you the next time they need a spruce up. With Setmore's marketing integrations, your brand stays fresh in their minds all-year-round.
Connect your scheduling app with Mailchimp, MailerLite or Constant Contact and send targeted email promotions. Your Booking Page automatically collects and updates your customers' contact information. When you integrate Setmore with your preferred marketing app, these details will sync with your campaign lists.
Show your customer base their business matters and be their first choice during the life cycle of their carpets, laminates or floorboards. By tracking services booked or average spend, you can push special offers that are the most relevant to your customers. Gain a competitive edge and personalize your service.
Transparency for your team
Interclean predicted a key trend for 2020 would be time and team management apps becoming an industry standard. The impact of Covid-19 and social distancing has solidified this need tenfold. Whether you work in window cleaning, pressure washing, or internal settings, rush periods mean hiring more staff.
It's time to trade-in the humble ledger. Keeping track of appointments for your growing team is made simple with Setmore.
Connect everyone by their mobile device and have full knowledge of their availability. You can assign tasks, account for time-off and breaks, and create individual staff logins to give team members control. With window cleaning specialists typically on-the-move, an efficient scheduling app will enable you to manage your team from Anywhere.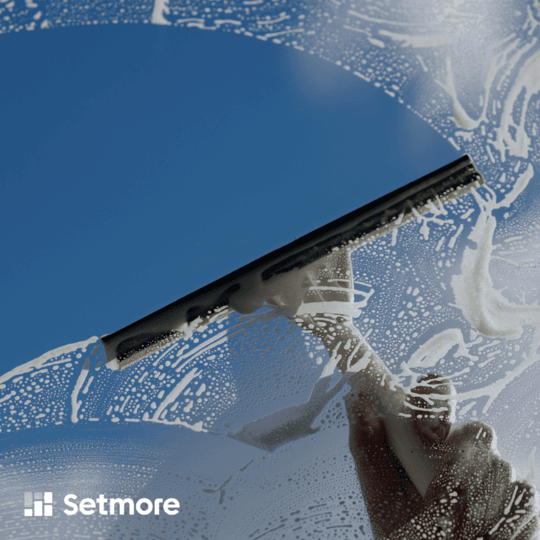 Reduce double-bookings and monitor performance with a real-time view of staff activity.
Smooth scheduling isn't just for winter
The colder months see increased bookings for many types of cleaning services. But, we haven't forgotten about those that see continual demand year-round. Why manually confirm bookings weekly or bi-weekly, when you can automate the process online?
Set up recurring appointments with Setmore so your frequent customers always have a spot on your calendar. Window cleaning techs with a loyal customer base in their local areas find this ideal. You spend less time calling or messaging to check up on bookings, and can use those additional hours to please more customers. All the business, none of the paperwork.
Fed up of knocking on customers' doors to collect their weekly payments? Encourage advance payments by connecting your Booking Page with Square or Stripe. Your all-in-one app helps you create a convenient appointment-setting process, which saves you logging every transaction.
Ready to clean up your scheduling system?
You shouldn't have to take time out in winter (or any time!) to keep updating your schedule. Boost your bookings and focus on delivering your magic with Setmore. Your online Booking Page can even display customer reviews, before-and-afters from your social media, and industry accreditations. 
What more could you need to showcase your skills and credibility? Sign up for your FREE account today.