Automatically Export Customer Data to Constant Contact
Email marketing platform for businesses of all sizes. Constant Contact provides templates and design tools to create visually rich and engaging emails, helping you reach higher open and click rates.
How it works with Setmore
With the integration activated, Setmore will automatically export new customer contacts to your Constant Contact account. You can even specify which campaign lists that new contacts are added to, ensuring a seamless flow to your onboarding campaigns.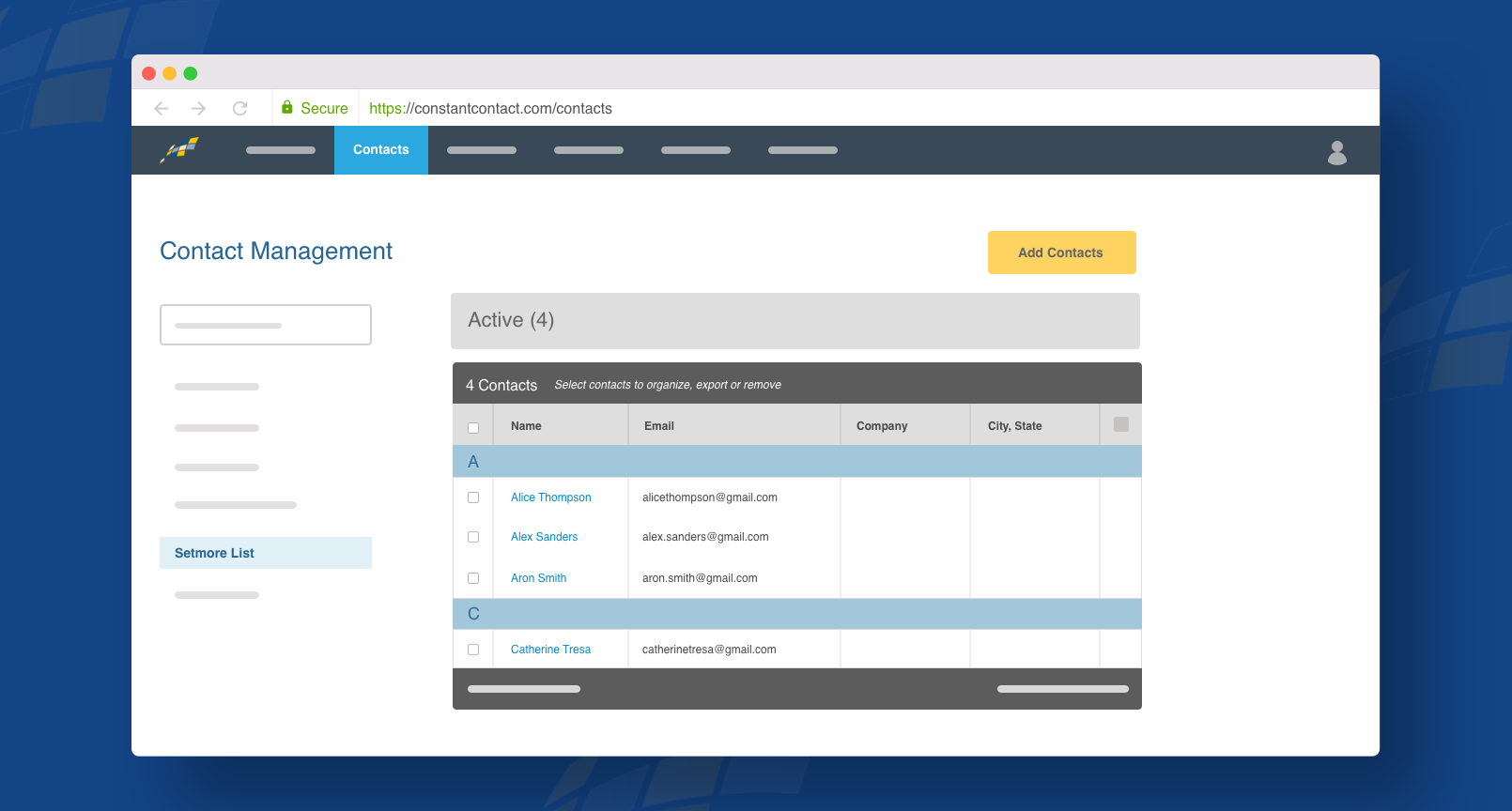 Visit ConstantContact.com
Customers Add Themselves to Your Email Lists
When customers book an appointment with you through your Booking Page in Setmore, they'll be automatically enrolled in the email marketing campaign of your choice in Constant Contact. No more manual data transfer, no more clunky spreadsheets. Instantly send promotional offers and marketing emails to your newest customers without giving it a second thought – a more elegant solution, for a more civilized age.
Haven't tried Setmore yet? Create a free account and book your first appointment in minutes!
Automatic Export in Three Moves
Before you get started, make sure that the data fields for your customer profiles in Setmore match up with the data fields in Constant Contact. (By "data fields," we're referring to items such as First and Last Name, Email Address, Phone Number, etc.)
Step 1: In Setmore, navigate to Apps & Integrations > Constant Contact, and click the "Activate" button.
Step 2: You'll be asked to log in with your Constant Contact account and authorize data sharing with Setmore.
Step 3: Select which email marketing list to export your Setmore customers to.
Frequently Asked Questions
Once I activate the export, will it work for my old contacts or only for new ones?
Unfortunately the export does not affect old customer contacts. It will only work for new customer contacts that are created after you activate the integration. You may, however, export your current customer list to a .csv file and attempt to upload the .csv file to your Constant Contact account.
My customer data isn't syncing correctly when it's being exported from Setmore to Constant Contact.
For best results, before activating the integration, you must make sure that data fields match up between customer profiles in Setmore and customer profiles in Constant Contact. For example, if customer profiles have Email, Phone, and Address in Setmore, they should also have these data fields in Constant Contact.
How do I add new data fields to my customer profiles in Setmore?
Go to Apps & Integrations > Your Booking Page (Configure) > Booking Policies. The section titled "Contact Fields" will allow you to add new data field entries to your customer profiles. Please note that these data fields will also appear on the intake form of your Booking Page, so customers will see them when they schedule an appointment with you online.