Import contacts to Constant Contact automatically
.
Book appointments through Setmore and sync customer details to your Constant Contact email lists.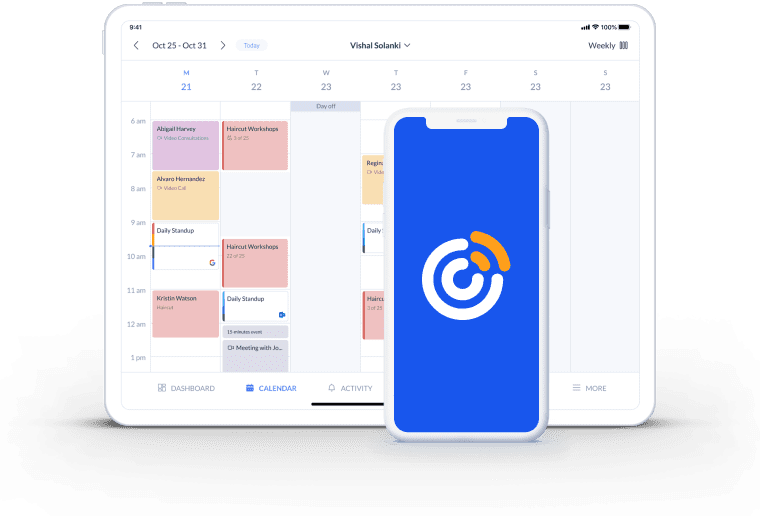 Grow your subscriber count

So long, manual data transfers and clunky spreadsheets. As soon as a booking is confirmed, the customer details are automatically added to your preferred Constant Contact lists.

Keep 'em coming back

Instantly onboard new customers to targeted email campaigns with the Setmore-Constant Contact integration. Encourage repeat bookings by staying connected.

Easy contact transfer

No matter where your appointments come from - including your Booking Page, calendar, website and Facebook - all customer details are sent to Constant Contact.
Ready to turn scheduling into subscribing?
Constant Contact provides templates and design tools to create professional email marketing campaigns. The Setmore-Constant Contact integration helps you build your email database with every new booking.
When an appointment is confirmed through your Booking Page or calendar, your customer's details are automatically added to your chosen email list.
Connect Constant Contact with your booking system
.
In Setmore, navigate to Apps & Integrations > Constant Contact and click 'Activate'.
Log in with your Constant Contact account details and allow Setmore to share data.
Choose the email list for your Setmore contacts to land in and complete the integration.
Need a bit more detail? Check out our Constant Contact import integration guide >
They're on the list
.
When customers book an appointment through Setmore, they're automatically added to your chosen mailing list. It's a simple way to reach a wider audience with your marketing, without any manual data transfer.
Customer details gathered from your calendar, Booking Page, website, Instagram and more, all import into Constant Contact.
Capture and retarget
.
Ensure you nurture highly-engaged contacts that have already shown an interest in your services. By onboarding them to your emails at the point of booking, your business stays fresh in their minds. Nudge them to book a repeat appointment by sharing valuable updates and relevant offers.
Attract new customers
.
Your Setmore-Constant Contact database can be used to create a lookalike audience for Facebook and Instagram ads. Target social traffic that is most likely to show interest in your services and fill your calendar faster. Ad campaigns can be set up directly through your Constant Contact account. Here's how to do it >
More integrations to help you deliver your magic
.
FAQs
.
Yes. The Constant Contact integration is available to all Setmore Free, Pro and Team customers. Create your account to start building your email list.

Before activating the integration, you must ensure that data fields match up between customer profiles in Setmore and Constant Contact. For example, if customer profiles include 'Email', 'Phone' and 'Address' fields in Setmore, these fields should be mirrored in Constant Contact.

Go to Apps & Integrations > Your Booking Page (Configure) > Booking Policies. In 'Contact Fields', you can customize the data fields that appear on your customer intake form. Please note that these data fields are visible to customers. They appear on your Booking Page when scheduling an appointment.

Yes, Setmore integrates with Mailchimp and MailerLite. Both integrations are free and available on all Setmore plans.
For more information, visit our Support Center.
Make the magic happen, we'll make sure it happens on time.
Sign me up