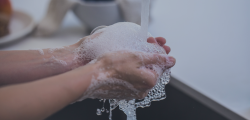 To adapt to social distancing measures and conform to new hygiene standards, the salon environment needs an overhaul.
Bottles of hand sanitizer, copious amounts of gloves, and boxes of visors. These products have become new members of your team. Many salon owners have started to plan the restructuring of their services. To reduce the risk of infection, salons need to clean their workstations on a regular basis.
Finding time to clean your workstations can be difficult when you're serving clients back-to-back. It's key to manage capacity in your salon and use your online calendar to your advantage. But, we know what you're thinking…
How do I update my online calendar for cleaning?
We've got two solutions to help your team follow hygiene regulations.
Option 1: Buffer time
Buffer time allows you to add extra time to your appointment slots to enable your team to sanitize areas after an appointment.
Picture this. Karen booked in for one 30-minute service, after which you'll need at least 10 minutes to clean up your workspace. But, there's another booking right after Karen. Your next appointment will need to be pushed back to allow time to sanitize your workspace. This could also mean your bookings run late for the rest of the day, as your salon has reached maximum capacity.
What's the solution?
Simply add a 10-minute buffer time! In your calendar, the appointment will be 40 minutes.
What if my client thinks their treatment is 40 minutes?
Buffer time is invisible to your clients. So it's an ideal tool to keep your salon organized, clean, and safe. Your client leaves their treatment room and exits your salon, leaving you to clean. By the time your next client arrives, you've sanitized your space and are ready to start.
Want to know how to set up Buffer time? Check out our dedicated support article. 
Option 2: Add a service
As buffer time automatically adds to a service, it's not suitable when clients book multiple services in a row.
Set up 'Cleaning' as a service to add time at the beginning and end of an appointment. You can create this service like any others in Setmore. This option is ideal when a client books several services for one salon visit. Your team can then maximize their billable hours. 
Will the 'Cleaning' service come up as a service for my clients to book?
No, only you and your team can see it. Go to the 'Services' section of your Setmore account and click on the 'Cleaning' service. Under 'Private Service', flick the switch to 'On'. Your staff members can also add this service onto their appointments, quickly and conveniently.
As your salon adapts to the 'new normal', you want to make operating easy for your team and customers. The key to organization in your salon is to ensure there's time to sanitize. This is a simple solution to help your team provide a safe customer experience. 
Get your salon back to full strength with an online booking system. Learn more about how to set up cleaning time for your salon with Setmore.