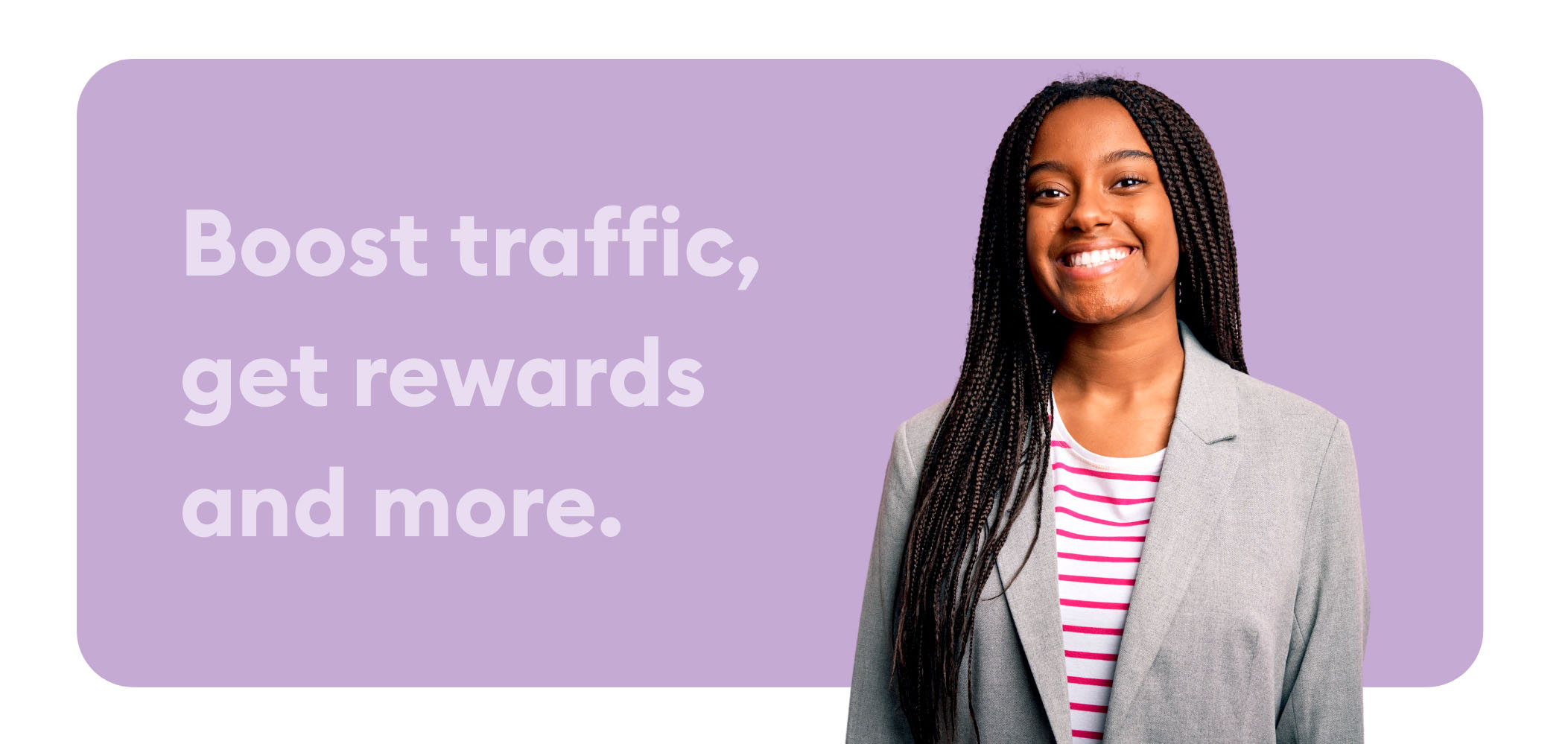 Your app is continually evolving. When you signed up, you might've been motivated by the Teleport video integration, automating reviews, your custom Booking Page, or a mix of features. What was then is so much better now.
Team Setmore utilizes your feedback (and your customers' feedback) to improve the online booking experience every day. Here's what we cooked up in July.
Smarter tracking with Google Analytics.
Barriers to booking impact your productivity. Whether a customer can't pick between services, reconsiders booking after seeing the cost, or another barrier, you want to know about it.
With the Google Analytics integration, you'll see your customers' self-scheduling process broken down into events. This pinpoints exactly when a customer steps back from scheduling an appointment through your Booking Page.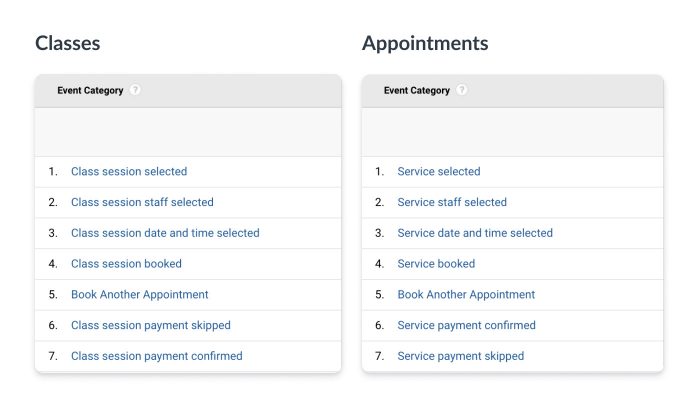 All you need is your custom GA code and countless visitor insights await you.
For example, if a large part of your audience views your services and exits, perhaps your service names and descriptions need more detail. If many visitors reach the point of payment and kick rocks, that could mean you need to review your service costs.
Greater knowledge of your visitors' scheduling preferences can help you tailor your Booking Page. Get the data, test, and learn what fills your calendar faster.
Discover how to connect GA with your Booking Page >
EasyShare coming through.
New feature EasyShare is now available for accounts created after June 29, 2021. Been with us a while? We appreciate your patience – the wait won't last long.
As your business grows, you'll add more service types and staff to your Setmore account. Each service and staff profile has its own booking link. With EasyShare, you can access all of your booking links in one place.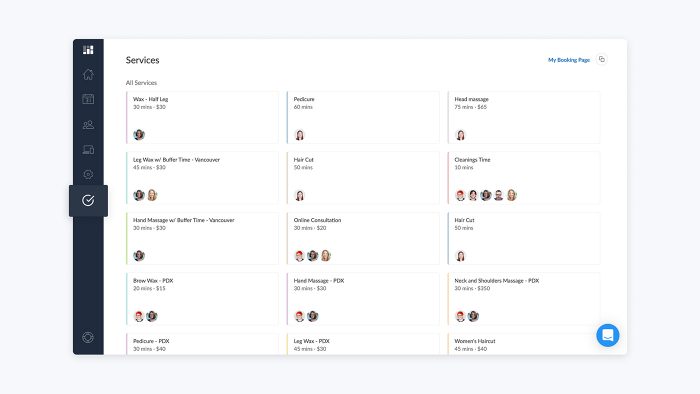 Hit the EasyShare icon in your Setmore web app (below the Settings cog in the left-side nav).
Hover over a service or staff profile and a 'Copy Link' button shows. Click it.
Then, simply paste the link where it needs to be – chats, emails, LinkedIn posts and more.
Rather than directing customers to your full Booking Page, you can share the most relevant service or staff links. Not only that, EasyShare feeds into an effective link building strategy for your business, which helps your Booking Page appear in more local search results.
Introducing the Android Universal App.
On Android tablets, Setmore automatically adapts to fit your screen. Get access to your full calendar, along with all of your favorite Free and Premium features from the mobile app. This includes staff calendars, customer profiles, online payments via Square or Stripe, and more.
Customers can also access dashboard view, 7-day view and landscape mode on tablet devices. Keep an eye on all team schedules with a view that works for you.
Get the uber-responsive Setmore Android app for tablet >
Give 20, get 20 🤝
Spread the word about Setmore and get beaucoup rewards. Our new referral program is now open to Premium customers. Get your unique code and tell your network about your experience.
If you're on Premium, you'll be credited $20 for each referral who signs up to Premium. Referrals will also receive up to $20 towards their first month of service.
Not only will you help businesses around the world streamline scheduling, but you'll also do your bit for our planet. Team Setmore will plant a tree for every referral signed up. We're all about growth, after all.
Request your unique referral code >
(Our referral program will become available to Free customers soon. Follow us on LinkedIn, Facebook, Instagram or Twitter for the latest.)
How to get more local customers online.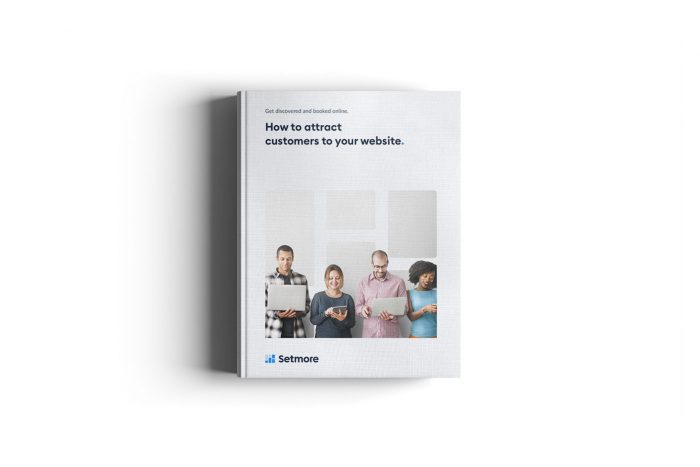 Did you know your Booking Page appears in Google search results? Explore our new guide to small business SEO and get more visitors to your Booking Page or website.
With a few simple tweaks, your Booking Page can attract more local traffic.
Take bookings directly from Google search and Maps,
Optimize your site for your ideal audience,
Try FREE keyword research tools to boost your visibility in search results,
Learn how your customers prefer to book with Google Analytics,
Read how EasyShare can feature in your link building plan, and more.
BrightLocal reports that 90% of consumers went online to find a local business in the last year. Think of all those customers looking for services like yours. Check out our guide to enhance your online presence, stand out from competitors in Google search, and get more bookings.
For your reading list 📚
Add your Setmore booking calendar to LinkedIn
Set up an online escape room booking system
How universities use online booking for office hours to interviews
How online scheduling helped grow Square Foot Photography
Activate the beta Setmore and Google Meet integration
You know the drill.
If you have any ideas that could make scheduling even better, we're all ears. Email us at morefeatures@setmore.com. Happy scheduling!