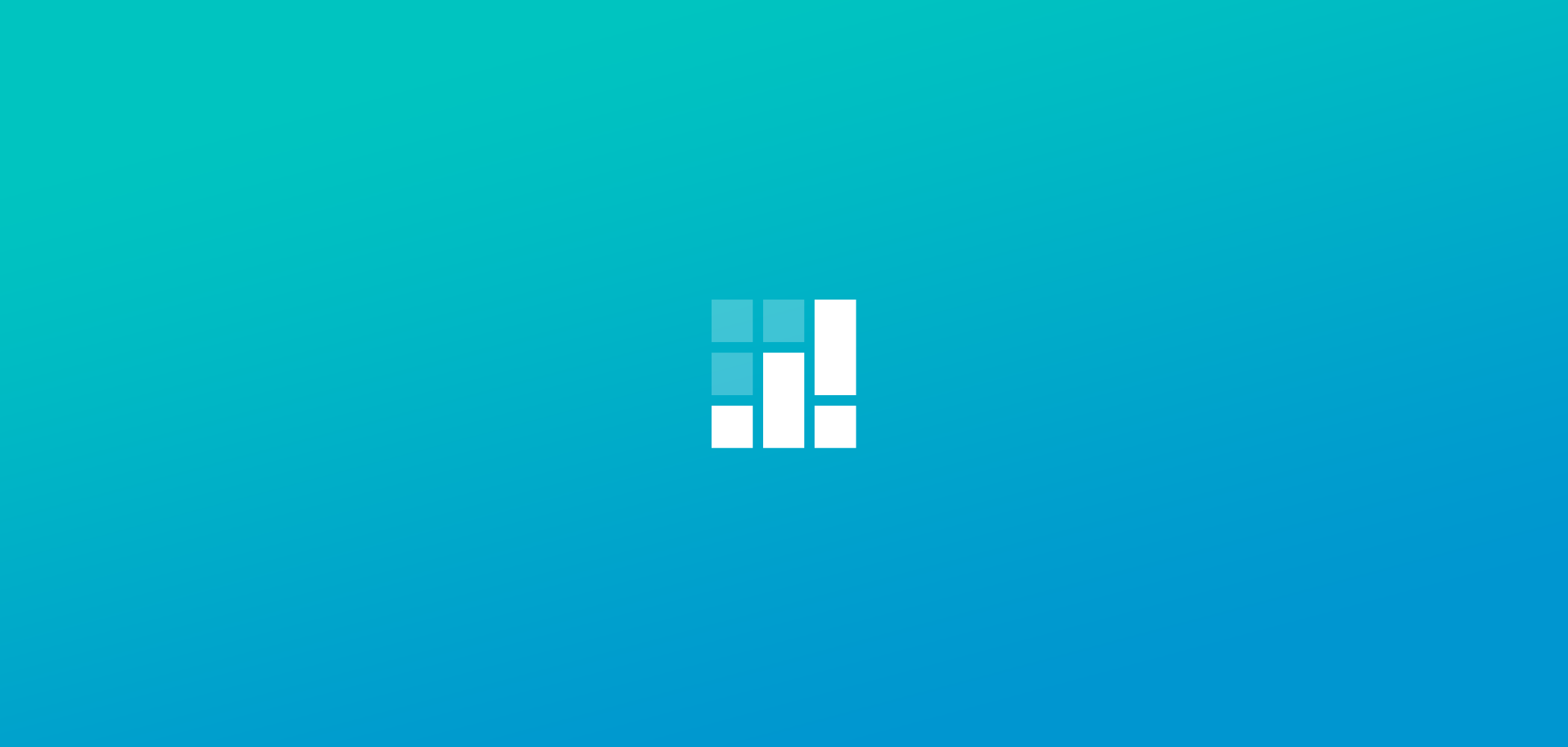 In the US alone, there are currently 20 million students enrolled in university (Statista). The average undergrad headcount is 6,445, but some larger institutions welcome over 46,800 students annually (U.S. News). Overall, the student-to-professor ratio is 18:1 (National Center for Education Statistics).  
Needless to say, ensuring everyone has access to guidance relies on efficient scheduling. A flexible online college booking system makes it straightforward to arrange: 
Professor office hours
Tutoring sessions 
Campus tours
Group projects and workshops 
College events 
Exam timetables 
College admissions interviews, and more. 
We'll walk through some ways our customers utilize Setmore for university appointment booking. Need help customizing your set-up? Reach out to our team via live chat, or book your personalized demo in seconds.
Organized office hours. 
Every professor is responsible for providing the highest quality of education. This goes beyond lecture theaters to grading papers, sparking debates in seminars, and of course, offering 1:1 support during office hours. 
But, with a campus full of learners that require your time, office hours have to be scheduled to a T. Using college scheduling software, you can offer online pre-booking for office hours. Students get their own appointment slots and professors can prepare for discussions beforehand. 
University personnel can block out time in their Setmore calendars for classes and other commitments, like guest lecturing. Their Booking Pages only show available time slots to students, reducing scheduling conflicts. 
With Google, Outlook and Apple calendar syncs, all events can be accounted for. Professors simply share their booking link and allow students to self-schedule 24/7.
Don't rush through rush week. 
Educational and recreational events take place year-round on a college campus. Ideal for student art shows to webinars and workshops, a university appointment system makes it easy to ticket events. Even if an activity is fee-free, online reservations help organize foot traffic and confirm attendance prior to an event. 
Set up a class in Setmore with a date, time, and number of seats. You can share the particular class booking link across social media, emails, your website and more, letting your audience confirm seats at any time. If you're arranging a paid event, integrate your university scheduling software with Square, PayPal or Stripe and take payments online, in advance. 
Online college appointment booking is ideal for sorority and fraternity meet-and-greets, ensuring houses have time set aside to meet each pledge.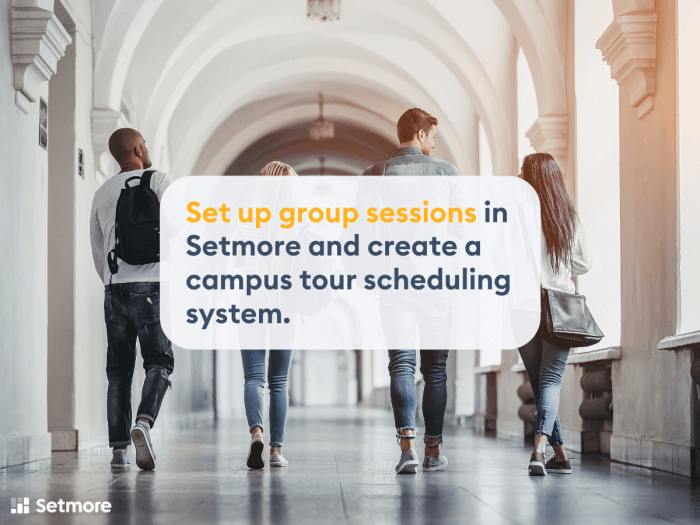 Smarter scheduling for tutoring sessions 💡
TAs and student tutors use college appointment systems to ensure they maximize their time. A tutor can display their available hours on their Booking Page, schedule recurring sessions, and take payments ahead of time.  
Tutees are able to reserve time without the back-and-forth, and reschedule or cancel from their email confirmations. If an appointment slot frees up, another student can snag it right away. And, with automated email reminders (or texts for Premium customers), tutors save time and energy on no-shows.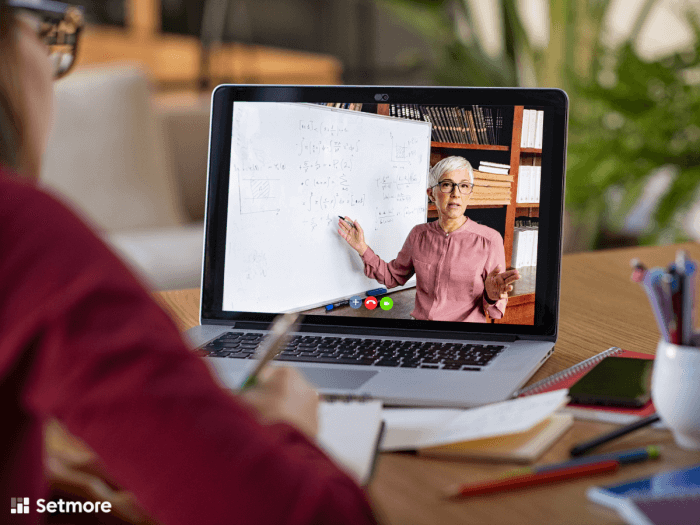 Peer-to-peer tutoring becomes simple to schedule, whether sessions take place in-person or virtually. Video conferencing integrations with Teleport, Zoom and Google Meet enable tutors to reach students from wherever suits them. Using screen share, tutors can also deliver demonstrations, presentations and run through data on calls. There's no travel required, reducing lateness and costs for everyone. 
Teleport is included with Setmore Free accounts, allowing up to 4 participants per video session. This works for small tutoring groups or collaborative projects. For larger groups, activate the Zoom or Teleport Premium integration. 
Hey, that's my seat!
Whether students need to research independently or cram for finals, the library is in high demand. In those moments someone needs a little quiet, away from the dorms, they may want to book a study space.
Add all of your study areas, e.g. split by room or table, to your library's Booking Page. Students can reserve seats online and hit the books as soon as they show up. Automating the process saves time for staff and students. Space management is taken off your library team's hands, allowing them to focus on more crucial tasks.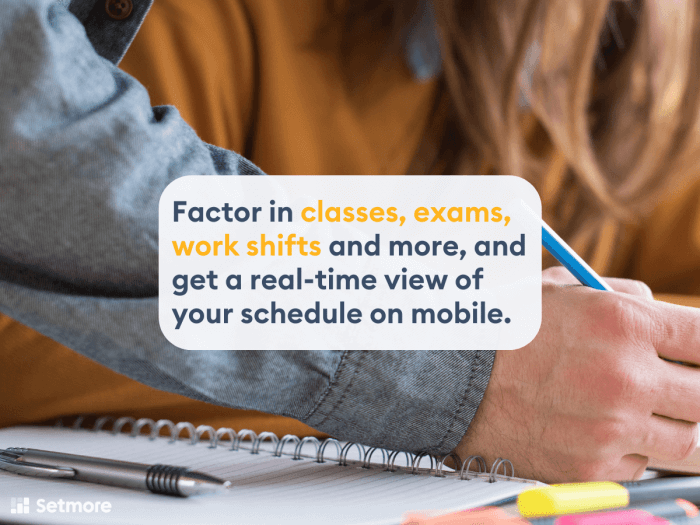 Arrange admissions appointments. 
Applying to college can be intense – from decision-making and securing financial aid, to perfecting applications. Make interviewing a hassle-free part of the admissions process with appointment scheduling software for universities. By displaying interview slots on your Booking Page, candidates can schedule college interviews without threads of 'When are you available?' messages.
Whether you're setting up in-person or virtual university interviews, an online university booking system offers candidates a seamless journey. When a booking is made, both of you receive an instant email confirmation. If the interview is to be conducted through Teleport or another video integration, a meeting link is automatically generated and displayed in these emails. 
At the start time, simply click the link to join. Interviews can even be recorded for future reference, assisting any team members unable to make calls. 
Scheduling software for colleges that makes the grade 🏆
Explore tutoring and education appointment software further, and create your FREE Setmore account today >