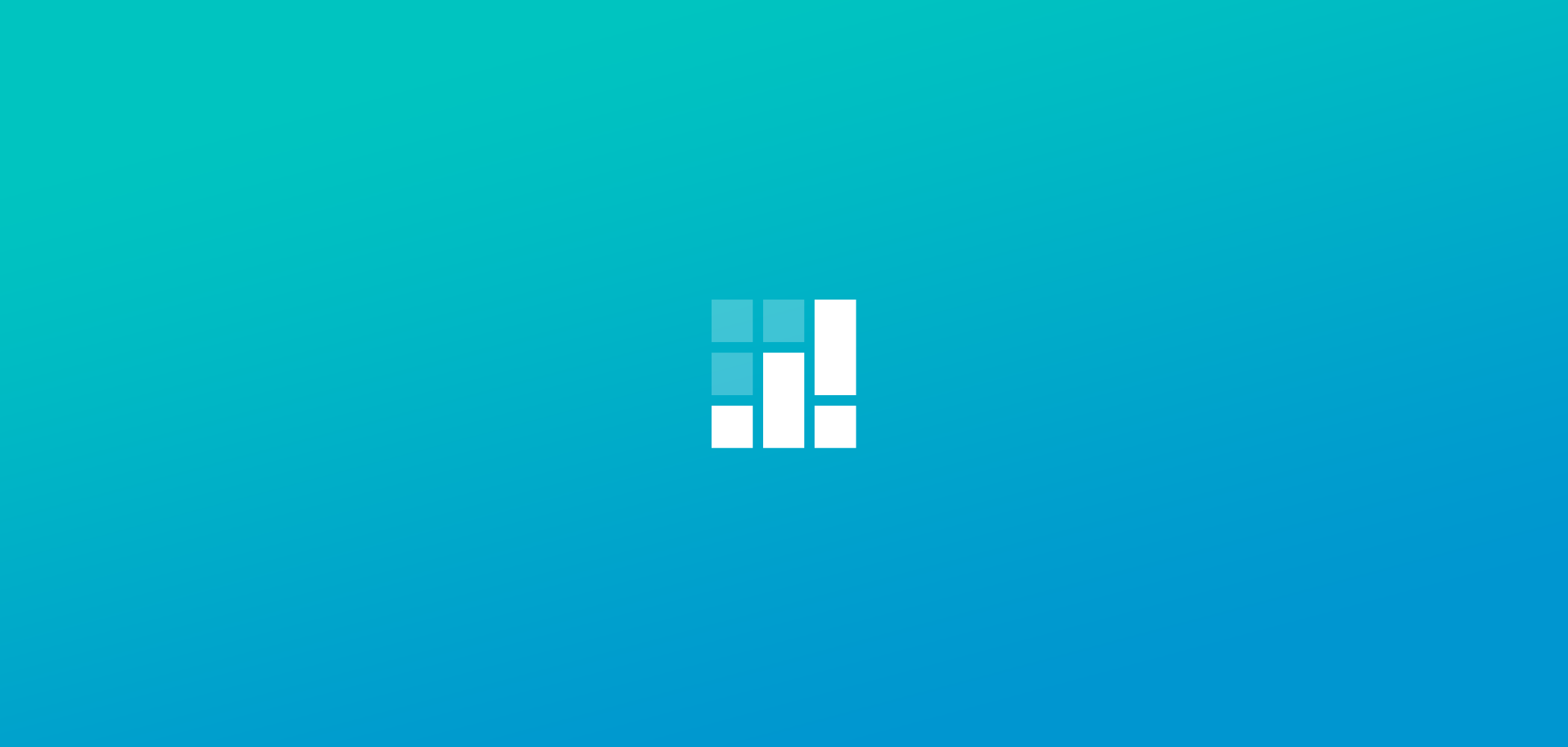 New realms of business utilize online scheduling every day. This one, we're particularly psyched to discuss. Escape rooms bring people together all over the world, enabling groups to bond through creative problem-solving. In addition to traditional escape rooms that take place indoors, we've seen outdoor and virtual quests thrive in recent years.
Booking a family, co-workers or a group of friends is simplified with the Setmore app. Here's how to list your quests online and offer 24/7 booking for escape rooms.
A world of your own.
Every quest is different. In fact, there's an abandoned quarry in Wales set to become the world's first underwater escape room. To get your business seen and become more competitive, showcase your unique scenarios online. Your customers can self-book their favorite in minutes.
Create an online booking system for escape rooms.
The following example applies to a three-room center, but it can be edited to suit your requirements ?
Step 1: Add each room as a staff member in your Setmore account.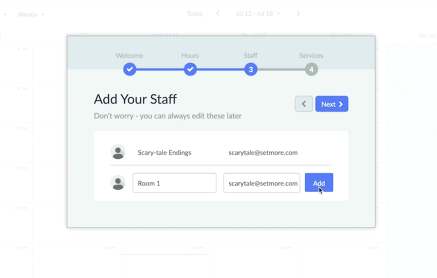 Step 2: Assign services based on how many participants each room is built for. Include the group number in the service name. For example, room A could have separate services for a group of 4, 6, 8 or 12.
Step 3: For each service, also specify a fee and run time. Remember to account for buffer time in between sessions. To illustrate, if a quest story is 60 minutes long, you could offer the first session at 9am, leave a buffer for 15 minutes, and schedule the next session for 10:15am.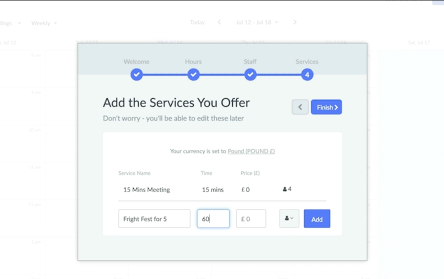 Step 4: Share booking links – for specific rooms or group numbers – and start taking reservations online.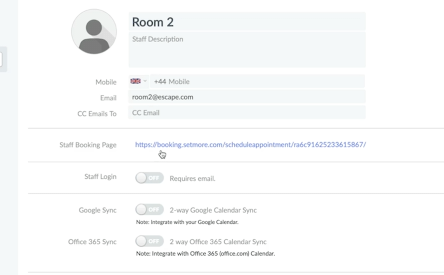 The above requires one person to book on behalf of a group. Accordingly, there'd be one group per room at all times. If your rooms are built for larger crowds, use your escape room booking software to add classes rather than services. This allows for multiple group bookings in the same time slot.
Learn more about buffer time and keep a window to reset your escape rooms after each session. And if you prefer to get paid ahead of time, activate Booking Page payments to take full or part payment before confirming reservations.
What your customers will see:
When you share a specific staff/room booking link –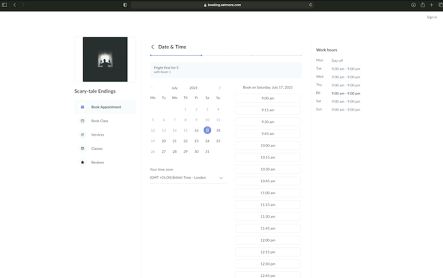 When you share a service link for a specific number of participants –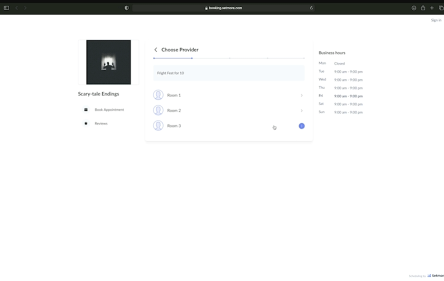 If a customer opens your full Booking Page, they can pick a room, specify the number of people in their group, and select their time slot –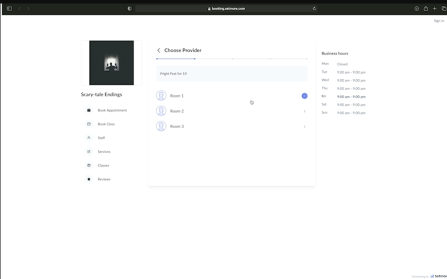 Have questions about setting up your escape room booking site? Book your personalized demo and we'll walk you through it.
Take the puzzle out of escape room scheduling.
Online booking software for escape rooms also makes it straightforward to reserve through your calendar. When adding a booking, simply tap the staff/room profile, select a service based on the group number, and specify a time that works for your customer.
You can accept payments through your calendar's integrations with Square, Stripe or PayPal, or track cash transactions with Setmore cash register.
When a booking is confirmed, both you and the customer receive an email confirmation.
What you'll see when booking through your calendar: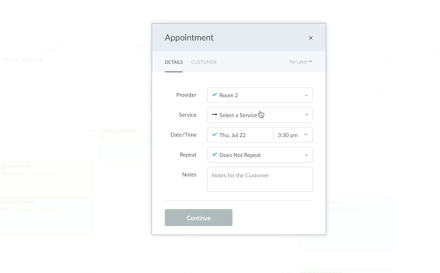 Break free of manual updates.
A huge challenge before a quest even starts: ensuring everyone turns up. When your business runs on group bookings, drop-outs and no-shows can put a dent in your revenue. With an online escape room booking service, email or text reminders are automated for each reservation. Let your app take on the legwork to get customers through your doors on time.
As a bonus, you can also automate email review requests after every session. Capitalize on adventure-fuelled adrenaline and feature ratings front-and-center on your Booking Page.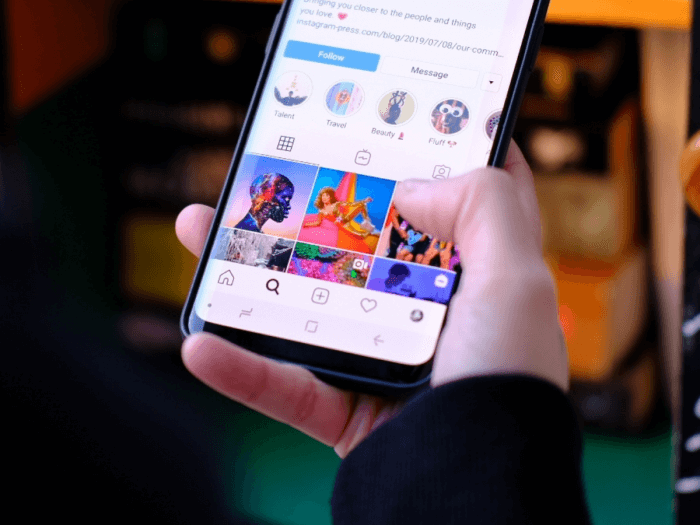 Check out our Booking Page set-up guide for more ways to customize client scheduling. You'll find instructions to take reservations from Facebook, Instagram and your website. Connect your escape room booking software with WordPress, Shopify and more.
Start your journey.
Ready to set up your online escape room booking system? Choose your path ➡️
If you're operating 4 rooms or less, sign up for a FREE Setmore account today. 
For 4 or more rooms, go for Pro. You'll even get access to exclusive features like text reminders and the PayPal integration.
Call, chat or email us at any time for support. We'll help solve the mystery.