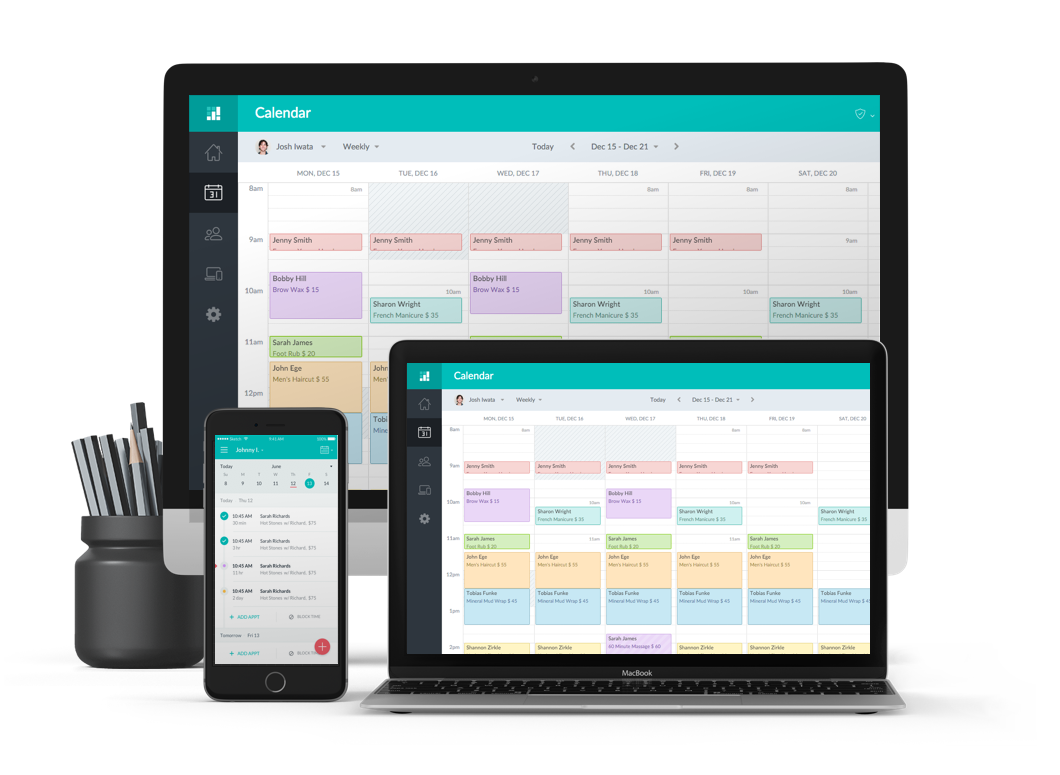 Practicing medicine entails a lot of responsibilities, one among which is the increasing your patient's trust in you. Owning a medical practice entitles an extra dose of responsibilities and duties. These duties sometimes get in the way of your main passion - treating your patients. Setmore helps you manage your business and take client appointments online.
Setmore, is an online scheduling application which makes it easy to let your patients book their own appointments with you, so you don't have to maintain a separate system for managing appointments, employees and customers.
When you use Setmore for managing client appointments, we give you:
An online dashboard where you can manage all appointments booked by clients and patients.
An online booking page where patients can book appointments with your clinic.
An online calendar where you can see all the upcoming schedules at one place.
A dashboard where you can add staff members and set their hours of operation, associate services and enter the cost of availing a service.
Automatic notifications and reminders so that your patients and clients get reminders well ahead of time, and they don't miss appointments.
Let your patients book appointments with you, anywhere, anytime
Setmore´s core goal is to provide a booking process which is easy to use and not time consuming. The design of the booking page reflects this goal. It is precise, easy, clutter free and can be customized to suit the image of your business. Apart from collecting contact information from patients, the booking page also provides a short description of your practice which includes contact information, logo and a Google map pointing the location and address of your business. Even the web address of the booking page includes a snippet of your clinic´s name.
Apart from the main booking page, we also provide Plugins for a couple of other sources including Facebook and Wordpress. You can embed your online appointment booking page in your website or in your Facebook page and take appointments from customers and clients.
All the appointments which your patients make are automatically included in the calendar of the respective staff and a mail is sent to your patient providing the details of the appointment they booked along with links for rescheduling and cancellation if and when it is needed. Any rescheduled or canceled appointment slot is automatically made available in the booking process, so your appointment booking system is always updated with available slots and timings.
Managing appointments, customers and employees online
With Setmore, you can also reduce the number of no-shows your clinic might suffer with our customized reminder feature. A text and/or email is sent to your patient reminding them about the appointment they have. The notification feature for your staff will prevent them being blindsided. Apart from this, when these notifications are sent with an appropriate lead time, it also provides them time to prepare for the upcoming appointment.
Setmore´s selective export feature enables you to view your practice from a business point of view. The numbers always provides a clear picture of how your practice is doing. With this, you are able to determine which services seem to be utilized more and which staffs are preferred by your patients to help them make informed decisions.
The above is just a sample of features which your business benefits from when you choose Setmore to be your online appointment organizer. You don´t need to take our word for it, just try out our product once, we are sure you will love it to organize your clinic and customers.