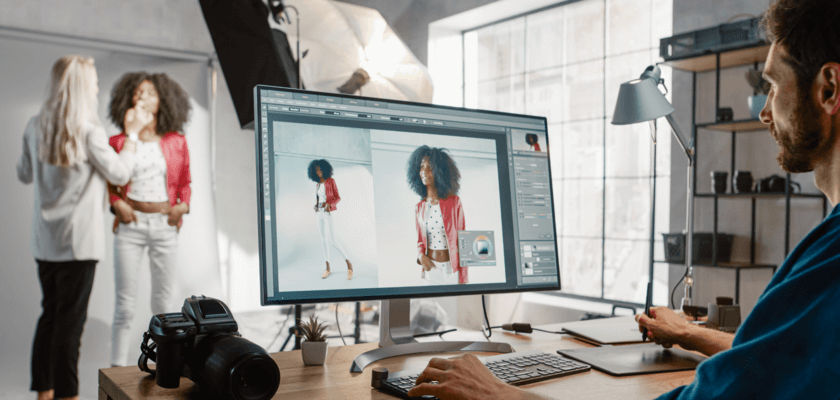 Get the most out of your bookable hours with a free online mini session scheduler. Picture this: you're shooting corporate headshots for a full morning, and your next full session isn't until a wedding reception the next day. What are you going to do with that afternoon?
If you're trying to grow your small business, those hours count. But not every client is looking for the whole shebang. That's where mini sessions come in.
What are mini photo sessions?
Mini sessions are smaller versions of packages offered by photographers. They typically run for 30 minutes and have preset fees that are less expensive. If you're wondering why photographers have mini sessions, many use them as tasters to bring in clients for full services. Offering mini photography sessions can help increase your bookings and fill gaps around larger projects.
What are photography mini sessions good for?
Often, mini sessions are used for family portraits, headshots, pet pics and graduation photos. Many photographers also provide services for seasonal or holiday portraits (e.g. Christmas cards) and set up gift packages for events like Mother's Day.
For those advertising smaller spaces, mini sessions are used for real estate photography. 
Mini photo sessions can take place in a studio or on location. Some mobile photographers travel to homes, offices or other places preselected by clients.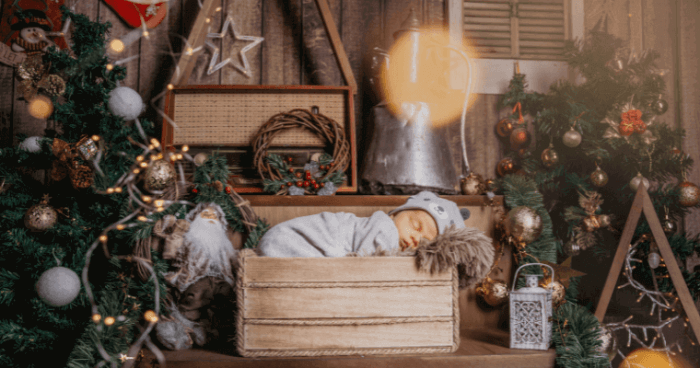 How to schedule mini sessions online.
Here's how to set up mini sessions as services in Setmore. You can create as many services as you like and provide descriptions.
In your Setmore web app, go to Settings > Services and select 'Add service'.
Specify the service name, e.g. 'Family portrait mini session'. Next, add a description, fee and session duration.
Assign staff (even if you're a one-person-band) so the service becomes bookable.
Save your new mini session service.
With that, your mission session service can be scheduled through your calendar and Booking Page. If you'd like clients to prepay for appointments, activate Booking Page payments.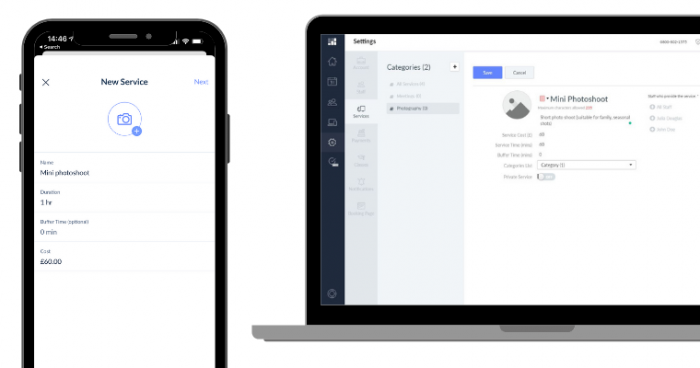 Get illustrated instructions on how to set up mini photography sessions using your web and mobile app here.
To give yourself time to prep before appointments, remember to add buffer times. And, implement a booking lead time to determine how far in advance to set up mini sessions.
How to book more mini sessions.
A challenge for any small photography business is gaining an audience. Get your skills seen and make it simple for clients to reserve your time. To book more mini sessions: 
Set up an

online booking system

and let clients self-schedule sessions 24/7
Ensure you give detailed descriptions of your services online and highlight knockout

client reviews

Add an

Instagram stream

to your online booking system so your latest work is automatically showcased to visitors
Embed a

'Book Now' button

on your website to capitalize on local search traffic (optimizing your copy also helps)
Activate your Facebook and Instagram 'Book Now' buttons to accept appointments from your pages and posts
Get a

QR code

and enhance your print and online ads, business cards, and more
Set up a secure payment gateway for a more convenient self-scheduling process
Be creative with your marketing; we've got some ideas for you in the next section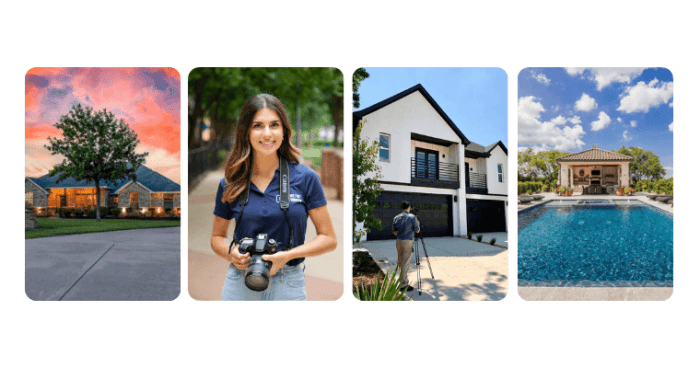 Discover how Square Foot Photography grew its client base by automating scheduling. To learn more about our mini session booking app, click here.
Where to advertise for mini sessions.
Create an optimized website with booking options.
An online presence is a must when considering how to market mini sessions. Strengthen your website by creating a dedicated page to this service. This becomes even more effective when you connect your Booking Page, allowing viewers to learn and book right away.
To draw attention to a new service, create a compelling pop-up. If you use your Booking Page as your business website, here's how to feature a pop-up front and center. Include details on your mini session service, a special offer, and more.
Optimizing your website and/or Booking Page for local traffic is invaluable. Target the most relevant keywords to ensure people see your business in Google search results. Read more in our guide to attracting more customers online.
Showcase your portfolio on Instagram.
One of the biggies: social media. Your Instagram profile is your digital portfolio. When researching photographers, potential clients will browse your work. Keep your social media uploads consistent and provide an instant booking option. Whether you post organically or create an ad, activate the Setmore-Instagram integration.
This enables you to connect the Instagram 'Book Now' button with your Booking Page. Your audience sees the button on your page and posts, allowing them to marvel at your talent and book without leaving Instagram.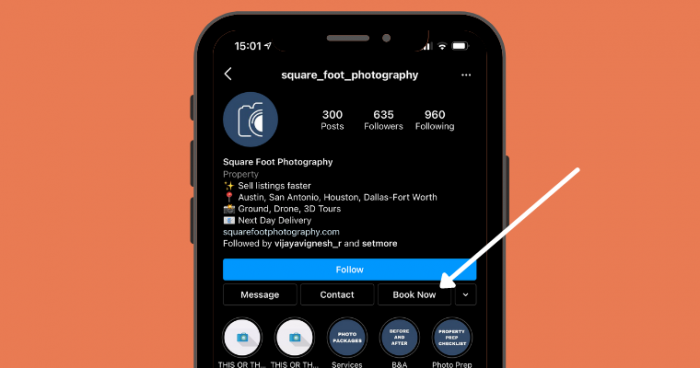 The instantaneous nature of social media marketing means it's ideal for promoting shorter-term offerings, like themed or seasonal mini sessions. If you're wondering how to market holiday mini sessions, Instagram and Facebook get your message out like that *clicks fingers*.
Read more about how to advertise mini sessions on Facebook and Instagram. Need a Setmore account? Sign up for your mini session scheduler free.
Answer FAQs in YouTube videos.
Sometimes, clients looking to spend less opt for mini sessions. Sometimes, clients are unsure whether they should go for a full or mini session. Video content can help guide people to book an appointment. Create content that answers typical questions, describes the differences between your services, what to expect, how to prepare, and more.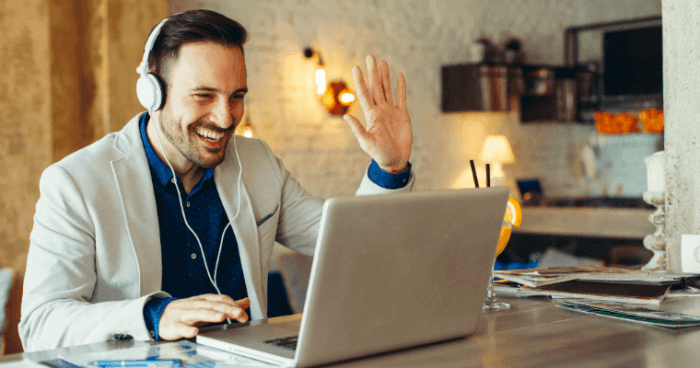 You can field fewer questions by call and email, and there's less effort on your clients' side to learn more. Make sure you feature your Booking Page link within your video and in the YouTube description.
Guest post and engage in forum discussions.
When clients are researching mini session services, they may look at forums, photography blogs and less transaction-focused content. Not only should you update your own blog with new articles, but you should look to guest post on other websites. 
Establish links with others in the industry to get your name out there. Creating or contributing to valuable content helps to establish your expertise. You can also drop links to your website or Booking Page and allow engaged readers to book then and there.
Not only does this improve your own website and Booking Page authority through link building, guest posts could gain continual readership.
Attend conventions and fairs.
Many photographers attend trade shows and wedding fairs to drum up business. Make it straightforward to book consultations and mini sessions from your booth.
QR codes are an effective way to capitalize on footfall at crowded venues. You might be busy with one prospect while others engage with your POS displays and promo items. By displaying a booking QR code at your booth, potential clients can access your Booking Page through their smartphone cameras. There's no need to wait in line to set an appointment; they can confirm bookings themselves on the move.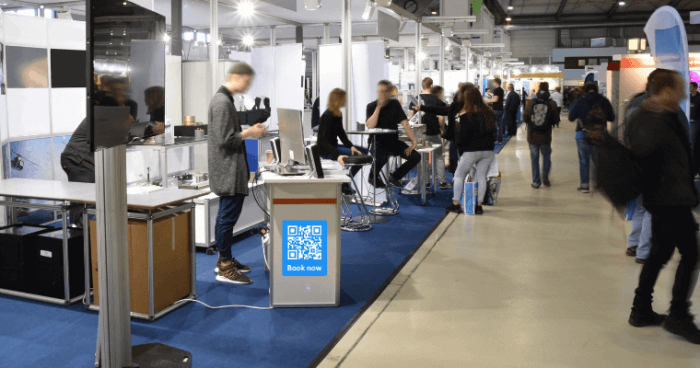 Planning on networking? Don't forget to add a code to your business cards as well.
Email segments of your current client base.
Your loyal clients already know a thing or two about your skills. Re-engage them with tailored email marketing that advertises your mini session services. Emails are particularly effective when you've segmented your subscribers. For example, if you have a new mini session service for headshots, you may want to highlight it to corporate clients. Similarly, if you have a new service for graduation photography, you'll want to contact educational institutions.
Inform the right clients of the most relevant mini session services. Even if they're not looking to book at the time, they can share emails with their network and help you get more clients.
How to market your mini sessions also depends on your target audience and what they respond to most. Be innovative and keep tabs on what produces the most engagement.
Share your hacks.
This blog post covered the basics. Community, how do you set up booking for mini sessions? Tag us on social with any tips for fellow photographers.
For more details on free mini session booking software, click here. You can also visit our resources for the latest guides and videos to help grow your photography business. If you need a Setmore account, create one in minutes.