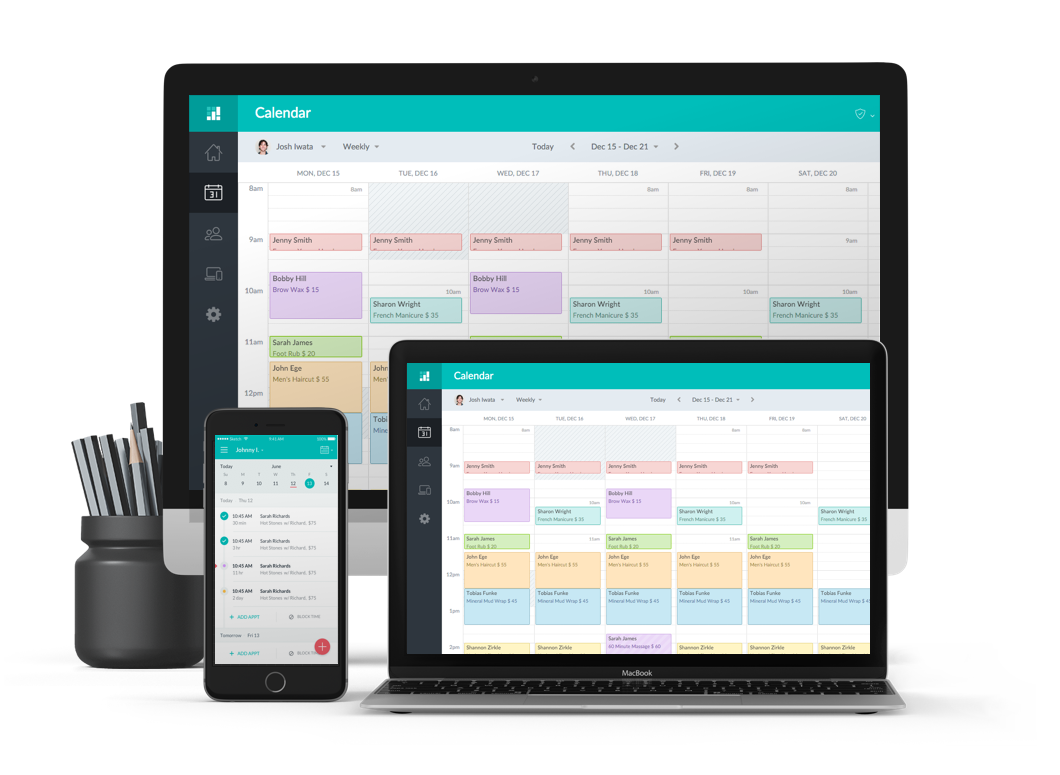 While the majority of physicians focus on just one organ or a small integral of a human body, Chiropractors deal with the entire Musculoskeletal system. With the number of Chiropractors rising every day against the number of bones that remain static in a human body, you've got to devote yourself doing what you love to do, to stay ahead in the competition.
Focusing on other imperatives like appointment scheduling, reminders and notification, managing repositories of customers may require extra hands on the deck. However, what if there is a smarter way to solve the puzzle? Setmore is your key to effortless scheduling.
Setmore is an appointment scheduling powerhouse for your Chiropractic Center. It encompasses simple features that break down your scheduling requirements and deliver it all in one sleek online appointment scheduling software. It encapsulates parallel scheduling entities like customer management, staff details, appointment attributes and much more. Registering with Setmore gives you:
An online appointment calendar that displays all the scheduled appointments.
A free online booking profile that enables your patients to book an appointment with your Chiropractic Center.
Segments to add Services, staffs, working hours, breaks, vacations and so on.
Integration opportunities with popular web apps like Google, Facebook, Wix, Weebly, MailChimp and more.
A Booking Page To Impress
Businesses invest a lot in building a good impression and when appointment booking is the first step of interaction between your patient and your chiropractic center, a captivating and self-informative booking profile that comes free with the Setmore appointment scheduler should seal the deal for you. Your customers will be provided all the details related to your chiropractic centers such as the address, business hours, the physicians, their images, services offered, the free slots that they can book and more. Scheduling an appointment is simple and has never been so easy that customers would not have to call in and check with you for different chiropractic services.
Recurring Customers? Use Recurring Appointments
Setmore liberates you from the daunting task of waiting for your customers to call up so that you can book appointments for them. Chiropractors offer services that usually require the patients to come back at regularly spaced intervals. You can reserve time slots for patients who have to return to receive the chiropractic care they are entitled to. With the option to configure any number of recurring appointments for your patients in Setmore, you can set appointments to repeat on daily, weekly and monthly basis.
Jump The Payment Queues
Face it, the process involved in handling card based transaction takes up a chunk of your time. Patients would have to wait in long lines and with every sale, the paper trail left behind only adds up to the expenditure. Setmore offers you a way to cut back on the paper trail, to pass away the long queue outside your clinic and relieves you of the necessity to hire a cashier by automating the whole process. Setmore, with the Setmore-Stripe integration has it all covered for you. For the chiropractors who deal with cash transaction, you can take advantage of the Setmore Cash Register. Record all the payments, generate invoices and save it all in the cloud.
Smarten up the Scheduling Process
The world has seen incredible progress in technology and not extracting the best of what technology offers to simplify life is a lapse of judgment. With constant rise of email and SMS correspondence, reach out to staffs and customers with email notifications and updates for every appointment booked, canceled or rescheduled. The premium plans allow you to make use of the Sms reminder feature. Remind patients of future appointments with an SMS reminder and reduce no-shows.
Whether you have a platter of services available, or you are frustrated after an exhaustive search for a good appointment scheduler, Setmore will be just the right fit for your chiropractic business. Setmore is your paperless Appointment diary that holds details for your staffs, patients, appointments, and it will never run out of space when you add more. Discover the scheduling prowess Setmore brings to your chiropractic business by registering for an account right away. Your quest for an appointment scheduler ends right now, with Setmore.