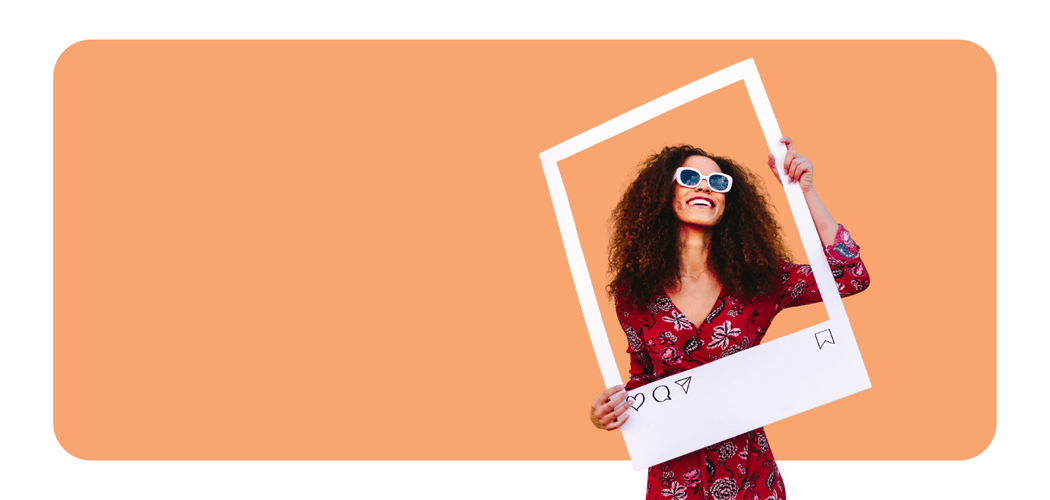 Instagram enables you to display an action button directly on your profile. When clicked, the button performs any number of actions, like opening your customer-facing Booking Page.
An estimated 200 million daily active Instagram users visit a business profile each day. Empower your audience to schedule appointments from your page and posts, without leaving the Instagram app.
Your social media works harder – raising awareness of your services and capturing new customers. Discover how to activate Instagram appointment booking with Setmore.
Getting started with Instagram appointments.
To enable the Instagram booking feature, you need 3 accounts — an Instagram business account, a Facebook business account, and a Setmore account.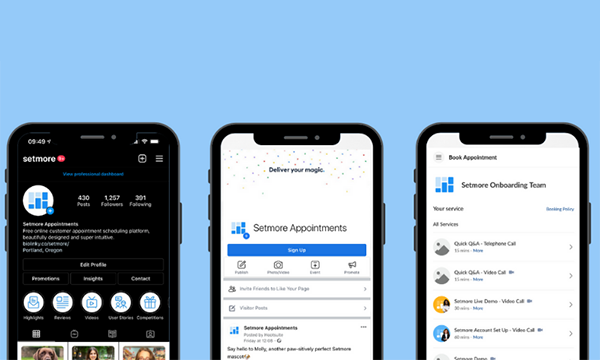 The process is simple and the accounts are free. Once you've created your accounts, you simply need to link them.
Ensure you have Facebook and Instagram business profiles, as personal profiles cannot feature action buttons. A business profile differs slightly from a personal one. You can post your work hours and contact information, such as a phone number and email address. Users are also able to run ad campaigns.
Learn how to create a business profile on Instagram >
Learn how to create a Facebook business page >
Finally, a Setmore free account allows you to accept appointments straight from Instagram, linking your calendar to the 'Book Now' action button.
To check if you have an Instagram business account, open the Instagram app on mobile. View your profile and tap the top-right menu followed by Settings > Account. Scroll to 'Switch to a Professional Account' and choose 'Business Account'. If this is already highlighted, you're all set.
Got your accounts? Nice. You now need to connect your Facebook and Instagram business profiles. In the Instagram app, tap Edit Profile > Page and link your account to the relevant Facebook page.
How to set up booking on Instagram.
As Setmore is an Instagram booking partner, you can route all social media traffic to your Booking Page. Visitors are able to confirm appointments 24/7, without needing to contact you.
You have two options:
Display a 'Book Now' button on your profile
Include a booking link in your bio
Add a free 'Book Now' button to Instagram.
Log into the Instagram mobile app and tap 'Edit profile'.
Tap 'Action' and 'Book Now'.
Tap 'Add an action button'.
Choose Setmore from the list of options. You'll be prompted to sign in.
Once signed in, choose to 'Continue as [Your Instagram name]' and tap 'Next' under 'Confirm Your Business'.
A 'Book Now' button will now appear on your Instagram profile. When visitors hit this button, your Booking Page opens within Instagram. Customers can schedule an appointment with you at any time.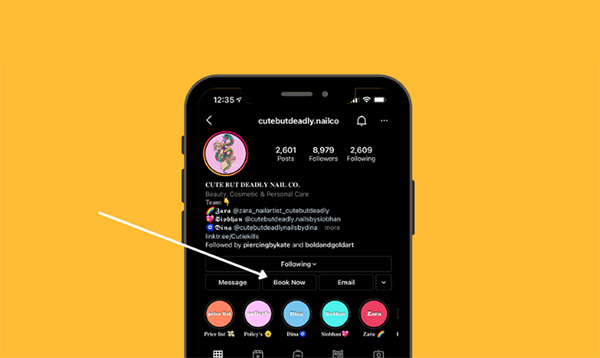 New appointments find their place in your Setmore calendar instantly. If you have staff alerts enabled, service providers also receive an email notification with the details.
For illustrated step-by-step instructions, read our support article on how to book appointments through Instagram.
Add a booking link to your Insta bio.
An Instagram bio is the short descriptive text that features above the feed on your profile. There are a number of ways to personalize this, such as adding a blurb about your business, your company address, or a booking URL.
Display your Setmore Booking Page URL and direct customers to book appointments from your bio. They can tap the link and reserve your time in minutes.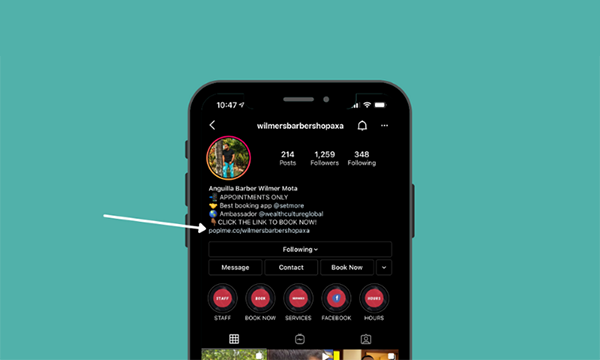 Your Booking Page URL is customizable, so you can make it on-brand and memorable. Individual staff booking links can also be personalized, allowing full teams to add appointment booking to Instagram.
Your questions, answered Insta-ntly.
How do I get people to book appointments on Instagram?
Let current followers know about your new Instagram booking feature. Whether you decide to share a grid post, a story, or even an Instagram Reels video tutorial, ensure you promote that their booking process just got easier.
Each week, you'll be able to see how many people tapped your 'Book Now' button using Instagram account insights.
Explore more tips and free platforms to create content in our Instagram best practice article.
Can I display my booking link in an Instagram story?
Adding links to Instagram stories is currently available for only verified Instagram users or accounts with 10,000+ followers. You can apply to get your Instagram business account verified or boost your follower count so it meets the criteria.
Have you considered promoting your booking system for Instagram via email? Build a campaign to get word out and ensure your loyal customers are also followers.
Learn more about syncing your Setmore customer list to your preferred email platform.
How do I add a 'Book Now' button to Instagram ads?
When advertising on Instagram, you can display a 'Book Now' button on your sponsored story or feed post.
Instagram ads appear organically, either in a user's main feed or via stories. You can set up campaigns to target particular demographics, filtering your audience by location, interests, and previous engagement with your company. For example, if a customer has viewed your Setmore Booking Page in the last 30 days, you can retarget them with an Instagram ad to remind them of your services.
You're also able to control the placement of each ad. At the peak of interest, allow your social visitors to book on the spot. An Insta booking button helps transform more traffic into new customers.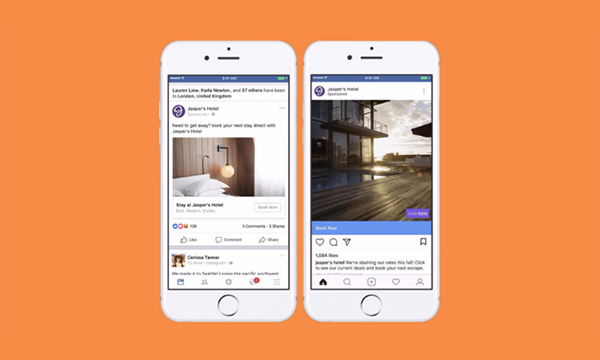 Why get a free booking app for Instagram?
For any business leader wondering why they should use Instagram to book appointments, let's break it down. 81% of users say Instagram helps them discover new products and services.
Showcase your business through snapshots and stories that convey your service quality and mission. By granting visitors insight into your operations, you encourage more interaction and bookings.
If a customer is active on social media, Instagram may be their first point of contact with your business. When they learn about your services, you want to provide the most simple route to book.
With Setmore and Instagram, you can:
Provide your real-time availability and accept bookings 24/7
Allow interested profile visitors the opportunity to book right away
Cut down on routine diary admin by automating confirmations and reminders
Enable your whole team to get booked from their profiles
Drive traffic to your branded Booking Page (which provides further information, including staff profiles, fees, T&Cs and customer reviews
Recently, Fais from barber lounge Haar Bros shared his experience of adding a free 'Book Now' button to Instagram. By posting hair transformations along with the booking button, his barbershop now gets 20% of its appointments directly from the social media platform.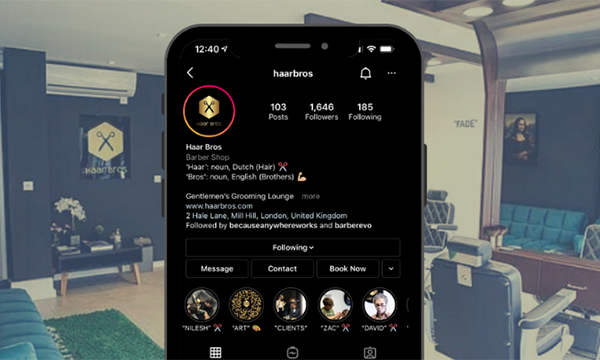 Get likes, comments and new bookings.
Sprout Social reports Instagram users will be most active on the platform between 9am and 4pm. However, this could likely be when your business operates. With Instagram's booking feature, you can spend more time delivering your services while booking is automated.
Don't miss out on appointments because you can't answer a call or email on time. With Instagram appointment booking, customers can reserve your time day or night.
Follow and tag us on Instagram (@Setmore) to tell us how this integration works for you. Need a Setmore account to begin? Sign up FREE today and create your Instagram appointment system.
Happy scheduling!