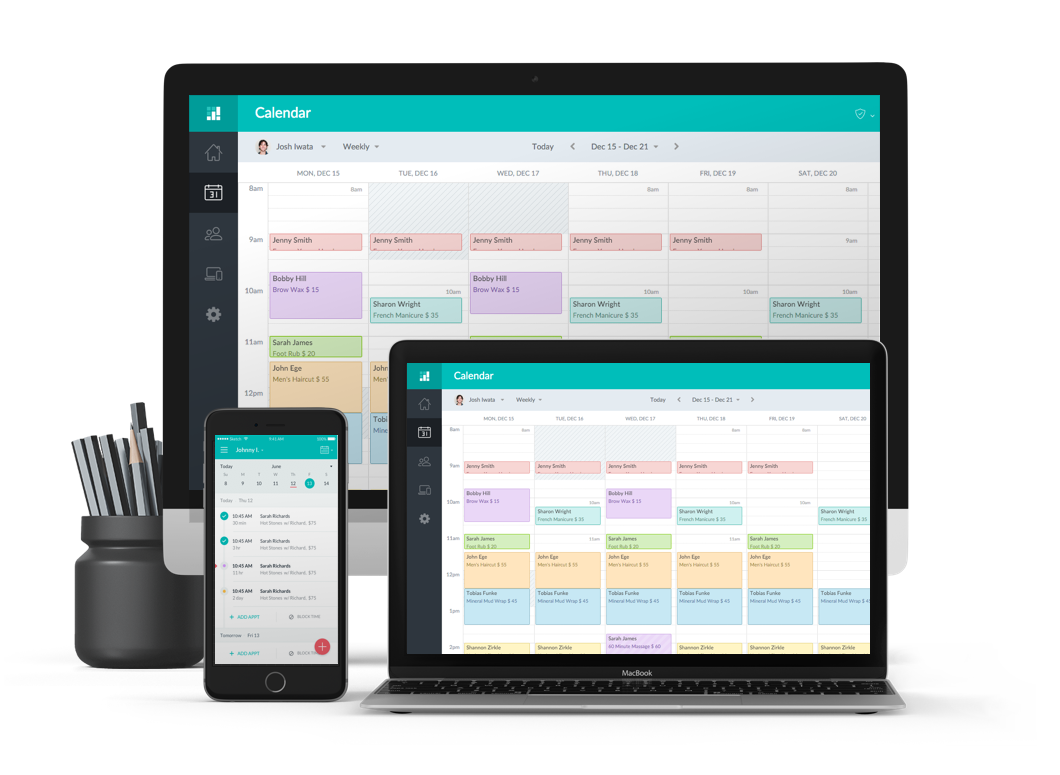 The appointment book. The staple of every hairstylist, masseuse, lawyer, medical practitioner, or any other appointment-based business. In the past, the appointment book consisted of lined pages between well-worn covers. Today, the hardcover version is no longer a match for advanced technology and larger client bases.
Technology has revolutionized the way we work. Online appointment software, such as Setmore, has replaced the traditional pen-and-paper system. Gone are the days of missed appointments, lost information, and manually skimming through pages of entries. WIth Setmore your appointment book is in the cloud, making it scalable, instantly updatable, and easily accessible for you and your clients.
Not quite ready to give up your leather day planner? Maybe this will help:
Enable automated alerts and SMS reminders staff and customers, and reducing missed appointments and no-shows.
Freemium lets you manage up to 4 employees, Premium lets you manage up to 20.
Take appointments and manage your schedule wherever you go by logging into Setmore anywhere.
Maximize your online reach by using social plugins for Facebook, Weebly, Wix, Drupal or WordPress websites.
Go mobile by downloading the iOS or Android app.
Store customer details for every new appointment and access them whenever you need.
Your Profile, Your Way
No two businesses are alike. We understand that. As the face of your business, your booking pages is customizable. You can let your customers choose the service providers they want or disable the feature altogether. Display your prices, or hide those too.
Even your booking page URL is customizable. Trim the length of the default URL and give it your own personal touch. To really make it your own, upload and display pics of your staff and services.
Portable Booking Diary
Setmore isn´t limited to your desktop computer. All you need is an Internet connection for instant access. Carry Setmore in your pocket with the iOS and Android mobile Apps available in the AppStore or Google Play.
Small pockets are no longer an obstacle to having your appointment book with you anywhere. Make Setmore your online booking diary and never be more than a click away from your appointment book. After all size doesn't matter anymore, at least to us.