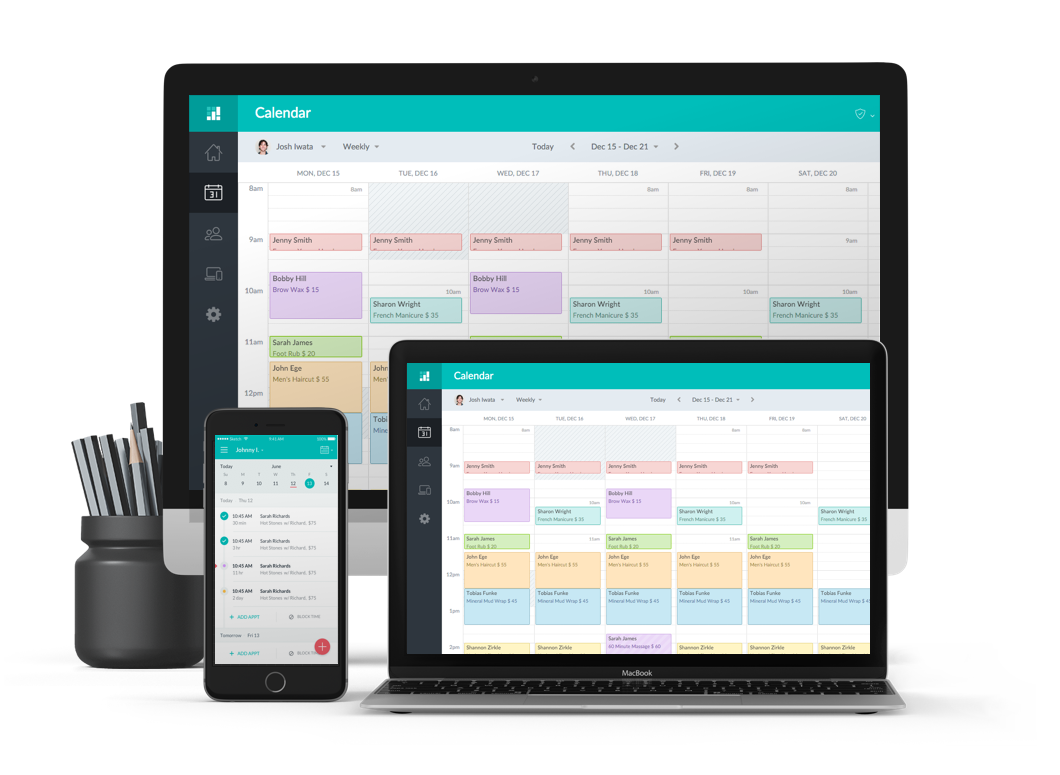 Running a spa business is not as easy, as it may seem from the surface. Booking appointments, managing schedules and staff members, informing customers - juggling all these things can get really unmanageable after a point of time. As your customer base grows, it gets crazier.
Setmore, apart from being a free appointment calendar, can also be used as a free spa booking software. You can use Setmore to take appointments from customers, manage staff schedules of your spa and do much more than just online appointment scheduling. We know neither you nor your staff members have the time to study and use complicated systems for taking or booking appointments from customers.
Hence we developed Setmore, which gives you:
An online booking page where your customers can book their own appointments.
An online appointment calendar, where you can keep track of appointments or change schedules.
An online management console, where you can add or remove services, employees and manage timings, shifts and breaks.
Send text and email notifications to customers, so you don't have to remind them again and again.
Online Booking - Let your customers book their own appointments
Setmore gives you an online booking page which enables your customers to book appointments online. Your customers can choose staff members, services, date and time of the appointment, without you having to pick up the phone, flip through paper notes or scroll another excel spreadsheet. Its up there, working round the clock, so you can just focus on your business and offer state of the art service to your customers.
Manage Staff Schedules and Timings
At Setmore, you can add staff members to your account, so your employees can see their schedules in a sleek online calendar. As appointments are booked and canceled, your online calendar is automatically updated, so this helps your employees keep them updated on upcoming schedules and appointments.
With Setmore, you can take complete control on staff timings, business hours, lunch, breaks and time offs. Setmore allows you to:
Add staff members and staff logins to your account.
Allocate services to staff members.
Add lunch breaks and time offs for each staff member.
Let staff members sync their schedules with Google calendar.
No Double Bookings
Its frustrating to see two customers claiming they have booked appointment at the same time of the day. With Setmore, you don't have to worry about double bookings. Once an appointment slot is booked by a customer, its locked and unavailable to other customers (unless the appointment slot is canceled).
Reduce No-shows - send automated text and email reminders
Setmore sends automated text and email reminders to your customers, so you don't have to take the strain of reminding them that they have booked an appointment with your business. This helps in reducing No-shows and ensures that your customers and staff members are informed well in advance. Who doesn´t like a business which reminds people to relax and take time for themselves?
Store Customer Details
With Setmore, you don't have to worry about saving and recording customer details, phone numbers, email id and other details. Paper notebooks and excel spreadsheets will be a thing of the past, Setmore automatically saves customer details to your Setmore account for future reference.
Have an online database of all your customers at one place.
Add customers to your storehouse, attach custom notes for each customer.
Quickly see all the past appointments of a customer.
Search customers by name, phone number or email id.
Export customer details as an excel file and import contacts in your Office application.
Track the growth of your business
Being a Spa owner, you know that your appointments form the basis of your profit and success. The stats section at Setmore helps you to determine which services/staffs are most popular and which services are a dud. Just choose the time period of the appointments you wish to view and make informed decisions with the stats to prove that your decision is right.