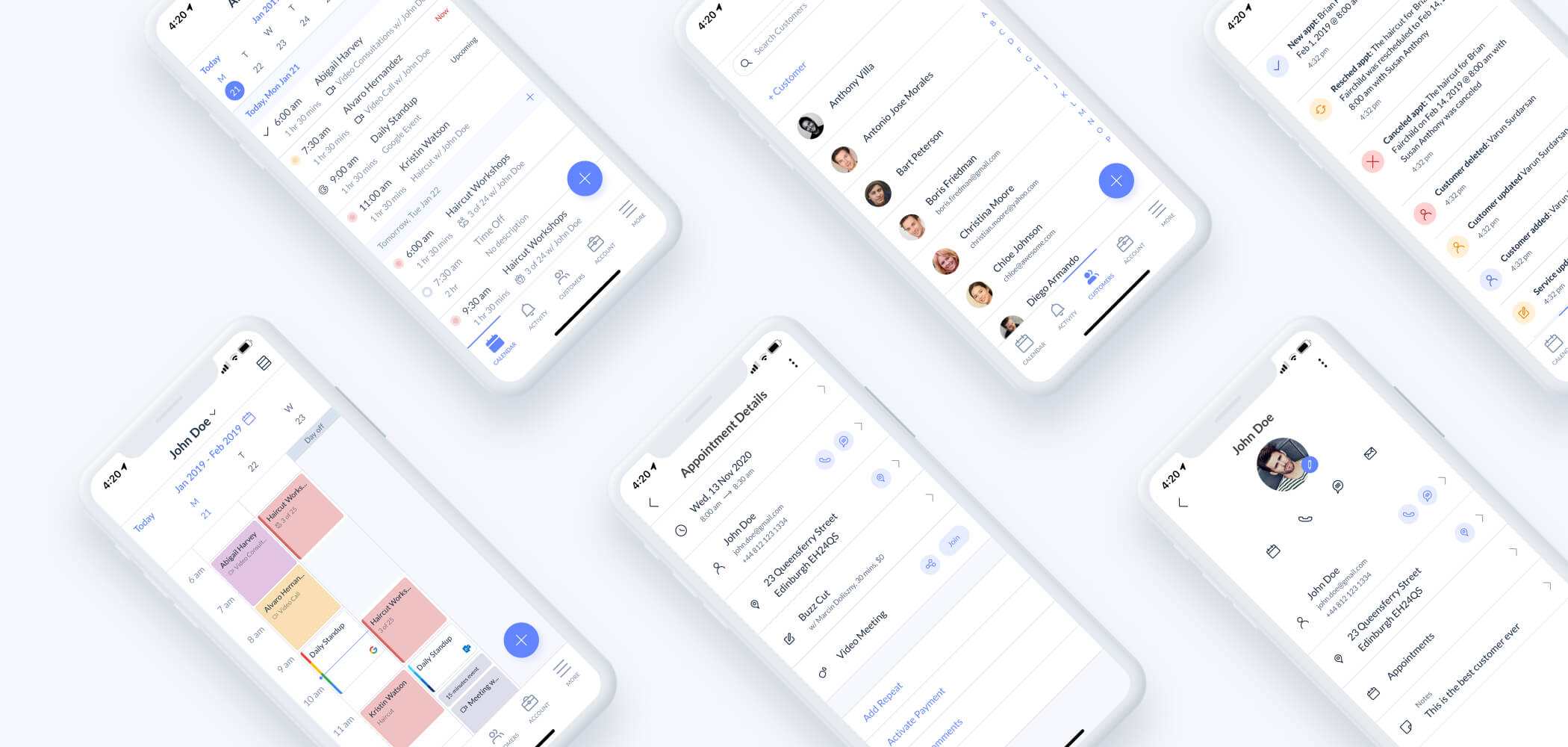 It's here! The Setmore mobile app has a sleek new look that comes with additional features for iOS and Android users. 
Running your business from your phone is about to get even easier. Simply update your app to see the changes, or download it FREE from the App Store (iOS) or Google Play (Android).
Here's just a taste of what's in store for mobile users now: an eye-catching and accessible look-and-feel, 1-click video calling for Events, in-app Event reminders, and options to share details through social media messaging.
Read on for all the details about your mobile app update.
A whole new look
Setmore mobile had a makeover! We're a little biased but we think the iOS and Android apps look better than ever.
You may have noticed our website and social media channels have been updated with Setmore's new branding. Showcasing the mobile app with a whole new flavor was the next step of the rollout. (And, it's certainly not the last step – watch this space.)
The mobile app update not only looks the part, but is far more accessible. This wasn't just an aesthetic change; your feedback helped Team Setmore make the mobile app easier to use, for both you and your customers.
Power your Events with video
Ask and you shall receive – mobile Events now include the option to add video links.
Stay connected with your customers – no matter where they're based – with Setmore's powerful video integrations. Set up online meetings and digital events in no time, from Anywhere.
Setmore Free customers can now add Teleport links to Events via the mobile app. Book and host 1-click video meetings for up to 4 people. With a Setmore Premium or Pro account, you can add Zoom or Teleport Premium links to your Events.
Get started: To add video links to Events, tap Account > Integrations and scroll down to Video Meetings. Activate Teleport or Zoom and you're all set. 
Cut back on the back-and-forth and chasing video links. Include video links in your Event details and meet face-to-face in a click!
Sharing service and class links
Up to now, you've been able to share your online Booking Page straight from the mobile app. With the latest update, you can share direct booking links for individual services and classes ??
Streamline the scheduling process for your clients by directing them to book the most relevant service or class.
To access each of your service or class links, tap on Account > Service/Class and find individual booking links in session details.
In-app reminders for Events
We all need an extra nudge now and again! Make it simple to stay in the loop on all your appointments. Along with text and email updates, you can activate push notifications within the Setmore mobile app. 
Tap on Account > Notifications > Push Notifications > Push Reminders to turn this function on. You can also set a lead time for reminders and select staff members to alert.
Share direct on social media
Sharing is caring. And this new feature helps show your customers that convenience matters. The Setmore mobile app now enables you to share appointment information directly through social media messaging. 
Your customers can receive appointment updates via Facebook and Instagram direct messages. Learn more about enabling appointment-booking through Facebook and Instagram.
How to update your Setmore mobile app 
If you already have the Setmore for your iOS or Android device, you'll receive an App Store or Google Play notification to update.
Don't have the mobile app installed yet? Here's what to do.
iOS – Get Setmore v5.1 or later. 
Android – Get Setmore v3.03 for Android.
We have a few more surprises before closing out 2020, so keep checking back for updates from Setmore! Learn more about how Setmore mobile helps you keep on top of your calendar on-the-go.