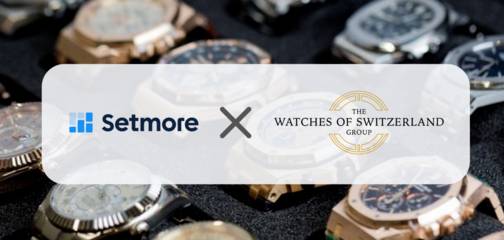 Customer Spotlight
—
2

min read
And, you guessed it, that appointment software is Setmore. The Watches of Switzerland Group, encompassing luxury jewellery brands like Rolex & Patek Philippe, have introduced personal appointments to their customers.
Now, when a customer is interested in a dazzling timepiece, they utilise a newly-implemented online appointment system. See it in action on The Watches of Switzerland and Goldsmiths websites.
This method of serving customers enables private in-store, telephone and Zoom video appointments with a store associate. In May, CEO Brian Duffy was prepared for foot traffic to take a hit due to Covid-19, with many wondering how safe it was to visit their favourite stores in-person.
When the business' locations re-opened in June, online booking made it simple for customers to engage again, safely. In fact, in two weeks in July alone, a whopping 13,000 in-store and virtual appointments were booked through Setmore.
Let that sink in. Wow.
Self-booking with Setmore ?
So, how did appointment scheduling become a crucial driver of sales? The Watches of Switzerland Group connected Setmore with their SAP Hybris website, empowering customers to self-book online.
Customers self-scheduled one-fifth of the total appointments during the two-week span in July. It goes to show how proactive your audience can be when they're given the option.
People still want to shop, but in a safe environment away from crowds. Pre-planned retail consultations not only gave the Group's customers peace-of-mind, they created personalised experiences that ultimately increased conversions.
Executive director Craig Bolton said sales remained stable during lockdown, with more customers opting to purchase online and over the phone. Online sales increased by over 82% while their US and UK stores were closed, unearthing the need to facilitate both virtual and store appointments upon reopening.
Marvelling at the success of this new path to purchasing, the Group is developing more ways to take exclusive store experiences beyond their brick-and-mortar locations.
Show us how it's done
Goldsmiths is just one of the Group's brands to offer a beautifully-designed booking page. It's sleek, professional and shows the care that goes into their in-person and online customer appointments. The customer selects a store location and icons display the types of appointments available at each.
To make things even easier for the customer, they can pick between services or appointment types so they're matched with the right sales associate. Customers select from watch, jewellery, repair and insurance appointments, and whether they'd like to book an in-person, phone or video session.
From there, they pick an appointment time, confirm their details and acceptance of Goldsmiths' T&Cs, and they're booked in. Voila, no queuing necessary.
Watch this space
Here's the icing on the cake, or should we say the ice on the wrist? ?
The Watches of Switzerland Group's customers receive automatic appointment confirmations and reminders. That way, they reduce no-shows and make the most of their store hours.
Setmore collects customer data that the Group can combine with their CRM for targeted marketing efforts.
To capitalise further on the popularity of their online booking system, the Group is focused on integrating all their new platforms. Loyal fans of Setmore know we're all about integrations. If you're considering setting up virtual or in-store appointments, you'll be over-the-moon to know Setmore connects with Zoom, Teleport, Salesforce, and more popular tools.
It's certainly a time to celebrate for The Watches of Switzerland Group.
Did you read our article on how to manage foot traffic to your store? Learn how Setmore can help you prepare your retail establishment for in-store and virtual customer appointments.