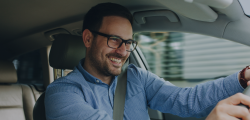 Customer Spotlight
—
3

min read
Learning to drive is an experience. The fear of failing your test, going into the wrong lane, or the multiple emergency stops. We didn't see the curb either, it came out of nowhere!
But before all of that, you have to take a trip to a DMV.
The DMV is a hub for all vehicles on the road. It's the place to go when you want to start driving school, get your license, and register your vehicle. In the US, there are over 227.5 million people with valid driving licenses. Yes, all those drivers went to a DMV to get their license – either by drop-in or by appointment. That's a whole lot of appointments.
But here's a traffic jam…
Due to the pandemic, DMVs couldn't take appointments for a period of time. So, when they reopened, there was a booking surge. The public would need to phone a DMV to book.
What happens if you cannot phone to book your appointment? Well, that's exactly what happened in Steuben. Steuben County Clerk Judy Hunter reported that the Bath, Corning, and Hornell DMV offices were experiencing issues with their voicemail system. Customers couldn't book appointments or get advice. With missed inquiries, these DMVs were on the search for a solution.
What manoeuvres did these DMVs make?
The Steuben and Monroe DMV offices adopted Setmore online scheduling to resolve their issues. They implemented an appointment-only system to reduce walk-ins. The public can book 15-minute slots for licensing, testing, and registrations. No longer would the people of Steuben need to wait 44 minutes for an appointment. With online booking, DMVs have the ability to maintain social distancing and reduce gatherings outside their offices. Toot-toot, ahhh, beep beep!
How does online scheduling help DMV offices?
Ahh, we're glad you asked! Let's go through some headlights – oh, wait – highlights of utilising Setmore:
No Congestion
Create a personalised Booking Page for your location to manage foot traffic. Allow your customers to view your availability and select a time that suits them. Add buffer-time to ensure your team follows social distancing regulations.
Your bookings on cruise control
An online DMV appointment scheduling system is a self-service machine. Customers can book, reschedule, and cancel appointments 24/7, without calling.
Accelerate bookings, not admin
Leave time-consuming admin tasks to Setmore and focus on providing excellent service. Automate confirmations and reminders, and take secure payments when customers self-book online. Update your customer notes with links to documents and certificates.
Indicate to your team
Keep your team in the loop with automated staff reminders. They'll receive updates if there are any changes to their calendars, such as a new appointment.
Take your bookings on the road
On your marks, get set, go! Download the Setmore mobile app for your Android or iOS device to stay updated. View your calendar from Anywhere, at any time.
Service your Booking Page
Route your customers to the right lane by creating service booking URLs. These help clients book directly for a specific service: they know how much time their appointment will take, and you can ensure they're met with the right specialist.
Prep for your trip
Add your Booking Policy or Terms to your Booking Page. Customers must read through and tick a box to agree to your terms before booking. This is ideal if customers need to bring identification or documentation to their appointment.
Steuben isn't the only DMV success story this summer. Check out the other DMV locations that have joined the Setmore family:
Clinton County
Grab the steering wheel and take control of your bookings with a free Setmore account today.