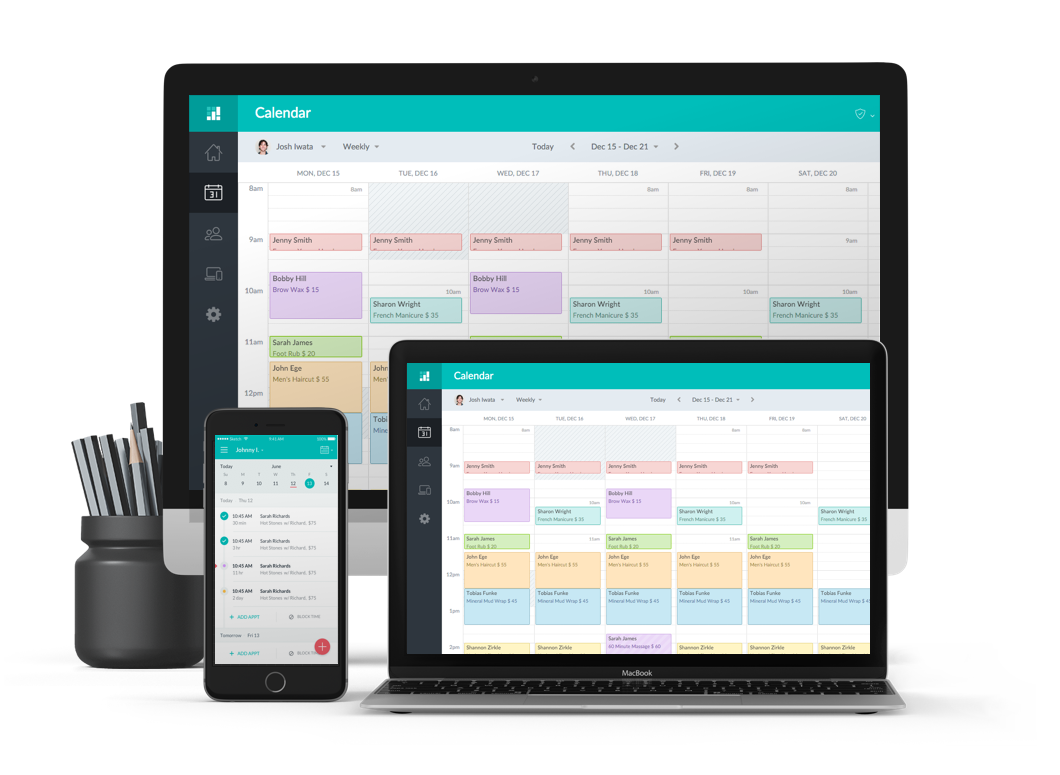 Wellness has become more of an obsession these days. People sweat it out, switch their lifestyle and start adhering to extreme conducts to make it work. Moreover, when your customers are serious about wellness, you should do all there is to ensure that your business is not a joke. Do you suffer when it comes to managing the schedules of your business?.
Do you still maintain a separate means for marking your appointments and keeping customer information? If you are on an Effortful journey to find the perfect wellness appointment scheduling software, your journey ends here and now with Setmore.
Setmore minimizes the attention that you spend over scheduling appointments and gives you a lighter schedule to streamline your energy, resource and time. Instill wellness in every patient with lesser hassles and an efficient appointment scheduler backing you up. With Setmore as your wellness scheduling software, managing your schedule gets easier with:
An exclusive customer facing booking page for your clients to book appointments.
An automated notification and reminder system that follows up every booked appointment.
A booking page that can be embedded to your website and is compatible with other social apps like Facebook, Mailchimp, Wordpress, Weebly and more.
A dashboard that infuses sections for customers, staffs, services and saves all the data up in the cloud.
The ability to invite your staffs to take part in scheduling through independent staff logins and access controls.
The option to schedule at any time, day or night 24x7.
Transparency In Appointment Scheduling
Get an upper edge over appointment booking and management with a new transparent method of scheduling. Setmore reduces the possibilities of double bookings over the booking page. Setmore hides the time slots that have been reserved allowing the next set of customers to choose from a list of available slots only.
However, what if you have the need to include more than one client in a time slot? Setmore has it covered too. Enroll more than one customer for any wellness workshop or event with the Class Booking feature in Setmore. You can also set the limit on the number of participants and watch your clients reserve slots in your wellness program. Setmore is your flexible online appointment scheduler for your wellness facility.
Wellness is Simple, and So is Scheduling
Forget about your dusty calendar with multiple sticky notes or a heavy appointment diary. Setmore has got it all figured out for your wellness business. Booking appointments in your online calendar has not been so simple. Pull your Google events to your Setmore calendar or sync your online calendar with Outlook, Setmore has simple means to convey your robust requirements. All the appointments booked aren't permanent, provide room for canceling and rescheduling both by staffs as well as your wellness enthusiasts.
Discover Happier Customers With A Healthy Scheduler
Customers are the undisputed kings of a business. Keep them happy and watch your business grow with more some word of the mouth marketing. For those who still stick to the print version, Setmore gives you a section entirely dedicated to customer reviews and ratings. Display all the hard earned comments that your wellness business has gathered over the years and show them with style.
Customers have their needs. Record and store them for your reference with Notes. Make use of the statistics projected for a customer and see how they make an impact on your business. You'll see that Setmore gives your areas to prioritize your customers and manage your business schedules. Balance it effectively with an elegant wellness scheduling software.
Bring several aspects of appointment management into a central hub with Setmore. Sign up today even without your credit card information and start scheduling in minutes. Join thousands of business who smile with an efficient scheduler that backs them up. Join Setmore, Now!