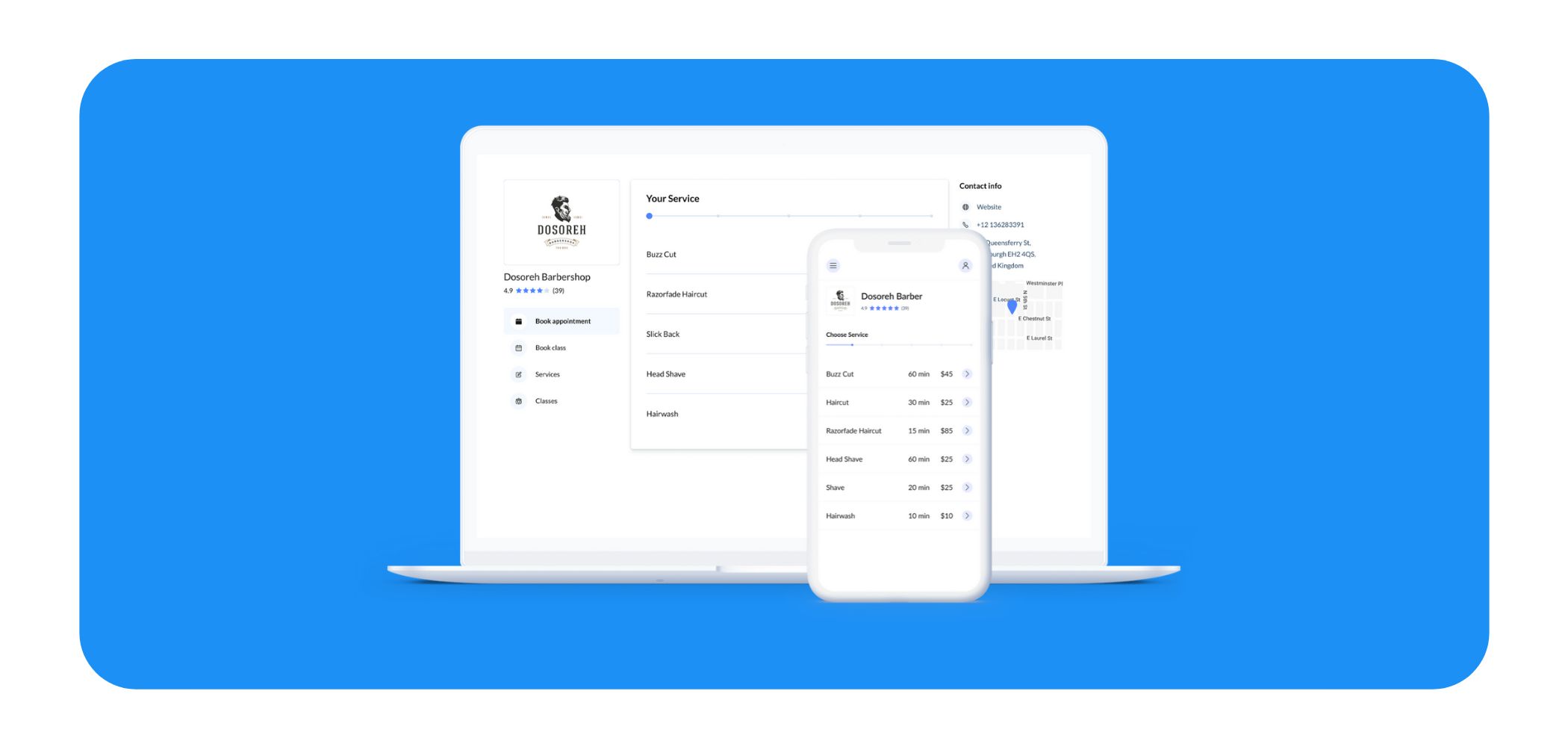 This one's for every service provider that has to ask "What time works for you?"
Whether you're a one-person business or manage a team, chances are that you interact with customers daily. When they're hungry for a spot in your calendar, it pays to keep the booking process short and sweet.
In a competitive landscape, you want the bulk of your time to go towards appointments, not following up on email requests and missed calls. Today's business leader automates.
Automating your booking process is like having a highly-efficient personal assistant 24/7.
Every Setmore account comes with a free customer-facing Booking Page. This enables you to list your services, availability, staff and company information online. Your audience has the freedom to self-book an appointment without needing to contact you.
Day or night, your Booking Page fills your calendar and sends automatic appointment confirmations to boot. Here's why you should set up your Booking Page.
Level up with a Setmore Booking Page for your customers.
Get booked, anytime.
Automating appointment scheduling reduces routine tasks, allowing your team to increase their bookable hours. As businesses come in different sizes, Setmore offers different plans to suit your needs. All plans come with the built-in Teleport video integration, which enables customers to book virtual meetings with you from anywhere in the world.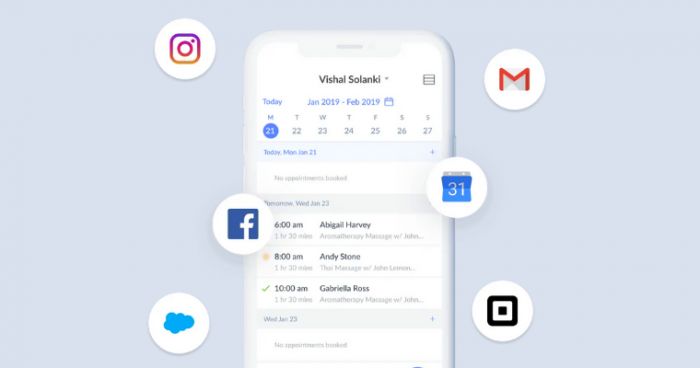 You can explore more ways to integrate your Booking Page with go-to apps like Zoom, Square and Shopify here.
To make appointment booking even more flexible, accounts come with a free QR code. Customers simply scan to view your availability and confirm a time slot.
Read how to use the Setmore app to set up your Booking Page in our definitive guide.
No website? No problem.
Your Booking Page is 100% responsive so it's easy to navigate across desktop, tablet and mobile screens.
It has a customizable URL and can act as a website for your business. Add your brand elements, showcase your services and make it your own. There's no need to reserve a domain or build a site from scratch. Your Booking Page template allows you to display customer reviews, staff profiles, an 'About' section, and more.
Staff and services also have individual booking links so you can share the most relevant link with customers. Your Booking Page enables people to learn more about your business and book right away.
If you already have a website, you can also embed a 'Book now' button or your full Booking Page. Turn visitors into new customers and create an all-new channel for conversion.
Your Booking Page is brandable.
Personalize your Booking Page by adding a logo and more brand elements. You can highlight the story of your business and bring together your offline and online communications. Here are some ideas:
Activate the 'Reviews' section: Your customers are prompted to leave feedback that you can feature on your Booking Page. Ideal for converting new visitors.
Provide the essentials, and then some: Share your website, business hours, a Google Maps pin, links to your social media, and more.
Stream your Instagram posts: Whenever you upload a new photo, it appears on your Booking Page. Your newest content is available to visitors front-and-center.
Go one step further with a Premium account and remove Setmore branding from your Booking Page completely.
Showcase the people behind your business.
It's not all about location and cost. Leads also respond to testimonials and company values. Building trust is not only a huge part of getting customers, but keeping them coming back.
Provide visual cues that your business is active, accessible and operates with skilled and approachable specialists.
Services and staff profiles on your Booking Page can feature thumbnail images. These thumbnails appear when customers choose a service and provider. You can also activate the 'Images' section and upload shots that spotlight your quality of service, facilities, events and company culture.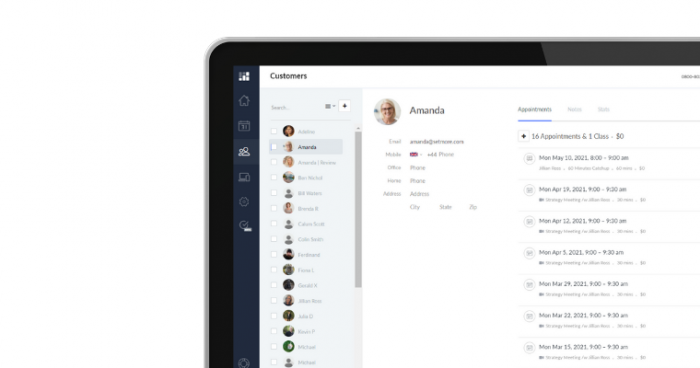 You set the rules.
Account admins can specify how online booking works, e.g. how far in advance customers can pre-book and the duration of services. With a short booking window, you could see emergency appointments increase. By setting buffer time, you account for travel in between appointments.
For those who have a global customer base, your Booking Page can show your availability in your visitor's local time zone. You both also receive email appointment confirmations in your time zone.
Check out our Setmore tutorial to customize your online Booking Page.
Create a new stream of revenue.
Enhance your Booking Page with a Stripe, Paypal or Square gateway. This enables you to accept debit and credit card payments for your services. Customers can pay in full or in part (it's up to you) in one go.
All transaction details are stored in your account for easy payment tracking, and are syncable with popular accounting apps like QuickBooks.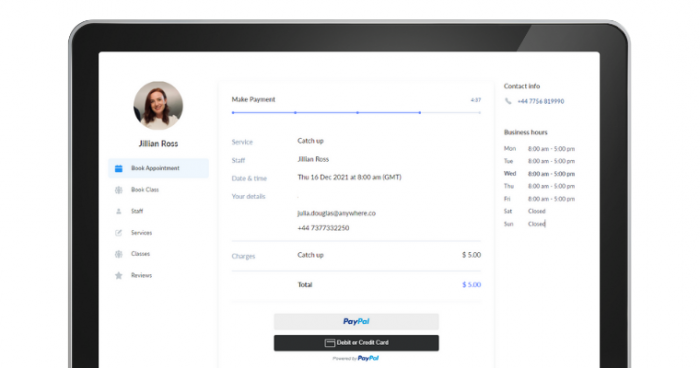 When payment is taken ahead of time, all that's left is to provide excellent service when your customers show up.
Get all the details in our guide.
Your Booking Page is connected to your Setmore calendar, ensuring customers only see available time slots. It updates in real-time to help you avoid double-booking.
Customize how your Booking Page looks, integrate with different apps, and set up your rules to create a seamless process.
For more how-to instructions to make scheduling a sinch, view our Booking Page setup guide.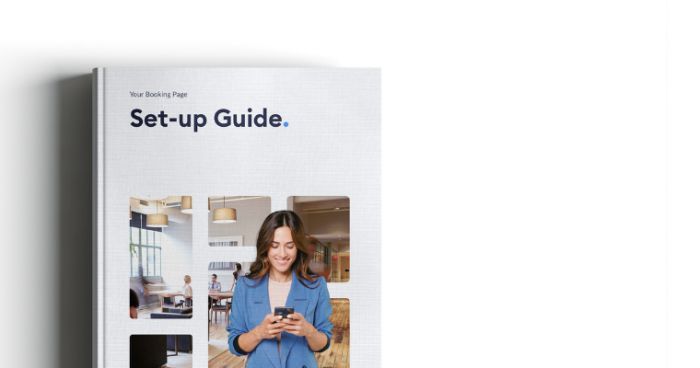 You can also find more guides and videos at resources. Need a Setmore account? Sign up for free!
by Setmore Appointments
Free, powerful online customer scheduling for businesses of all sizes.