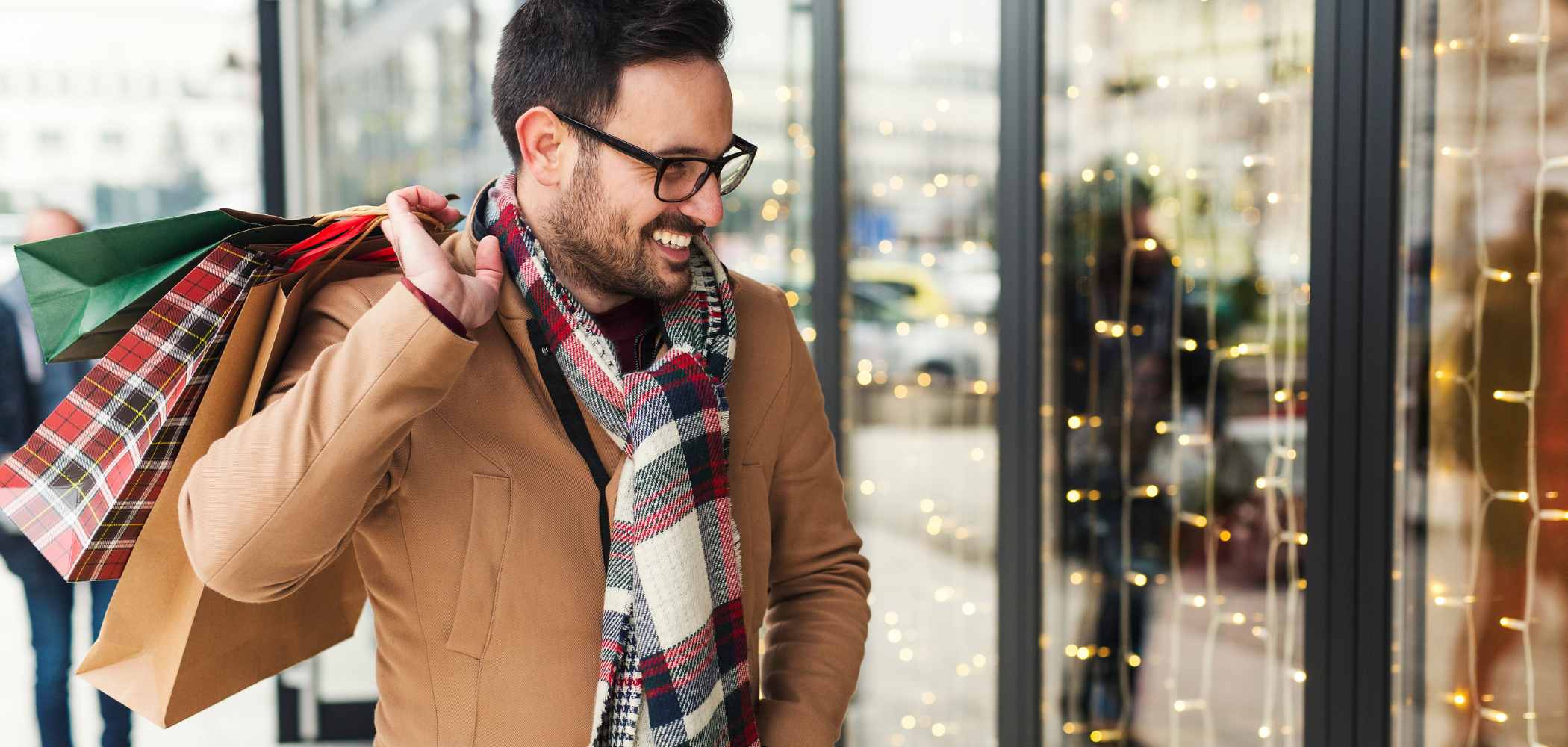 This sounds like a strange title, right? Why would any retailer want to impose a customer-buffer at their store?
As more shops resume business, social distancing measures must be in place. This ensures the safety of your team and customers, while allowing you to remain operational.
Many store types, like wedding outfitters and interior design specialists, have adopted an appointment-based system for decades. Customers receive more personalized attention and staff find it more manageable to cater to their requests. Setting up appointments is particularly beneficial when fewer team members are available on the shop floor. And, it also gives your store an air of exclusivity, allowing customers to feel part of a premium experience.
Here's how Setmore can help you set up socially-distant shopping in your store. And hey, it also works if you're just looking to keep foot traffic more organized.
Set up store appointments
Whether you manage a shop, bank or showroom, scheduling appointments can work wonders for sale figures and team productivity. A few clicks in your Setmore account is all it takes to offer store appointments to your customers, quickly and easily. Check it out:
Step 1: If you have multiple store locations, set them up as categories. Your customer selects the branch location they'd like to visit.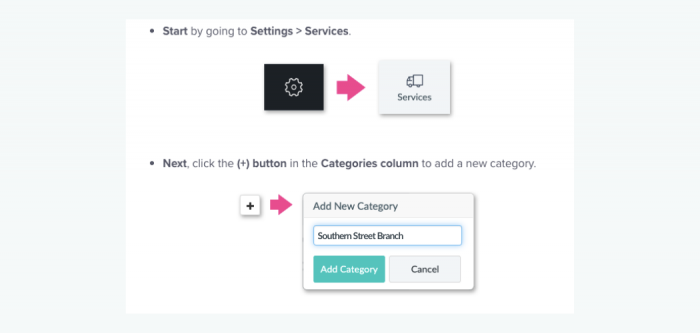 Step 2: Add staff members to each location. If your team members are specialists, this makes it straightforward for customers to book-in with the right person.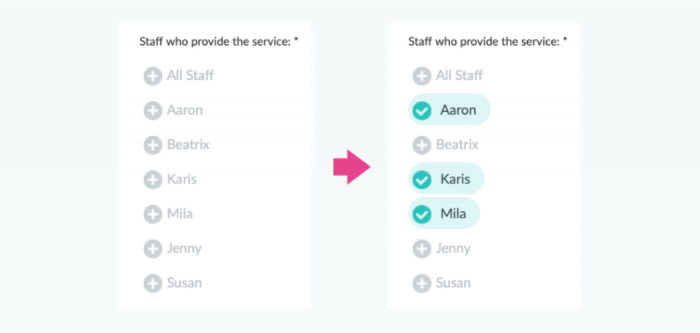 Prefer to switch off staff options all together? Head to Booking Page > Booking Policies and select 'Skip the Staff'. Your customer will go straight to choosing their service.
Step 3: Your customer picks the service they'd like to schedule an appointment for, and their ideal booking slot.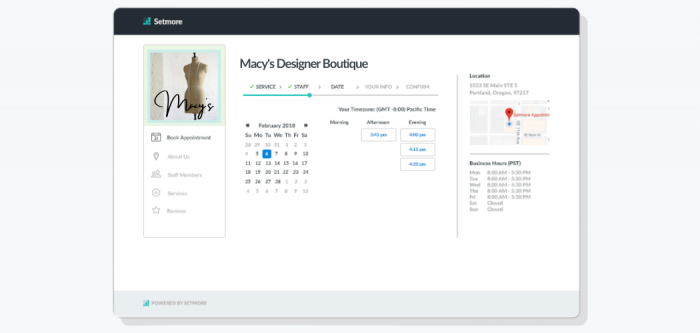 After that, you'll both get instant confirmation of when your customer will be joining you in store. It's a cinch.
Why offer online booking for retail appointments?
Even before businesses adapted to Covid-19 restrictions, many had set up appointment slots for services like personal shopping, fittings, product demonstrations, and more. Here are just a few perks to scheduling in-store appointments:
1. Personalize the customer experience
When you're overrun with foot traffic, the last thing you want to do is turn business away. It's also not a good look to ask people to wait outside. If they walk away, so do potential sales. When a customer books their in-store appointment online, they know they'll be expected and attended to exclusively. Customers can even select a service so your staff will be ready for specific requests.
Sometimes, people just want to see other people. This is especially the case when a customer is considering a big purchase. For example, who would buy a new car without a test drive? For scenarios like this, customers may choose to research thoroughly online, but only buy once they're in store. In-person appointments allow customers to ask questions and seek advice from reps, working hand-in-hand with your online sales channels to drive purchases.
2. Increase team productivity (and forget about door-guarding!)
It's no easy feat to keep track of how many people enter your store. Especially when you're busy with a customer or getting on with key management duties. You could put a staff member at the door to enforce restrictions, but is that a good use of your team's time?
With Setmore, your customer flow is more manageable and shopping in-store becomes safer for everyone. Staff can focus on individual customers during their appointments, maximising their productivity. And, when particular services are booked, your team can prepare for customers beforehand.
Automated appointment reminders keep you updated about new bookings and changes, so your workload can be planned in advance. You'll know when you have some down-time and can tackle other tasks in between bookings.
3. Know your audience and grow it
Scheduling store appointments not only helps organize your workday, it's ideal for keeping track of loyal customers. Setmore enables you to take customer details upon booking and maintain a digital record including services booked, average spend and booking frequency. Stay updated about customer preferences and further personalize the shopping experience.
By sharing your bespoke Booking Page URL, adding a 'Book Appointment' button to your website or integrating Setmore with social media, your customer reach grows exponentially. Rather than relying on walk-in traffic, your business is opened to bookings 24/7. Use customer details to boost your follower count, create targeted marketing campaigns and turn one-off appointments into return visits.
4. Compete with online retailers
Online stores are the bane of many brick-and-mortar retailers. This has amplified recently as contactless delivery has allowed people to shop while social distancing. 
Now that more stores are opening back up to the public, they need to compete and recoup those lost business days. Setmore empowers you to offer your customers unique experiences they can't be given by online vendors. In addition to convenient in-store shopping and receiving guidance from real people, customers can take part in location-based promotions.
Putting a face to the brand and showing your customers they're valued is incredibly important to building loyalty. On top of this, booking store appointments helps managers understand their peak business times. This can further inform financial decisions and future-planning such as employee scheduling and recruitment.
5. Provide easy online personal shopping
If your customer prefers to shop from their sofa, you can make it happen. Along with booking personal shopping appointments in-store, Setmore helps you take your services online.
Integrate Setmore with Teleport video conferencing and fill your customer's basket over a face-to-face call. You can even accept payments and ask questions about their requirements during the booking process. We find that this helps users prep prior to appointments and create custom shopping lists.
After booking on Setmore, your customer will receive a secure, download-free Teleport link. At their appointment time, they just click to join you in the browser. Conduct product demos and help customers find just what they're looking for, no matter where they're based.
Setmore is your ultimate shopping partner
Get Set today and take control of your store's customer flow. Learn more about Setmore's features and integrations with your favorite business management platforms.