"Setmore makes its debut at #5 in GetApp's recently launched Category Leader ranking for Reservation & Online Booking software. An impressive 19 points for its mobile apps, 17 for integrations, and 16 for user reviews contributed to an overall score of 54, solidifying Setmore's spot as one of the leading Reservation & Online Booking solutions in the cloud."

– Suzie Blaszkiewicz, GetApp Researcher
We're proud to announce that Setmore ranked #5 in GetApp's quarterly Category Leader rankings showcase for Reservations and Online Booking! And we're humbled to be recognized by industry peers, even if we didn't top the rankings at #1.
Setmore in particular shined in the Mobile category, scoring 19 out of 20, higher than any other platform listed! Not only is the Setmore.com website mobile friendly, but so is your Setmore Booking Page, which allows customers to book appointments with your business online, 24/7. We also offer native apps for iOS and Android, which both sync your appointment data across all your devices.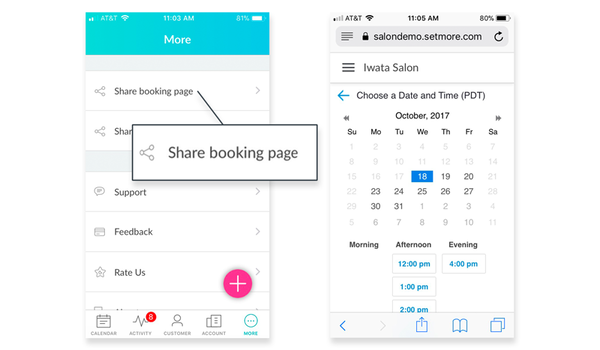 Pro tip: Share your Booking Page URL from the Setmore mobile app by navigating to More > Share Booking Page. Start Sharing! >
As a company, we're fully committed to a future that features mobile productivity at its core. That's just one of the reasons why this year we launched Version 2.0 of both our iOS and Android apps, revamping them with a new, intuitive interface and a sharp new look that makes booking appointments on the go easy and attractive.
"Setmore Version 2.0 for iOS" Launch Post >
"Setmore Version 2.0 for Android" Launch Post >
Side note: Premium features are coming to Setmore mobile. It's all but destined to come to fruition. Recurring Appointments went live in September (see the deployment notes here), and our teams are working steadily to add the rest of the features, so stay tuned for updates.
In closing, we'd like to give a hearty thanks to the GetApp team for recognizing us, and an even heartier thanks to you, the Setmore userbase, for being productive with the Setmore platform, sending us your feedback, working with our support teams, and posting reviews of Setmore on the App Store, Google Play, Facebook, Capterra, and others. You help make Setmore the amazing online customer appointment platform that it is!
Thank you,
-Team Setmore
by Cassandra @ Setmore
Writer, editor and scheduling product expert at Setmore Appointments.