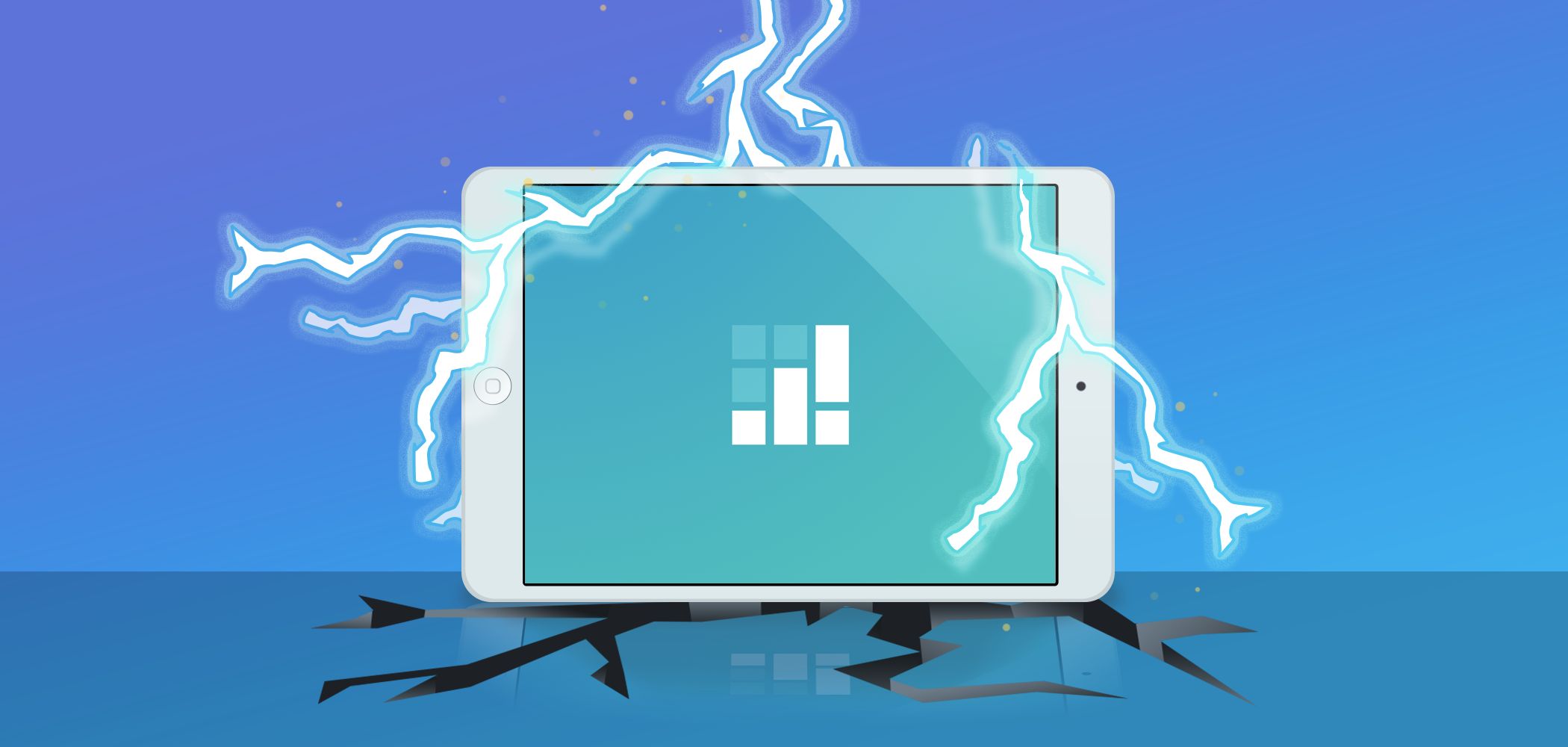 Do you run your business from your iPad? Now you can run your appointment calendar from Setmore *on* your iPad as well. Our newest update for the Setmore iOS app brings iPad-ready functionality improvements designed to make your life easier.
All the settings you'll find in our iPhone app, plus extras
Purpose-designed for horizontal/landscape usage
Full weekly calendar view
And we're just getting started. Tap the button below to get Setmore v4.0 or later for iOS on your iPad, or continue reading for more details about this groundbreaking update.

Already have the Setmore app on your iPad?
Update to the latest version to get started.
---
Full calendar + touchscreen = amazing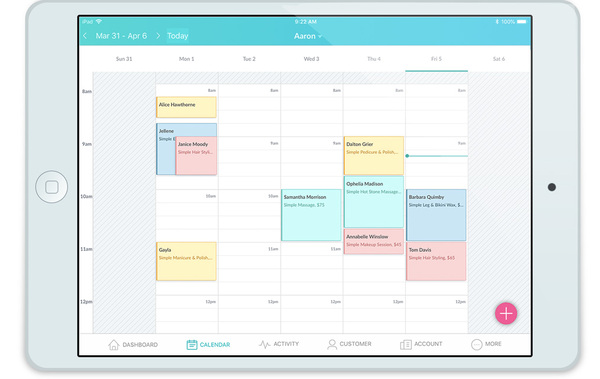 No more loading Setmore in a browser and trying to triple or quadruple-tap through click-only menus.
No more trying to shoehorn in the iPhone app on iPad and dealing with stretched-out screens. The Setmore iPad app gives you a full weekly calendar view, plus a touch-optimized experience that's smooth and, dare we say, actually fun and delightful to use. Give it just five minutes in hand and you'll be hooked.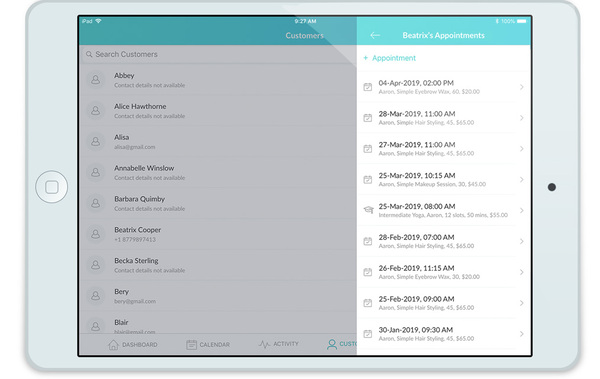 Create new bookings in just a few taps with the side-floating New Appointment menu that lets you see your calendar while you input appointment details. Select a service, customer, a date/time and you're good to go. Per usual, Setmore will send confirmation emails to both the service provider and customer, giving you one less thing to worry about.
Setmore lives in the cloud, so any appointment you book on your iPad, iPhone, or laptop will instantly sync with all other devices connected to your account.
---
Payments get even better on iPad
Setmore for iPad is ideal in both storefront environments, or any place where you're interacting with customers face-to-face. Need to take payments in person or online? Activate the Square integration with the free, basic version of Setmore. Use Square contactless chip readers to tap, dip or swipe customer payment cards, and take payments for appointments in the Setmore app.
Once the Square + Setmore integration is activated, you can connect payments on your Booking Page. this will allow your customers to pre-pay when they book online, saving you time when they come in for their appointment.
Learn more about the Square-Setmore integration >
---
Get a Square contactless chip reader for 50% off (US Only)*
Get 50% off your purchase of a Square contactless/chip reader when you activate Square in your Setmore account! This promo only applies to account holders in the United States.
Here's how it works:
Activate the Square integration in your Setmore account.
We'll send you a message with the promo code.
On the Square website, add the reader to your cart and enter the promo code at checkout.
Hurry! Offer ends October 31, 2019. 
—
Already activated Square? Don't worry! We'll send you a message in the Setmore app with the promo code. You If you didn't get the message, reach out to us and we'll hook you up.
Don't use Square? Click your country to sign up:
United States  | Australia  | Canada  | United Kingdom
*Offer valid September 1st through October 31st, 2019 for users in the United States only. You must activate or have activated the Square-Setmore integration in your Setmore account to be eligible. The 50% discount does not apply to additional items or any other purchases.
---
Set up your Booking Page self-serve station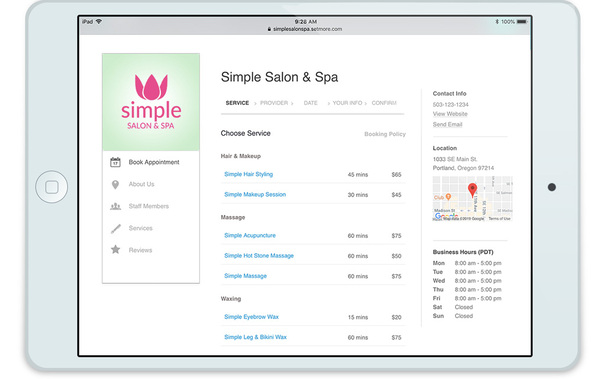 The Setmore Booking Page looks great in any browser, but it looks even better on an iPad. Have your Booking Page pre-loaded on your front counter and let customers pre-book their next appointment when they come in for service. That way you'll keep them coming back. (also read: how to add contact details to your Setmore booking page)
---
Your Setmore-iPad command center
The Setmore app for iPad includes the full functionality of our mobile platform, plus some iPad-specific goodies thrown in. Below we've provided a brief rundown of what you'll expect to find in the iPad app. But you'll want to explore on your own to get the full experience.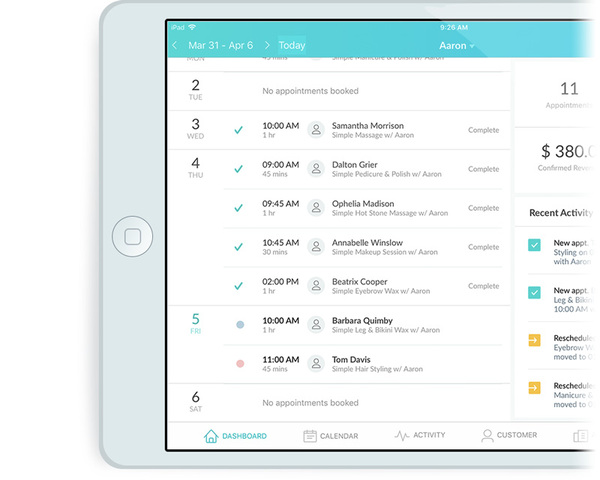 Use the Dashboard to get a snapshot of your upcoming week, along with projected and confirmed revenue for the appointments on your calendar. You'll also see the latest alerts from your activity stream and can plan accordingly.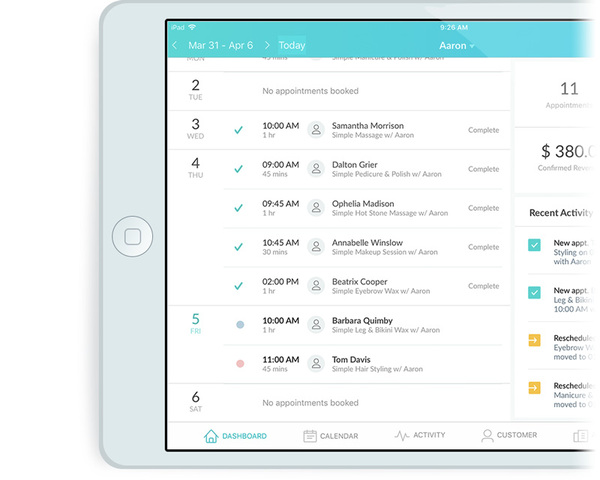 Tap the Customers tab for your full customer list. Open a customer profile and tap the Chat icon to send them an iMessage from your iPad. See all past and upcoming appointments, or tap to book a new one.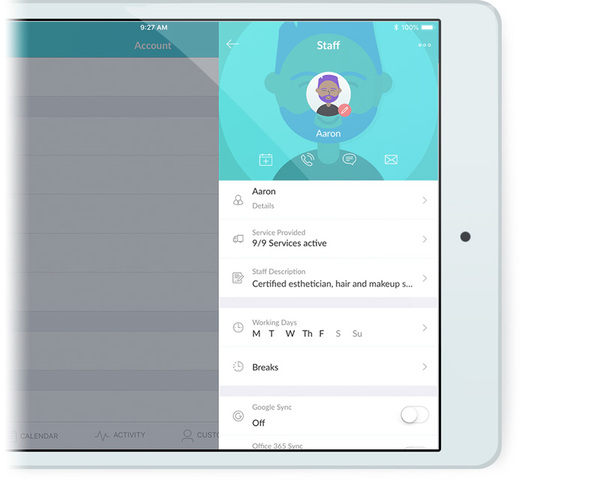 Manage your Staff Profiles under Account > Staff. Add services, break times, or working hours as needed. Have Setmore Premium? Here you can also activate and manage your 2-way Google sync or Office 365 sync settings.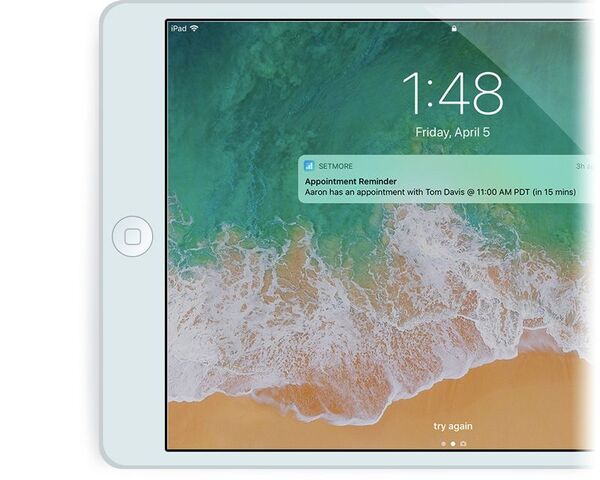 Get push notifications on your lock screen and get notified about your next appointment with a customizable lead time (or just use the default 15 minute lead time).
---
Get started with Setmore on iPad today
Download Setmore from the App Store on your iPad today. Already have it installed? Update to the latest version to take advantage of all the updates.
Already have the Setmore app on your iPad?
Update to the latest version to get started.
by Setmore Appointments
Free, powerful online customer scheduling for businesses of all sizes.