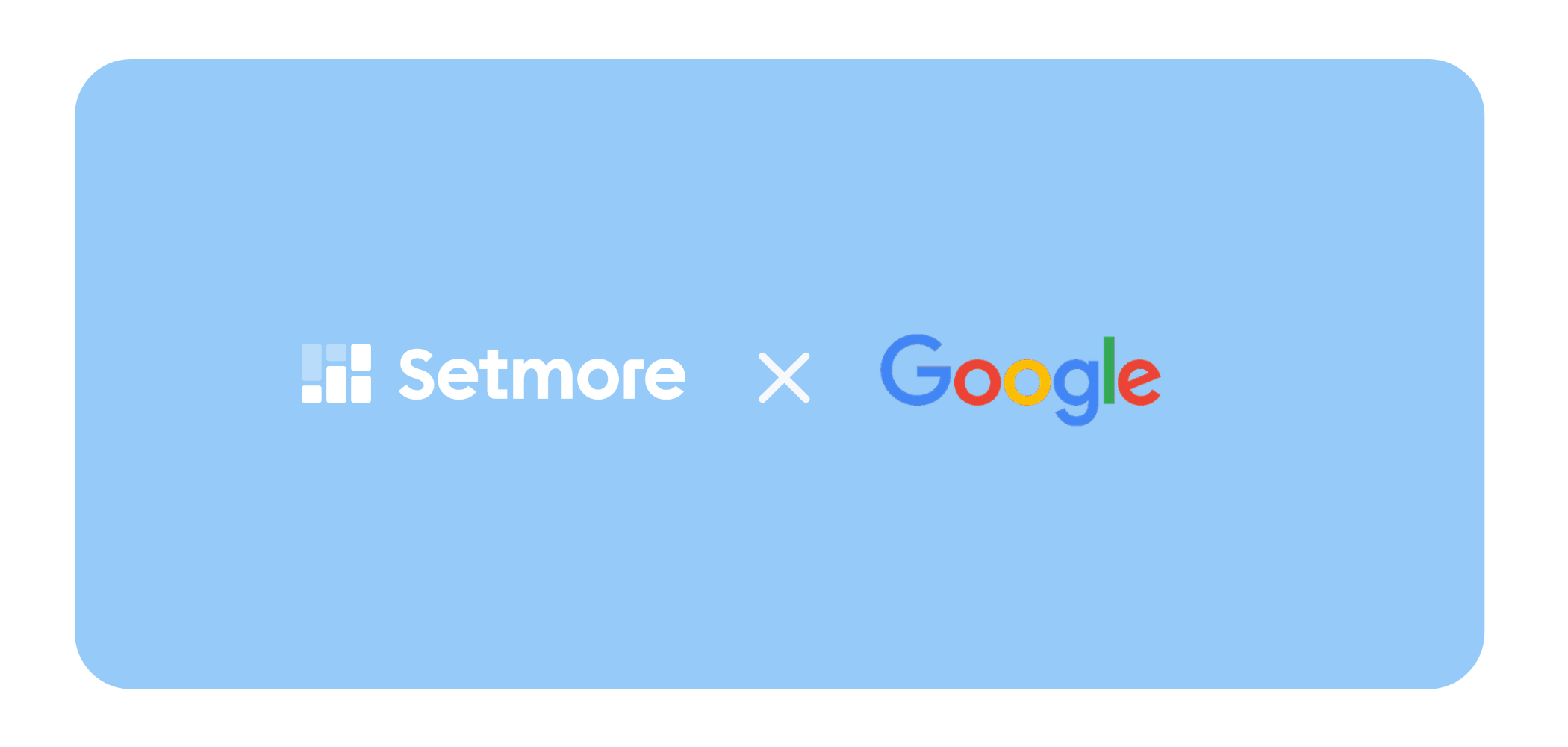 Reserve with Google is a new, FREE service, made possible through partnerships with Setmore and others, that lets your customers schedule appointments directly to your business calendar from Google Search or Google Maps results.
We're just getting started on Reserve with Google, so this service is currently only available to US-based businesses in the following industries:
Hair Salon/Barbershop
Nail Salon
Spa/Massage/Waxing
Fitness/Personal Trainers
If you don't see your industry listed, don't worry! We're working with Google to add support for more industries and there's a good chance yours will be added soon. But now's a good time to get acquainted with what Reserve with Google can add to your business. Continue reading for all the juicy details, below.
A new path to acquire customer appointments
The key benefit to Reserve with Google is that it makes it easy for your online customers to book an appointment with your business. It's an express lane to view your services and availability. Customers won't have to browse your website to find your contact information, and in most cases, they'll already be looking at your business's location in Google Maps.
What customers see
When customers search for your business or your services in Google, they'll see a button to book an appointment or see your availability next to your business name in the search results.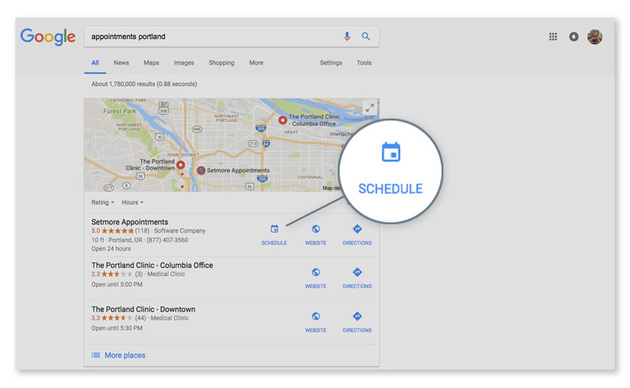 If they do this from a regular Google search, they'll see a button to schedule an appointment in the quick view results, which displays a preview of your business location in Google Maps.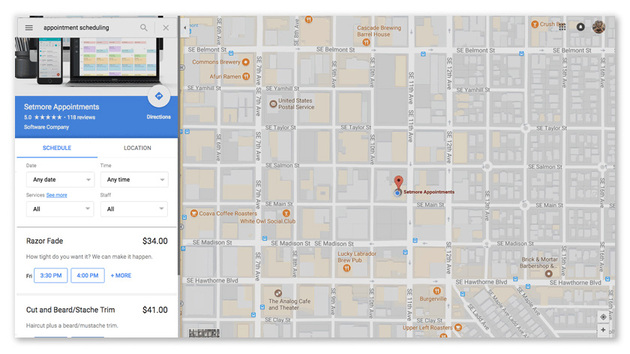 If they do this from Google Maps, they'll again see the button to schedule an appointment, and they'll be able to pick their services, staff, and date/time right then and there. Appointments booked this way show up on your Setmore calendar per usual. You don't have to do anything different or extra.
How you can start using Reserve with Google
Reserve with Google is currently in a pilot phase, so not all industries or locations will be supported. As new industries become supported, we'll post updates on the blog and on our Facebook and Twitter pages, so be sure to follow us there too.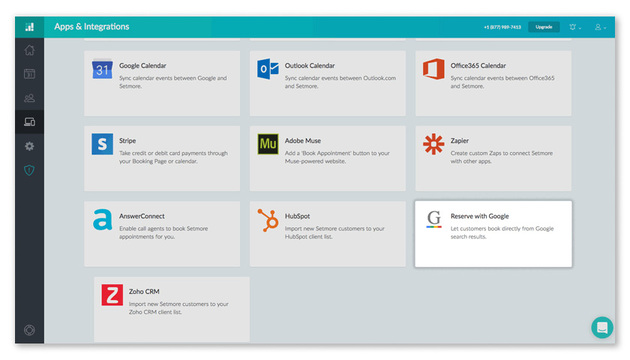 In your Setmore account, navigate to Apps & Integrations, then scroll down and click on the Reserve with Google card. (If you don't see the integration card, then you may not be eligible. See the Eligibility checklist in the section below.) This will open the details menu, which provides a brief overview of the Reserve with Google service.
Click the "Activate" button to continue.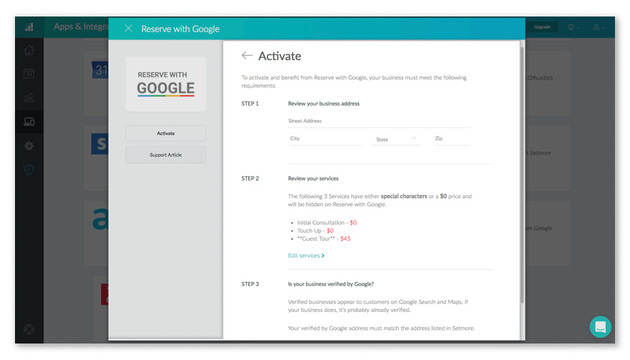 The Activate screen walks you through the requirements for Reserve with Google. If everything checks out, all you have to do is click the "Activate" button to turn it on. It may take up to 14 days, but typically 1-3 days, for the changes to start reflecting in a Google search for your business and/or services.
Don't use Setmore? Sign up for a free account today >
Eligibility checklist
Currently, Reserve with Google supports Hair Salons, Barber Shops, Nail Salons, Spas, Waxing Salons, Massage Therapists, Fitness Centers and Personal Trainers that are based in the US. Additional industries and locations will be added soon. Use the following checklist to see if you meet the other eligibility criteria:
Verified by Google – Your business must be verified by Google. Click here to learn more >
Address Match – Your business address with Google must match your business address in Setmore.
Services Vetting – For best results, all services listed in your Setmore account should have a cost associated with them, and the service titles should not contain any special characters, such as @, #, $, %, and so on. Services that don't meet this criteria simply won't show up in your Reserve with Google listing.
Learn more about the Reserve with Google integration on our support website >
Opting out
You may deactivate Reserve with Google at any time. In your Setmore account, simply navigate to Apps & Integrations > Reserve with Google. In the integration card details menu, click the "Deactivate" button.
Please note that Reserve with Google is deactivated by default for new Setmore users.
Don't currently use scheduling software?
Setmore lets you manage your business appointment calendar online, while empowering your customers to book themselves online 24/7. Sign up for a free account and benefit from Reserve with Google now.
Thanks!
Team Setmore
by Setmore Appointments
Free, powerful online customer scheduling for businesses of all sizes.