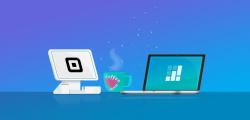 We're excited to announce a new payment integration featuring Square and Setmore! Square has become a household name when it comes to point-of-sale and taking customer payments, and it has everything you need to start, run, and grow your own business.
Here's the best part: you can use the Square integration with the free version of Setmore, no Setmore Premium subscription required.
Log into your Setmore now and click the button below to activate the Square + Setmore integration, or continue reading for a quick walkthrough of the benefits. Happy booking!

Mobile users navigate to Account > Payments to get started.

---
Preferred Provider: Use Square with the free version of Setmore
Use Square with the basic, free version of Setmore to take customer payments through your appointment calendar. You don't need a Setmore Premium account to use this integration, but you will need both a basic Setmore account and a Square account ready to go.
Not using Square? Sign up here:
United States  | Australia  | Canada  | United Kingdom
—
Create delightful in-person experiences
With Square enabled for the Setmore mobile app, you can process a payment for any appointment on your Setmore calendar while making good use of a Square magstripe reader (which you can get for free when you sign up for Square) to swipe your customers' payment cards.
When you sign up for Square, you can also purchase a contactless chip reader, then swipe, dip, or tap to take payments from your customers' chip cards, or let them pay with Apple Pay or Google Pay, from your point of sale terminal.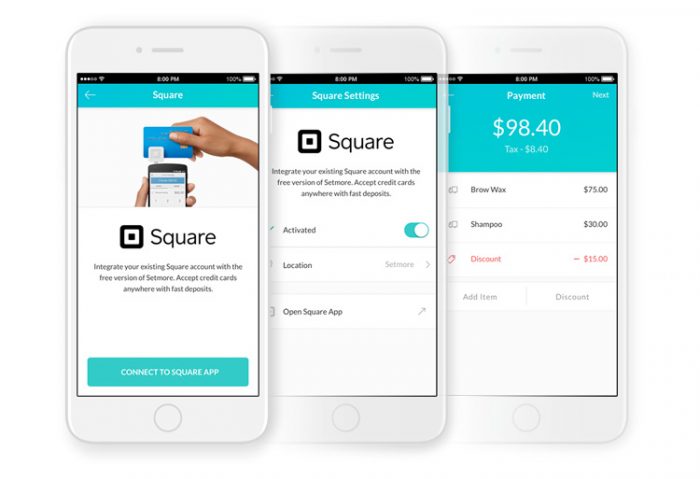 Simply open the details window of an appointment and tap on Payment. Here you can add items or discounts to the service cost. When you're ready to charge, tap "Next" and the Square app will open on your device so you can swipe the customer's card to accept a payment! Once the transaction is complete, you'll be seamlessly returned to your Setmore calendar.
Note: The Square integration does not currently support payments for class sessions in Setmore. You may still accept payments for 1:1 appointments and services. Support for class payments will be added at a later date.
—
Maximize convenience with online appointment deposits
One of the main benefits of the Setmore-Square integration is the ability to take customer payments from your public Booking Page. Customers can pay upfront, as they book their appointment, so your transaction is settled before they even come in for their service.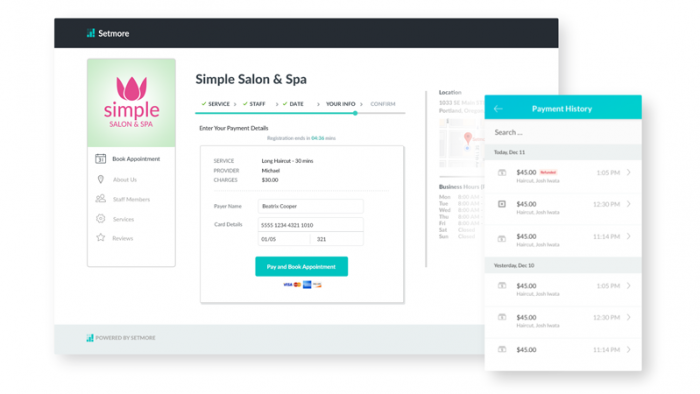 Once the Setmore-Square integration is enabled, navigate to Settings > Payments > Booking Page. (In the mobile app, go to Accounts > Payments > Customer Booking.) Here you can enable Booking Page payments and make them required or optional for your customers at the time of Booking.
Don't use Setmore?
See what free, powerful online scheduling can do for your business.
Setmore lets you manage your customer appointments online, with multiple staff calendars, built-in email reminders (and text reminders with Setmore Premium), and a customizable public Booking Page that lists your staff, services, and availability so customers can book online, 24/7.
Click here to learn more and sign up for a free Setmore account >
Start selling with Square
Square makes it simple to manage your business with payment processing and real-time sales tracking. The free Square point-of-sale app, which you'll use in conjunction with your Setmore appointment calendar, takes care of inventory, digital receipts, sales reports, and more. Square is currently available in the US, Canada, Australia, and the United Kingdom. Click here for more information on Square's international availability >
We've outlined some of the other awesome benefits of using Square with Setmore, below:

Free Square Magstripe Reader, Square Point of Sale app
Sign up for Square and they'll send you a free Square magstripe reader (US audience only). Download the Square Point of Sale app and turn any mobile device into a point-of-sale. The Square app tracks sales in real time and lets you view your scheduled deposits, send invoices, and issue refunds.
Click to learn more about the Square app >
All business, less work
Square's suite of tools includes: payments, tipping, digital receipts, inventory, reports, customer engagement, and more, all in one place. When you integrate Square with Setmore, you can throw "customer appointment scheduling" into the mix as well.

Pay only when you make a sale
With Square there's no setup cost, no monthly fees, and no hidden charges. Accept Visa, MasterCard, Discover, and American Express payments at 2.75% per tap, dip, or swipe with Square. Pay 3.5% + 15¢ when you manually key in a transaction. Pay 2.9% + 30¢ when you make an online sale through your Setmore Booking Page. (These are US rates; your rate may vary by country.)
Visit the Square website for more info on pricing >
Get your money in 1-2 business days
It's your money, get it sooner. 'Nuff said.
---
What's next
Post a comment below – Ask a question, request a feature, or share your experience! We respond to blog comments daily and your input helps inform other users.
Read setup instructions – Click here for step-by-step instructions on how to activate the integration. If you hit a snag, send a message to our 24/7 support team.
Activate the integration – Use Square with the free version of Setmore and start taking payments today. Click the button below to get started.

Mobile users navigate to Account > Payments to get started.

by Setmore Appointments
Free, powerful online customer scheduling for businesses of all sizes.