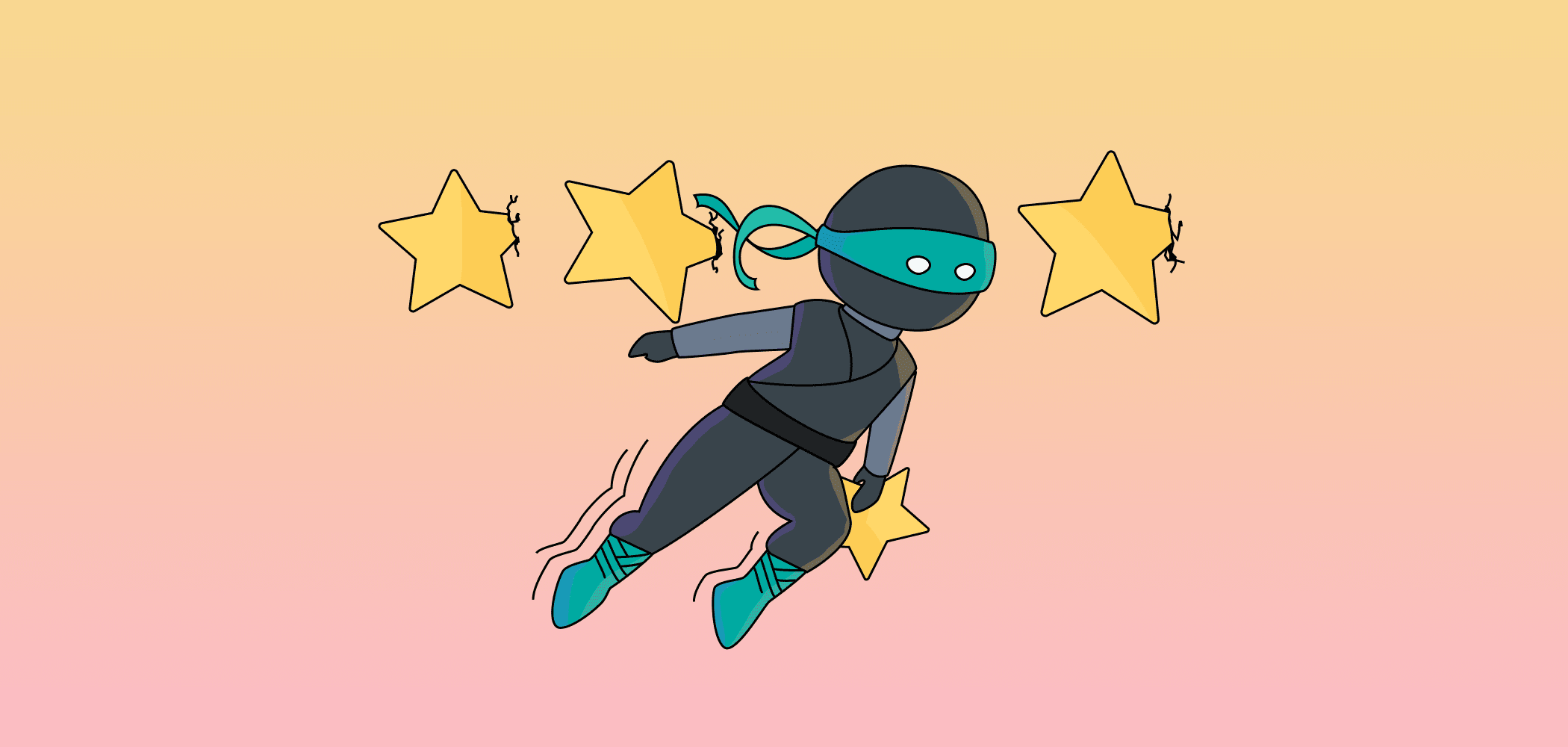 Customer reviews are an everyday part of business, and managing your reviews is as essential as managing your website. Setmore equips you with some basic and effective tools to get started. In this blog post we'll cover some of the theory and the craft, so you can build your confidence and skills at the same time.
---
Encourage visitors to book an appointment
Reviews are all about building trust with your visitors and potential customers. We look at reviews to get some sense of whether or not the service will meet our needs and if it'll be a good experience overall. This is where putting in the effort to collect some customer reviews can pay off.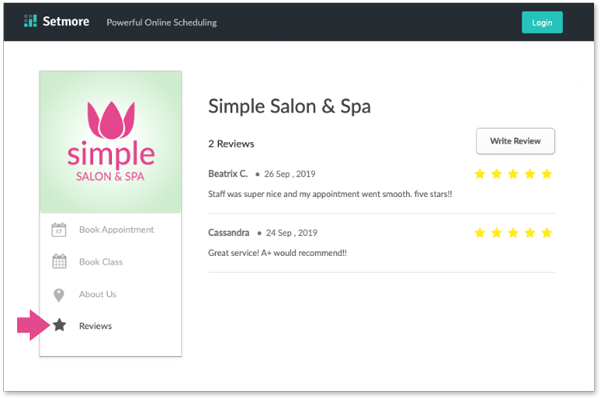 You may already be doing this on Google and Facebook. But you should aim for 10 reviews on your Setmore Booking Page, with a new review every other month to keep things fresh. This way, if visitors do click on your Reviews tab, they'll get a splash of good vibes to nudge them closer to that first appointment.
---
How reviews work in Setmore
Setmore allows you to collect customer reviews on your Booking Page. This is the portal that your customers use to schedule appointments with you online. With Reviews activated, a "Reviews" tab will appear in the left-hand navigation menu (see previous image).

Also, this tab has its own dedicated URL that you can direct-link to, if you want to ask for a customer review in your outbound emails. You can also ask for reviews in person, when your customers come in for their appointments.
---
Get feedback from your customers
Good reviews tell you what you're doing right, and bad reviews tell you what could use some improvement. Not all customers will speak up if they're upset – they'll just never come back, or worse, they'll tell everyone they know what a terrible experience they had.
That's why asking your customers for reviews can be a positive, even if they have negative things to say. You're giving upset customers an opportunity to voice their concerns to you directly, and giving yourself a chance to fix the problem so that it won't impact other customers.
---
Feature spotlight: Automated Review Requests (US Only)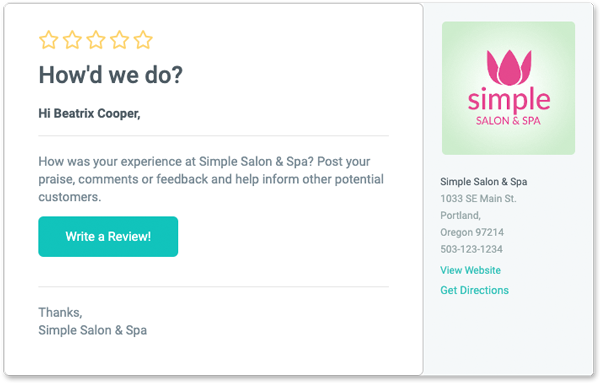 For businesses in the United States, Setmore can automatically email customers after their appointment to request a review. This feature is free to use, and will help fill up your Reviews tab on the Booking Page.

---
Showcase your wins
You can very easily turn your customer reviews into advertisements for your business. Social media is the ideal arena here. Simply screenshot and post, with a few words of thanks for the customers who gave you praise, and a follow-up link to your Booking Page.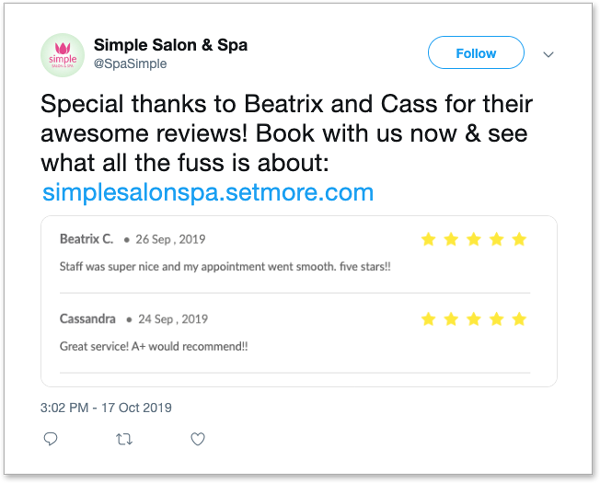 This is especially helpful for reaching a wider audience, since your Reviews tab is only accessible to those who visit your Booking Page in the first place. Your followers will get to see the impact of all the great work you do, and be given an opportunity to experience it for themselves.
---
Recap
When you break it down, customer reviews are a simple matter. In this article we covered a few of the small efforts you can make to have a big impact:
Use reviews to: 
Build trust with visitors & encourage potential customers to book more appointments. 
Get feedback and give customers a chance to express frustration over a negative experience.
Promote your business by sharing positive reviews on social media & thanking your reviewers.
Setmore empowers you to:
Collect customer reviews on your Booking Page.
Allow potential customers to check out your reviews while booking online.
(US businesses) Automatically request reviews by email, after an appointment.
We hope this knowledge will help you excel at managing your customer reviews. Have any tips of your own to share? Post a comment below. And until next time, happy booking!
---
Looking to broaden your customer reviews strategy?
Check out our guest post from earlier this year on getting the most out of online reviews for your business.
by Cassandra @ Setmore
Writer, editor and scheduling product expert at Setmore Appointments.