By Cassandra @ Setmore
Writer, editor and scheduling product expert at Setmore Appointments.
Setmore learned a ton of new tricks this October, with a series of quality-of-life improvements that'll make your booking experience smooth and delightful. And we're pleased as punch to treat you to a brand new integration that'll help you book even more appointments. This is just the beginning of our Q4 closeout for 2019, read on for full details.

---
Book appointments from your inbox
Use Gmail to message your clients? Now you can book appointments to your Setmore calendar directly from your Gmail dashboard. The new Setmore add-on for Gmail integrates directly with your email client, and empowers you to respond to appointment requests with just a few clicks.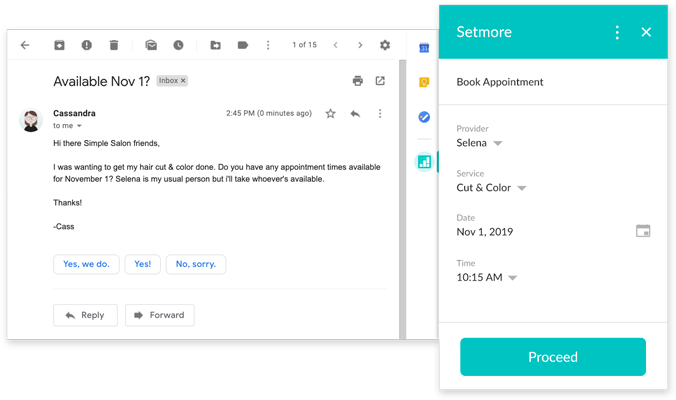 With the add-on installed, open any email and click the Setmore button on your right-hand toolbar. The Setmore add-on will automatically extrapolate the information in the customer's email to pre-fill in the required appointment data, saving you time and filling your calendar faster.
Get the Setmore add-on for Gmail >

---
24-hour format text reminders

Setmore now supports standard 24-hour clock format for all text reminders in your Premium account. (Previously, text reminders only supported 12-hour format.) Now, with 24-hour time format selected, an appointment time such as 6:00 pm will show as 18:00 in the customer's appointment reminder.

Go to

Note: 24-hour format is still being developed for times displayed on the admin calendar.

---

A better way to save customer notes

As part of a broader initiative to overhaul the way Customer Notes work in Setmore, we now offer a Save/Cancel function anytime you edit your notes! This feature is live for new accounts, with rollout for current Setmore users coming soon.


Anytime you're editing a note, click "Cancel" to undo your changes. Click Save, or click outside the Notes field, to save your changes.

This is just the first step to expanded functionality that we've been concepting for months, including the ability to create, edit, and save multiple notes per customer profile (think of it like digital sticky notes).


---

Notifications menu overhaul

We're simplifying the way you activate and manage your in-app notifications from Setmore. Changes to our web app will now make it easier to understand which controls determine the activity alerts you see across each of your connected devices.

Similar controls are currently in the works for our mobile apps for iOS and Android, all of which are coming soon.


---

The Squish List: bug fixes and refinements

Account

Booking Page

Customer Profiles

Integrations

Notifications & Reminders

Reviews

Stay tuned for future updates!
Thank you for reading 🙂

---

Committed to increased transparency and more responsive community outreach, Setmore will post monthly development updates to showcase some of our work and improvements made over the past 30 days.
Have a feature request? Post a comment below or email us at help@setmore.com.




Categorized in: Updates