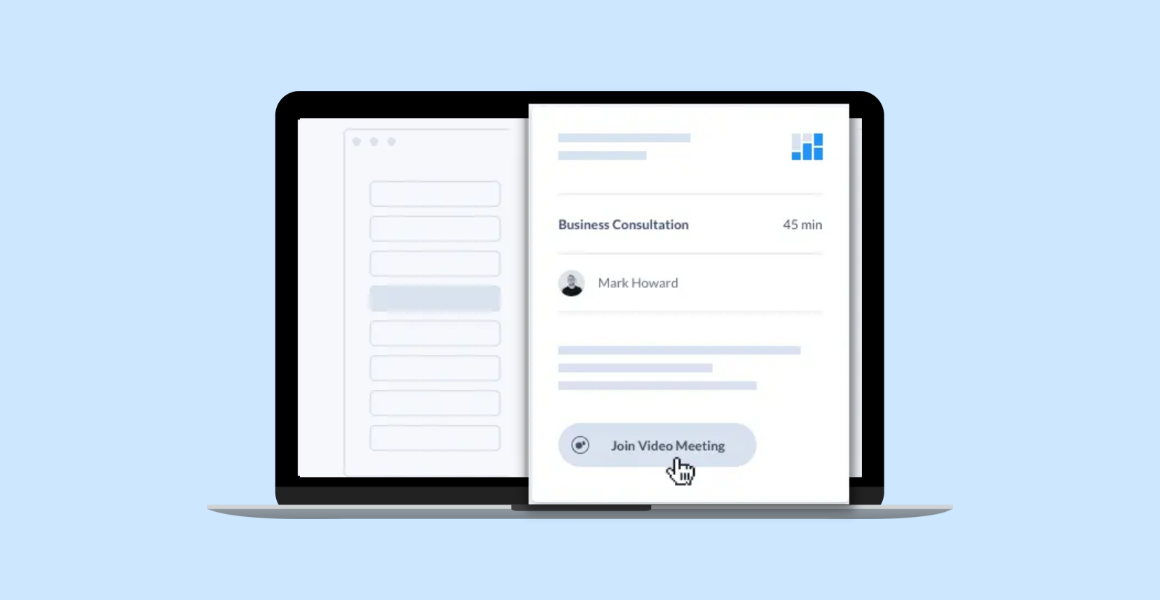 A smart online calendar goes beyond streamlining your appointment scheduling. It engages customers and keeps them in the loop about their bookings.
Your Setmore app includes a suite of email notifications and reminders to help you automate outreach and stay productive. Our built-in email and reminder system does all of the following tasks for you, so you can focus on delivering amazing experiences:
Confirm new appointments with customers
Give customers the ability to reschedule or cancel online
Remind customers about their appointments via email
Send text reminders to customers before their appointments (with Premium)
Alert your staff about new, rescheduled and canceled appointments
In this blog post, we'll cover the benefits of Setmore's automated messaging system and how to customize your email confirmations and reminders.
Confirmation emails.
When you or a customer book an appointment, the customer automatically receives a confirmation email with all the important details. This digital receipt serves as a record for the appointment and offers extra convenience with an .ics attachment and 'reschedule/cancel' options (continue reading for a breakdown). Here's a sample of what a confirmation email looks like: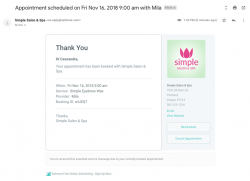 An .ics attachment (activated by default) is a standardized calendar file format that includes appointment information. Once the email lands in a customer's inbox, the attachment will prompt the customer to add that appointment to their own calendar, whether they're using Google, Office or iCloud. If you're using Google, the attachment is visually represented by a header bar with a blue calendar icon:

The 'reschedule/cancel' buttons (not activated by default) appear in the bottom-right corner of the email template. They enable the customer to reschedule or cancel an appointment online, without having to call you. Customers can reschedule or cancel up to the cancellation window as specified in your Booking Policies.
Confirmation emails are activated by default in your Setmore account. Follow these instructions if you want to change these settings:

Navigate to Settings > Notifications > Customer.
Under 'Appointment', check the box next to 'Booked' to switch confirmation emails on or off.
Check the box next to each add-on feature, such as .ics attachments, to switch them on or off.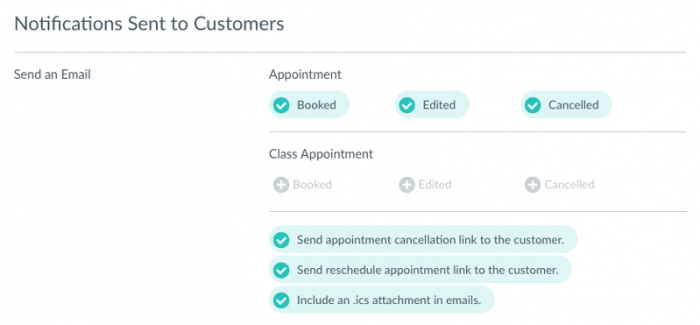 Note:
Email settings are not accessible using the Setmore mobile app. To change your email settings, login to your account at Setmore.
Email reminders.
Your app automatically sends email reminders to your customers at a preset time before their next appointment. The reminder template informs customers what time their appointment is. Its primary purpose is to help reduce no-shows and make sure your customers arrive on time. Here's a sample of what an email reminder looks like: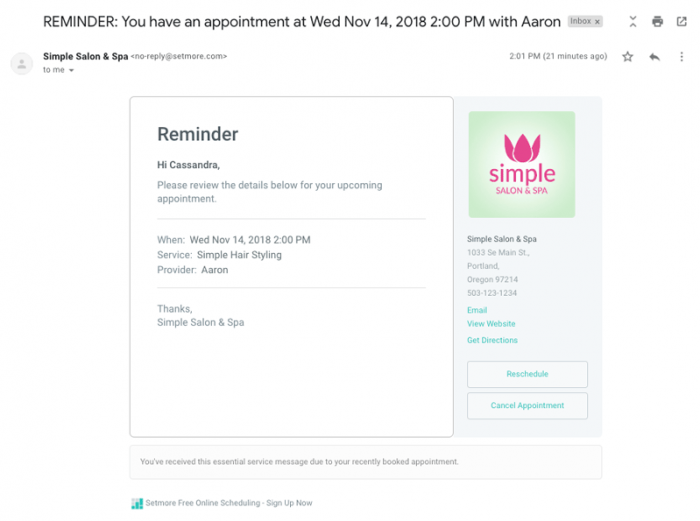 Email reminders have an average open rate of 40%.* They're enabled by default with a lead time of one day in a new Setmore account. Here's how to change this setting or the reminder lead time:
Navigate to Settings > Notifications > Customer.
Under 'Appointment Reminders', check the box to switch reminder emails on or off.
Under 'Reminder Lead Time', use the drop-down menu to set the lead time in days, hours and minutes.

Note: We recommend a reminder lead time of either 1 day or 1-3 hours. Experiment to see which works best for your customers.
Verifying reminder status.
Every so often you might have a customer who doesn't receive an email reminder. You can check the status of an email reminder by opening the appointment details window for any booking, from your admin calendar.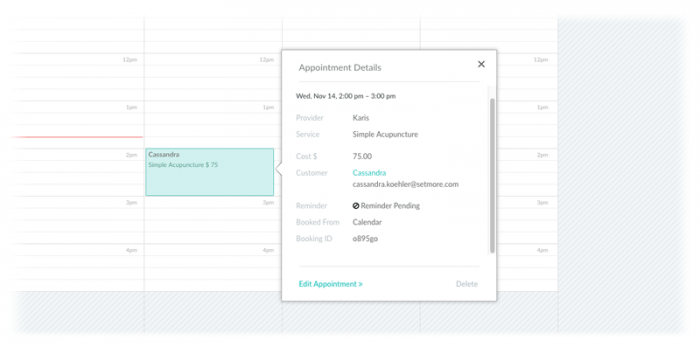 Click an appointment and in the details window, scan to find the row titled 'Reminder'. Your app will indicate if the reminder was sent, is still pending or failed for some reason. You can also manually trigger a reminder by clicking the reminder status and selecting 'Send Reminder'.
Reschedule and cancelation emails.
Reschedule and cancelation emails work the same way as a confirmation email. If you or a customer reschedules or cancels an appointment, Setmore will automatically send one of these emails to notify the customer of the action. Here's a sample of what the email notification looks like for rescheduling: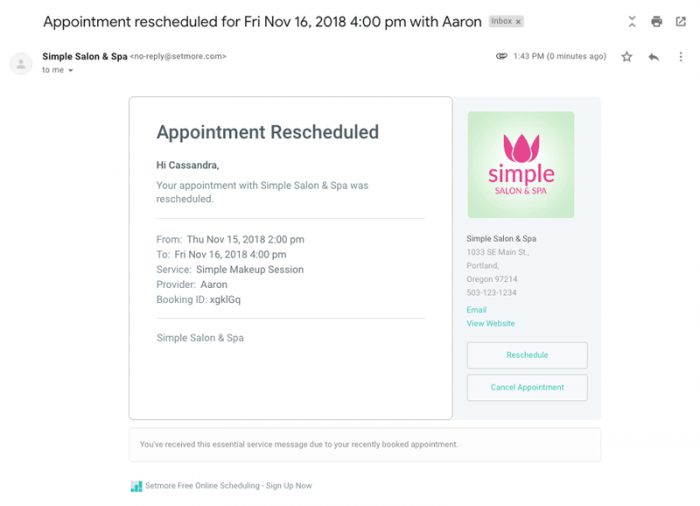 You can activate or deactivate sending a reschedule or cancellation email notification under Settings > Notifications > Customer. Under 'Appointment', simply check or uncheck the box next to 'Edited' or 'Canceled'.
Email customization options.
The body of the email template cannot be changed. However, you can customize the sender name that's applied to the email and you can add a custom signature to the email template. (The email 'signature' refers to the space below the body content of the email template.)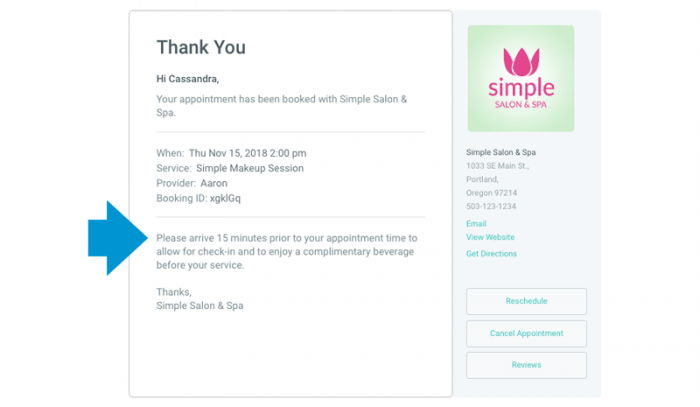 To adjust these customization options:
Navigate to Settings > Notifications > Customization.
Enter a custom sender name in the 'Sender Name' field, then click anywhere outside the field to save your changes.
Enter a custom signature in the 'Email Signature' field, then click anywhere outside the field to save your changes.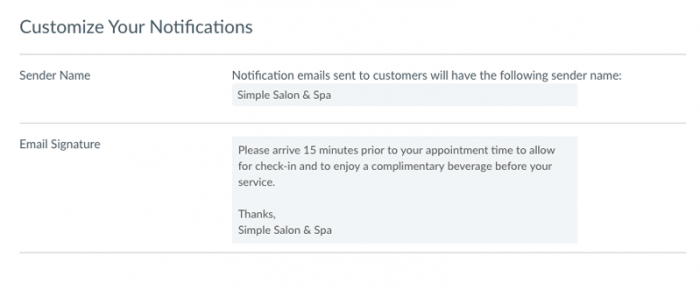 There's no character limit to the email signature field. So you can use this space to include important information for your customers. You can also include text-based web URLs in this space, however not all web browsers will automatically hyperlink a plain-text URL. Here are some examples of information you can include:
Directions to your place of business
Instructions to pre-book a customer's next appointment
Encouragement to review your services
Limited-time promotional offers (just remember to change your signature when the offer ends)
Email limitations.
The team plans to expand the functionality of email alerts in the future. For the time being, there are some limitations you should be aware of.
Emails and texts are 'do-not-reply' – If you want customers to be able to respond to an email alert or reminder, be sure to include instructions for how they can reach you in the custom email signature.
Customers can't reschedule or cancel class sessions – The 'Reschedule' and 'Cancel' buttons won't appear in an email confirmation or reminder for a class session, even if you have the option enabled.
Email settings aren't accessible via mobile – As previously mentioned, you can adjust your email alert settings by logging into Setmore at https://my.setmore.com.
Setmore doesn't support mass marketing – This might change in the future, but we don't currently support the ability to send a mass email to your customer list. If you're interested in email marketing, check out our Mailchimp and Constant Contact integrations.
Up next: Text reminders
Now you're a pro when it comes to using Setmore's automated email system. Stay tuned for the next chapter on text reminders, which can be twice as effective as email reminders.
Have questions about customer notifications and reminders? Post a comment below and we'll help you out.
Happy scheduling!
---
*Based on internal Setmore marketing statistics, 2018.
by Cassandra @ Setmore
Writer, editor and scheduling product expert at Setmore Appointments.