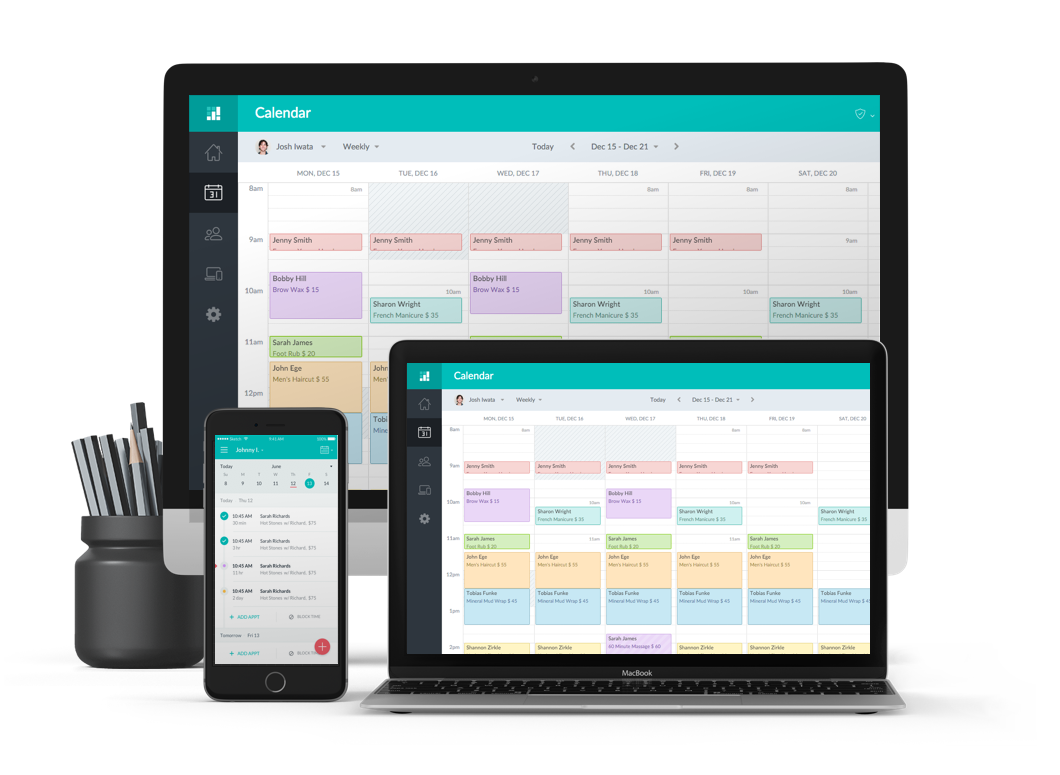 Pets are a part of the family. Pet owners nowadays want their pets to look impeccable and also pamper them as much as possible. The place where they get this done turns out to be your business - the pet services and grooming salons. For you to maintain a successful streak, you need to concentrate more on satisfying your customers (both the owner and the pet) rather than worrying about other small but significant things.
Setmore, is a scheduling and organizing tool which helps in smooth sailing of your business. We give you a versatile application which includes:
An online booking page where your customers can book their own appointments.
An online calendar where you can see and manage all your appointments.
SMS and email notifications which remind customers.
A management console where you can manage your employees, their timings and holidays.
Store and update customer information online.
Online Booking - Take appointments anytime, anywhere
When you choose Setmore to be your appointment organizer, you take appointments online and manage appointments and schedules from your Setmore account. We give you a booking page which can be customized to suit your business needs and timings. Moreover, you can integrate your booking page in your website, Facebook page or blog, so that customers can book appointments with your business as easily as possible.
Sometimes an appointment might be canceled or needs to be rescheduled. We make sure, these process are easy to execute and maintain. We send out emails to customers whenever they book an appointment, this includes information about the time and date when it is re-scheduled. This will prevent your staff from waiting and preparing for a customer who isn´t going to show up. The canceled or rescheduled slot is automatically updated, so that other customers can benefit from the same.
Online Appointment Calendar
As a owner/manager, it is often required for you keep a fine pulse of what is happening in your business. This includes information if all your appointment slots are booked or your business has one too many empty slots. We provide daily and weekly views of each of your staff´s appointment sheet. Apart from this, the calendar feature of Setmore also syncs with the your Google calendar account, so you can keep tabs on appointments from your Google account.
Notifications And Reminders
It is at times crucial for your staff to prepare for a particular appointment, but with all the hoopla going around, it might be difficult for them to keep track of it. We make sure your staff is duly informed of all the appointments they have for a particular day. This helps them in preparing for it and would prevent last minute chaos.
People lead a hectic life and with too many going on, they might at times forget the needs of their pets. Taking the pet to your business might slip their mind completely. Setmore tries to prevent this with the reminder feature. The reminder feature was built into Setmore to reduce the number of no-shows your business might encounter. This feature can be customized as to how and when you wish to send out the reminders. (email or texts or both)
Customer and Staff management
While developing Setmore, we wanted to provide multiple functions but we did not want other features which completely overpowers the core function of booking appointments online and managing them online. The result, we ended up adding features such as automatic storage of information which adds to the core function.You also get to make informed decisions based on how each of your service is received by your customer and how each of your staff is performing on the job. This would give you a fair view of where more resources are needed and required.
The above is just a preview of how your business might benefit from Setmore and we haven´t even mentioned the very prompt and efficient after service support our team provides. Why not try our product before making a decision? You will not be disappointed.