Book Appointments with Customers in Zendesk
Customer relationship management software built specifically around helpdesk support and resolving tickets/requests from your customers. Zendesk also empowers you with reporting and insights into customer satisfaction.
How it works with Setmore
Once activated, this integration places a Setmore booking widget directly in your Zendesk dashboard. As support reps tackle helpdesk tickets, they can also schedule appointments with your customers, all from the Zendesk interface.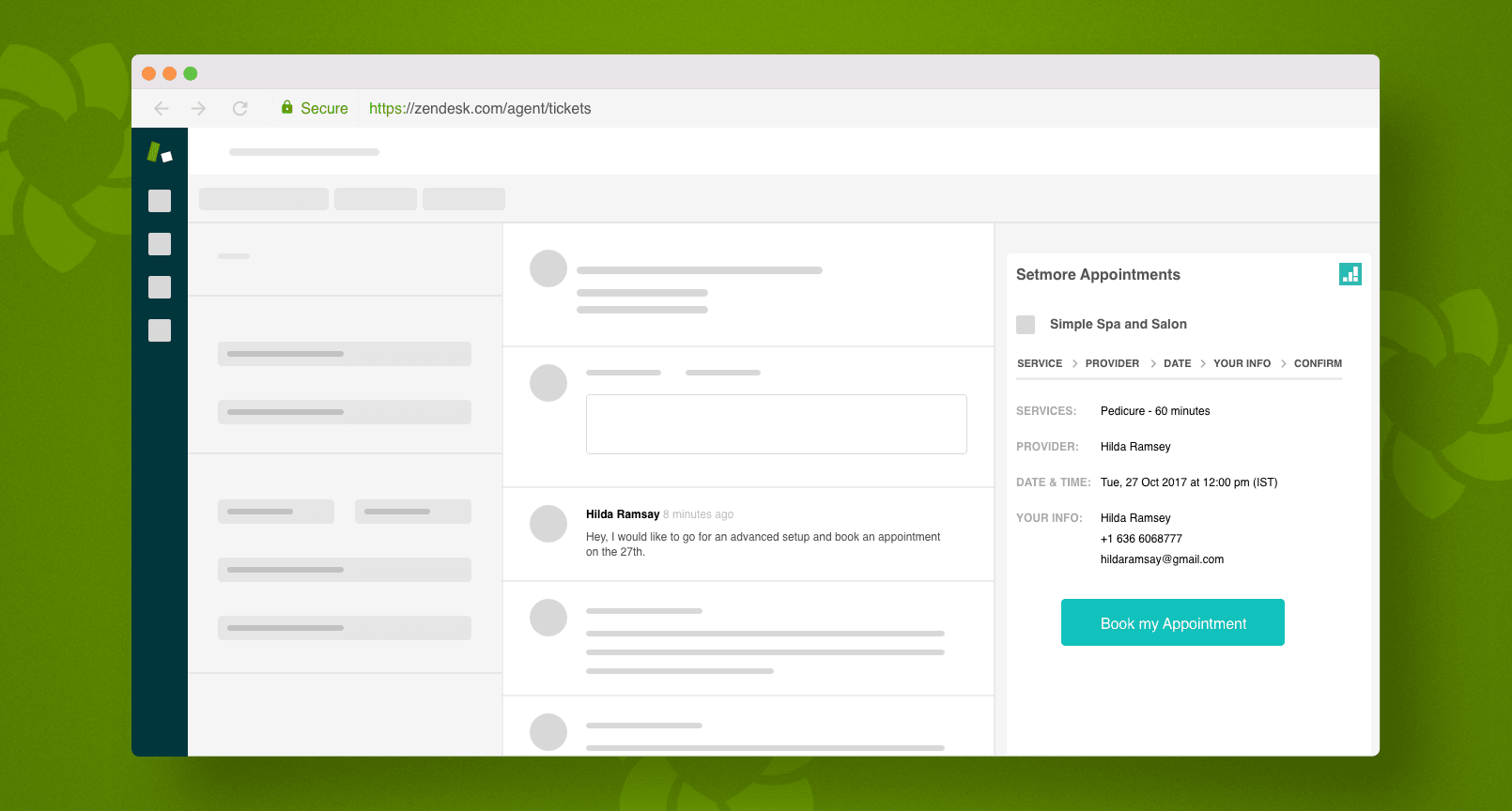 Visit Zendesk.com
From Helpdesk Queries to New Appointments
The moment when you solve a customer's problems are when their satisfaction is high. Make use of that positive energy by ushering them into another appointment or a follow-up session. With the Setmore-Zendesk integration, you can schedule appointments with customers directly from your Zendesk interface, and have them appear on your Setmore calendar. Customers will also benefit from any text/SMS and email notifications that Setmore is programmed to send, all without you having to take any additional action.
This integration is available with your free Setmore account. Don't use Setmore? Click here to sign up and start booking appointments with your customers in just a few minutes!
Empower Tech Support Reps and Agents
The more touchpoints you make available for customers to schedule an appointment with you, the higher chance you have of getting new appointments. This integration gives your support specialists, representatives, and agents the ability to act on your behalf in scheduling appointments with your customers. Reps and agents can see your available appointment slots and services, and work with customers to find the best times and services that meet their needs.
Add Appointment Capabilities to Zendesk in Three Steps
Every Setmore account has a unique ID key that corresponds directly to your Setmore Booking Page. This unique key is available under the Apps & Integrations > Zendesk menu.
Step 1: In Setmore, go to Apps & Integrations and click on Zendesk. Select and copy your Setmore key from this menu.
Step 2: In the Zendesk Apps Marketplace, search for Setmore Appointments. Click and install the app.
Step 3: During the installation process, you'll be prompted to enter your Setmore key. Paste the key that your copied from Step 1 to complete the integration.
Frequently Asked Questions
Do my support agents need a Setmore login to use this integration?
No, your support agents will book appointments with customers using a streamlined version of the Setmore Booking Page that does not require a separate Setmore login. Agents and reps will book appointments while interacting with customers directly, and those appointments will show up on your Setmore calendar.