Get New Customer Appointments from AnswerConnect
AnswerConnect is call answering for businesses of all sizes. Get access to a fleet of US-based receptionists who answer your calls and interact with your customers, any time of the day.
How it works with Setmore
Link your Setmore account to your AnswerConnect profile, and your call center agents can schedule appointments with your customers on your behalf. You'll see new appointments show up in your Setmore calendar, without requiring any additional action on your part.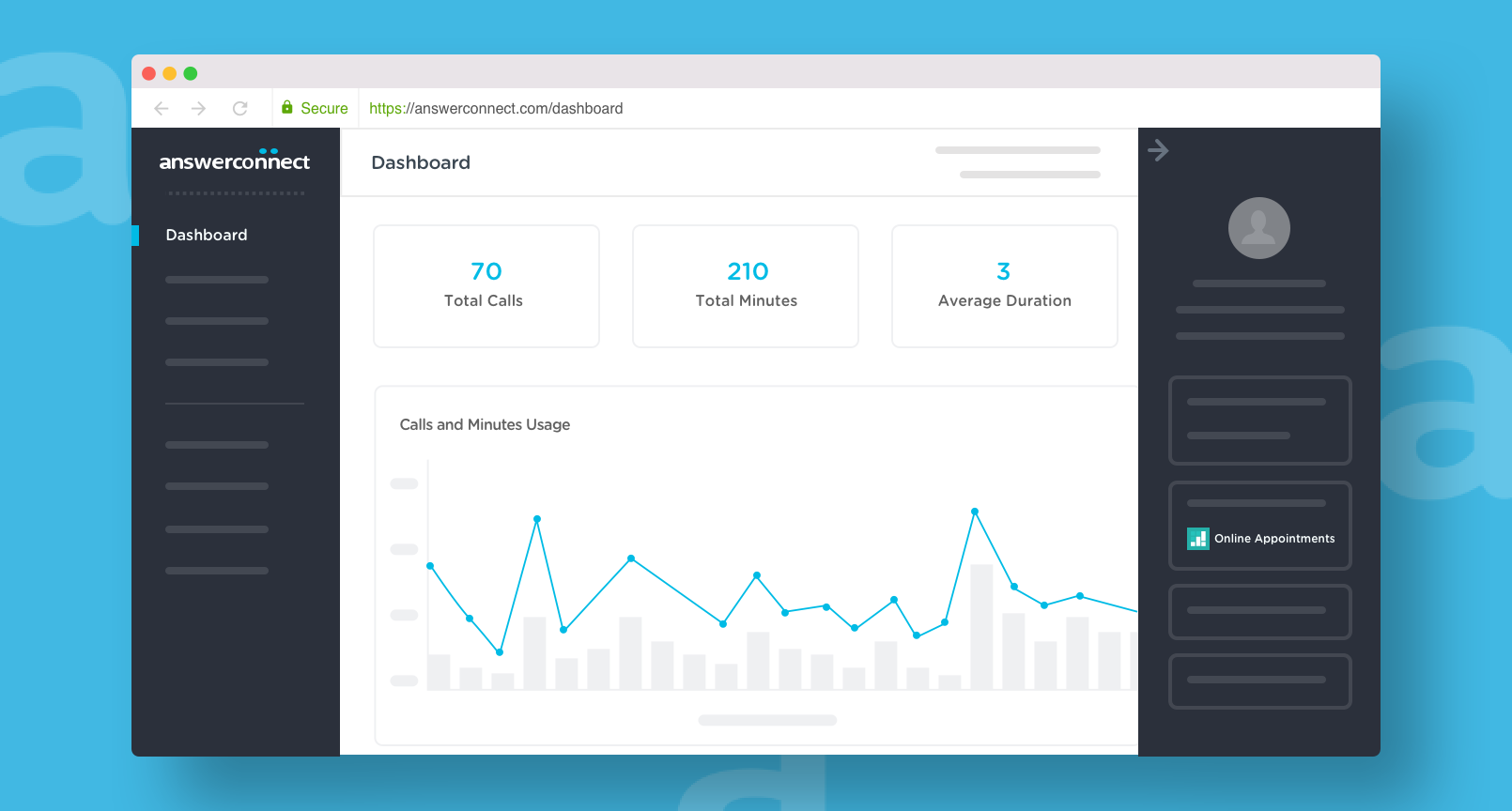 Visit AnswerConnect.com
Watch New Appointments Get Added to Your Calendar
Setmore has partnered up with AnswerConnect to bring live call answering to your professional appointment calendar. AnswerConnect call agents are specially trained to be familiar with and use the Setmore platform, ensuring a smoother appointment booking experience for your customers. Also, when you sign up for AnswerConnect and ask to link your Setmore account, you'll gain the benefit of a personalized, one-on-one account setup session with an AnswerConnect specialist.
Setmore is free, powerful, and super easy to use. Sign up today and book your first appointment in minutes!
Call Agents Book Appointments for You
With AnswerConnect you'll have the ability to customize a call script that your live receptionists use to interact with customers. As part of this service, your call script can be customized to steer callers towards scheduling a new appointment. You can even inform call agents about the best times to book an appointment with you, taking a payment upfront, or scheduling for multiple staff members.
Contact Your AnswerConnect Agent to Get Started
Your AnswerConnect account representative will help you connect your Setmore account to AnswerConnect. If you don't have a Setmore account, they can help you set one up for free.
Step 1: Sign up for AnswerConnect (click here for plans and pricing)
Step 2: Ask about Setmore Appointments as a paired scheduling solution.
Step 3: If you already have a Setmore account, let your agent know that you want to connect your existing Setmore account to AnswerConnect.
Frequently Asked Questions
Will I still be able to book appointments on my Setmore account?
Yes, of course! AnswerConnect agents will schedule appointments on your calendar for you, but you may continue to use Setmore as you normally would. Agents are trained not to double-book services, so you won't have to worry about potential scheduling conflicts.
Will AnswerConnect agents have direct access to my account settings?
Generally, no. Call agents will only be able to schedule appointments in accordance with your Setmore account settings: during business hours, per available staff member and per the services each staff member provides. Only you and your AnswerConnect account representative (the person you worked with to set up your account) will be able to change your admin settings in Setmore.
Who do I contact if I need technical support?
If your question or troubleshooting issue is related to your AnswerConnect service, then contact AnswerConnect directly for support. You may also send them questions related to your Setmore account – we work with them to resolve issues related to your Setmore calendar and our teams are readily available, day or night, 24/7.
If you have a question specifically about your Setmore calendar, or if you want help setting up a feature in your Setmore account, contact us by email or check our support website.