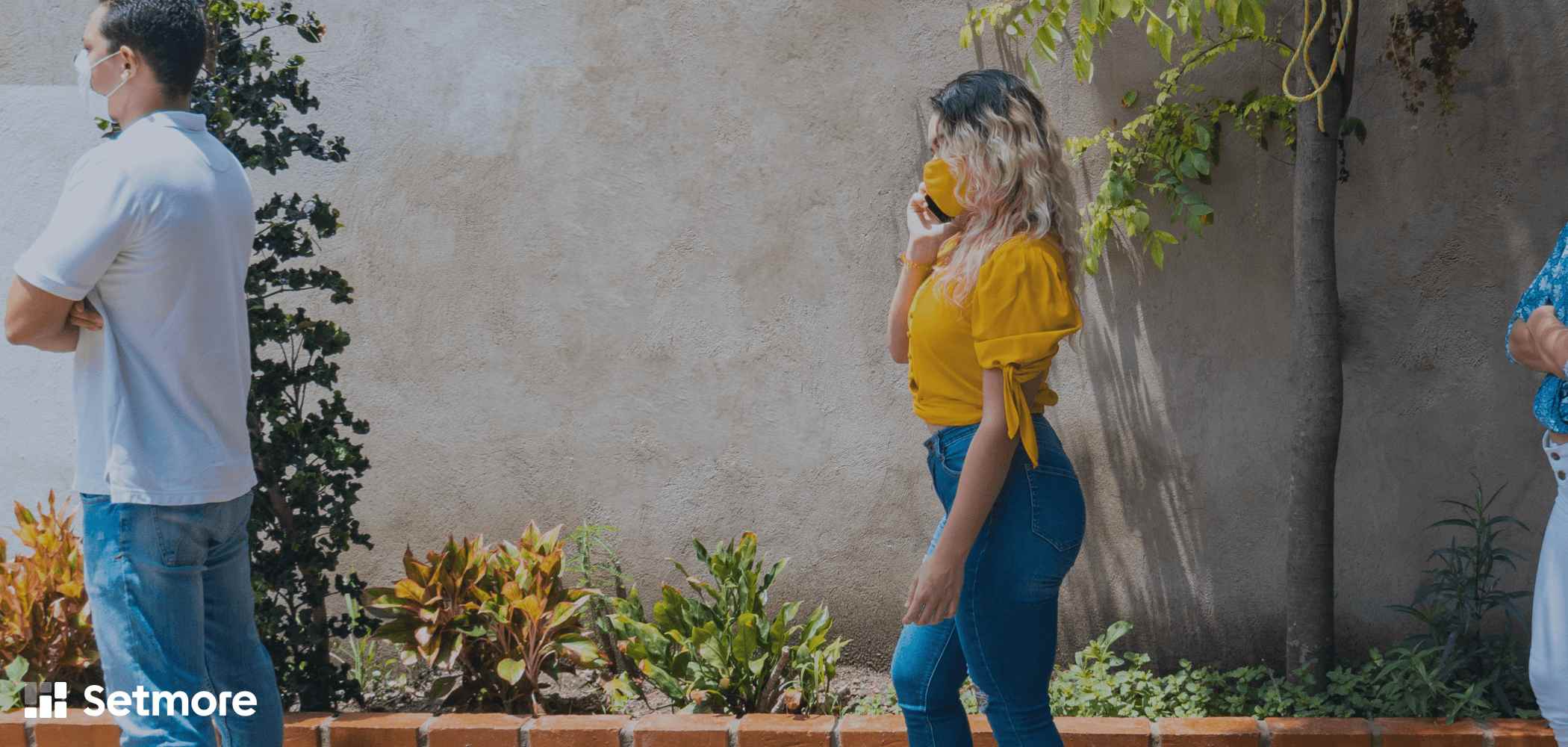 The world as we know it is powered by connections. As social beings, we rely on relationships to survive. Interactions and engagement are key metrics for any business to function, as important as growing your customer base and having a contingency plan that helps during times of uncertainty. How can you continue to deliver amazing experiences? How can you get word-of-mouth to the next potential bunch of customers? Most of all, how can you keep your business going?
It's a harrowing time where businesses are facing the hard choice of shutting their offices or storefronts to keep people safe. For those of you who are overwhelmed, here we'll explore a few ideas that can help when you have to limit your interactions but still make ends meet. 
Tip #1: Get social even with the distance
Most of your customers will probably be at home or in quarantine, during which, they're heavily active on social media. And it's not just social media, streaming services observed a spike in users since social distancing measures were brought into effect. While the timelines are overwhelmed with news updates and developments, this could be the right time to start taking your brand online. Here's some do's and don'ts to get you started:
Do's
Do realize that your audience is stuck at home, and you are too. Most everyone recognizes the difficulty and seriousness of the moment, and our communal responsibility to flatten the curve. Be respectful that we're all shouldering this burden, and a little on edge because of it.
Do share resourceful content like tips and DIY ideas that can help them through tough times. This can include ways to pass the time, interesting recipes to try as people expand their hobbies, or ways to connect with people that work with social distancing, like playing board games over online video meetings (more on this, below).
Do instill a sense of pride on how people are being heroes by staying inside their houses.
Don'ts
Don't spread info about coronavirus that didn't come directly from an expert or governing body. This is a big one – it's tempting to share hot info as you get it, but there's already a lot of junk info being tossed around out there. Don't be part of the problem, stem the junk by not helping it spread.
Don't try to limit content only to coronavirus updates. Trust us, people are getting enough of this as it is. It's important that we recognize the positive in the world, not just focus on the negative, and we could all use a little good news right now.
While this may not be the time to market your services, it's certainly the time that people need you more. This not only gives your team an opportunity to engage, it also helps boost brand loyalty and gives your brand a global reach.
Tip #2: Keep your team's spirits high
Even when you're not in the same room, you can still remain connected to your business' team through teleconferencing tools. Using free video calls are better than audio-only calls, and you can host regular check-ins with your team members: 
Wellbeing Check-ins: Find out how your team members and their families are holding up. You can also find out if they require any help or supplies. It might be silly but when you think about how people spend most of their waking hours at work, you and your co-workers and colleagues could be considered a family of their own. 
Staffing Check-ins: If your business provides essential services and isn't under mandated closure, see if you can plan skeletal staffing with a rotating roster to let staff members receive basic pay to help make ends meet. If you're in the rough position of needing to furlough workers, don't just leave them high and dry; help your team members apply for any government aid/grants that they're eligible for.
Community Check-ins: If your business is helping the community, discuss sanitary and safe delivery practices when you're in "give back" mode. This can be as simple as establishing a checklist for proper use of gloves or hand sanitizer, and regular hand washing when handing off supplies. If you have extra gloves or masks to give, it probably isn't hard to find a local clinic or elderly care facility that needs them.
Pro tip: Need to communicate shop closures to your customers? Setmore can help.
Check out this article on tools that Setmore offers to help you manage your schedule and communicate closure details with clients.
Read more: Closures and Communication During COVID-19, Coronavirus
Tip #3: It's time to get even more creative
In 1886, the quest to create a "valuable brain tonic" to cure headaches led to Coca-Cola, the iconic drink and a household name all over the globe. Likewise, during trying times, a starter or makeshift idea could help you minimize the severity of a lockdown. 
Here comes the part where we talk about some of Setmore's tools that can help you out. Rest assured, everything we'll mention below is available with our free, basic plan of Setmore, and yields zero profit for us as a company. 
Step 1: Adapt 
When your brick-and-mortar store remains shut, switch to online appointments and video consultations. Setmore's Teleport integration lets you meet and interact with clients without when social distancing prevents people from meeting each other. To activate the teleport integration, read our step-by-step guide here >
Once you feel comfortable delivering services online, try to expand your portfolio of offerings. Host 1:1 consultations with customers online, or upgrade to Setmore Premium to host larger webinars and workshops.
Step 2: Improvise
Many businesses are still allowing for delivery of essential goods, or window pick-up that abides by social distancing rules. If you're used to upselling add-on items during checkout, and these items are considered essential, you might consider offering these via online sale. Setmore's Square integration lets you accept payments from customers at the time of booking. Find out more about how to accept digital payments via Square here >
All transactions in Setmore are tied to an appointment on your calendar. So to arrange for the sale of essential goods, have customers schedule an appointment to pick up the goods in question.
Step 3: Overcome
As an employer, you can look out for small-term loans that would help you keep your business from shutting down permanently. Kiva, Facebook and Amazon's effort to help business could be the lifeline you were looking for. US-based businesses can also look into SBA disaster assistance.
Even in quarantine, our resolve is stronger than ever 
While we have to stay at our homes, there are ways to beat the monotony. Plan movie nights online or try bridging the distance with a virtual date. Plan a surprise party at a safe distance or play a board game with a random stranger online to lighten up. Pandemics could have long-standing effects, but as a community, staying strong is the best line of defense. In the words of the ineffable Dory, just keep swimming!
by Srilakshmi @ Setmore
Content writer and scheduling expert at Setmore Appointments.