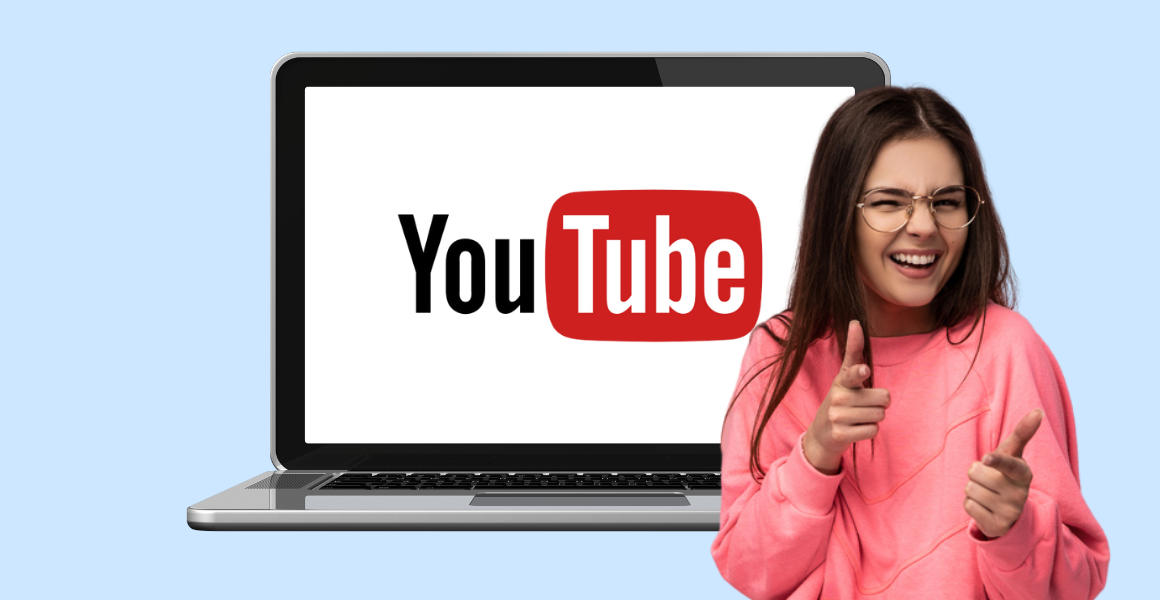 Generate more leads and take bookings directly from YouTube.
Using YouTube to promote your Booking Page can turn viewers and subscribers into new clients. If you want to enhance your video content and offer audience members an instant route to reserve your time, there are a few different ways to feature your booking link.
What this article covers
Some YouTube stats
4 ways to add clickable links to YouTube
Description box
Channel banner and 'About' section
Info cards
End screens
What's a watermark?
YouTube ads
Why YouTube booking options are essential
For those already producing top-notch YouTube content, who just want to learn how to add booking links, jump here. For anybody who hasn't yet promoted their business via video, here's exactly why you should.
Some YouTube stats.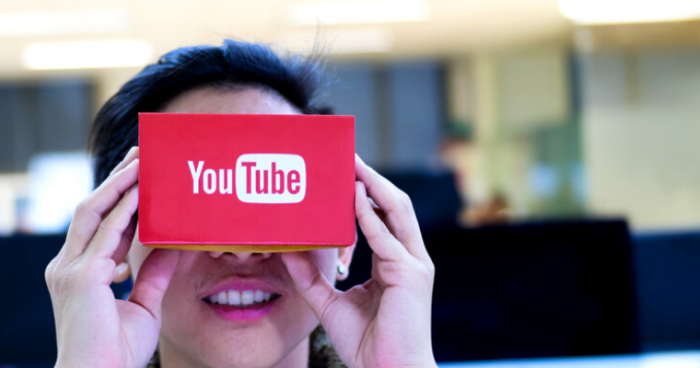 According to Statista, YouTube has 2 billion active monthly users in over 100 countries. If you offer virtual services, think of all those international leads you could miss out on if you didn't highlight your booking link on YouTube.
The platform itself found that viewers are twice as likely to buy something they saw on YouTube, and four times more likely to use YouTube to find information about a service, when compared to other platforms.
"Live, Virtual, Video, Distance Presenting, Distance Learning, and Distance Selling are here for at least the next decade and will intensify as years pass." – Jeffrey Gitomer, King of Sales
It's a no-brainer. Promoting your booking links through YouTube makes it easier for potential customers to discover and book you.
So, now that we're clear on YouTube's potential, let's talk about how to add clickable links to videos and encourage your audience to book now.
4 ways to add clickable links to YouTube.
YouTube description box.
If you've spent some time on YouTube, you've likely heard the phrase "link in the description box". Adding links to a YouTube description is a straightforward way to give audiences more information, and in essence, more you.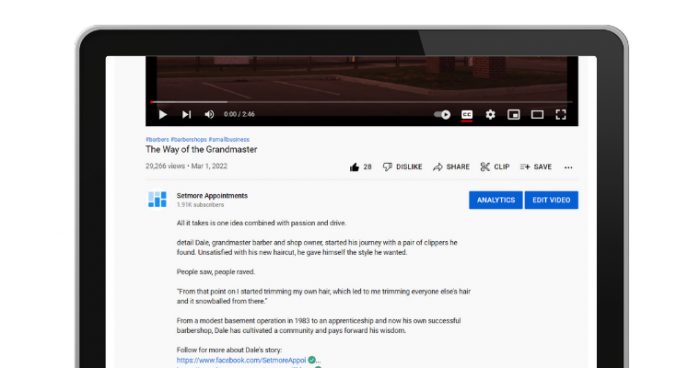 Done well, a description can be a huge win for SEO and bring more traffic to your Booking Page or website. Here are a few points to remember when adding clickable links.
The more links you ask viewers to click, the less likely any one link will be clicked. The description should guide viewers to the most relevant destinations based on your video's topic.
Place your booking link, or the link that's most important, first in the YouTube description. Although the description can reach 5,000 characters, not everyone will hit 'Read more'. The link your viewer needs should stand out.
Viewers and algorithms appreciate an organized description. Group links under relevant subheadings, and include timestamps to guide people to specific information.
After Google, YouTube is the second most-visited site and the second largest search engine in the world. A Wyzol report shows that video can drive a 157% increase in organic traffic!
With that in mind, keep your descriptions succinct, relevant and targeted through thorough keyword research. We've got a guide on the fundamentals and how to improve your search visibility here.
Similar to Facebook and Instagram, using hashtags also helps your video capitalize on what's trending. Check out Google Trends for the latest topics that have people talking.
Direct viewers to your booking link after you've provided meaningful content, overviewed your video, or explained how you can be of service. Your audience should believe that you hold valuable solutions before clicking away. In short, visiting your Booking Page should feel like the natural next step in conversation.
How to add links in the description box.
Simply paste or type your link in the YouTube description field. Be 100% sure to include "https://" at the start of your link. Without these few characters, YouTube won't link out.
Log into your YouTube account
Click 'Content' and select 'Options'
Go to 'Edit title and description' for your video
Insert your booking link or another URL (Remembering to keep the https://)
Click 'Save changes' at the bottom of the screen
For illustrated step-by-step instructions, check out this support article. You can click 'View on YouTube' to see the results – any clickable links will appear in blue. We recommend testing your links to ensure they work and that the correct ones have been added.
Prefer YouTube to handle some of the heavy-lifting? You can customize the settings for your videos' default description. The platform will automatically include your booking link in the description for every new video: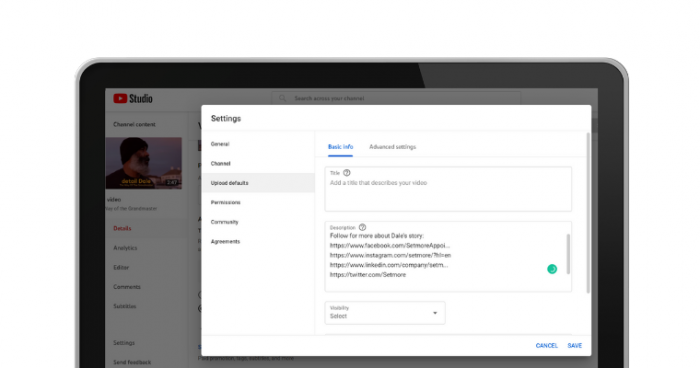 Your channel's banner and 'About' section.
Another free way to encourage traffic to your Booking Page is by adding its link to your channel. You can do this by creating a banner image and featuring links in the bottom-right corner.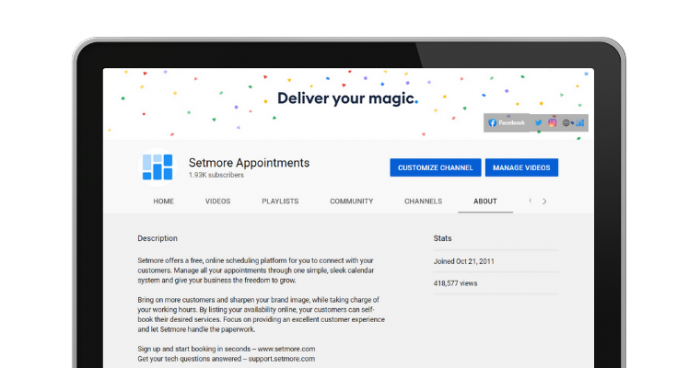 Display up to five links such as your social media handles and website. When people open your channel page, your banner gives a shoutout to how they can connect with you.
How to add links to your channel.
Log into YouTube, click your profile image in the top-right corner and choose 'Your channel'.
Select 'Customise channel' and 'Basic info'.
You'll see a 'Links' section. Click '+ Add link' and specify a title and your Booking Page URL. You can add more links if needed, like your social media handles.
Select the 'Links on banner' dropdown menu to choose up to five links that'll appear.
Hit 'Publish' and your links will feature in your channel's banner and 'About' section.
Although your banner can only display five links, you can continue adding links and they'll appear in your channel's 'About' section. Consider highlighting your main Booking Page link in the banner and more service booking links in 'About'.
Get extra options with YouTube's Partnership Program (YPP).
After becoming a YouTube partner, you can add bookable links to info cards and end screens, and start earning revenue through ads. Read on for more details.
Info cards.
Info cards capture attention in the top-right corner of your videos. They're characterized by an 'i' preceding a CTA, which links the viewer to another video or website. Consider using info cards to direct your YouTube audience to your Booking Page. If a viewer is shopping around online, featuring a booking link can give you a competitive edge.
Oh, and for extra convenience: You can include your full Booking Page URL or the relevant service booking link, depending on the purpose and audience of your video.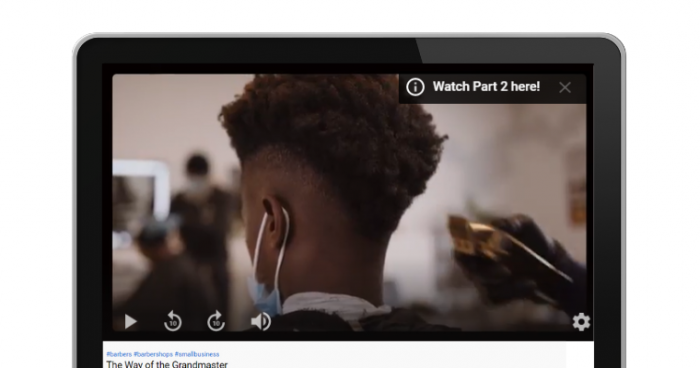 How to add info cards.
Log into your YouTube account
Select 'Content' in the left dropdown menu
Select the video you want to edit
On the right, you'll see a cards option. Choose this to edit and add a card
Move the needle and decide where to place a card
Click the '+ CARD' icon in the top-left corner
Choose whether the card will link to a video, playlist, channel or website (like your Booking Page)
Add teaser text or a custom message – this will appear next to the 'i' in the info card, encouraging clicks
Click 'Save'
For illustrated instructions, read this support article.
While you have five opportunities to insert info cards, avoid overkill. If your video is short, be strategic about when and how often info cards appear.
End screens.
End screens lead engaged viewers to absorb more of your content. These screens are typically colorful and interactive, featuring CTAs and clickable links (you guessed it) at the end of your video. It's recommended that you extend your video by 20-30 seconds, in order to fully showcase an end screen and give people time to read and click.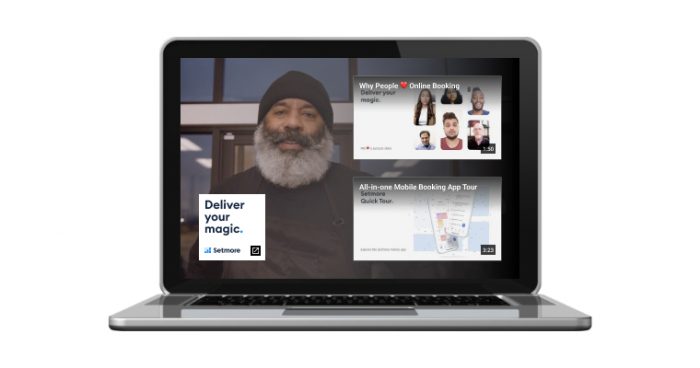 How to add an end screen.
Log into your YouTube account
Select 'Content' from the left dropdown menu
Select the video you want to edit
On the right, there will be an end cards option. Select this to edit and add an end card
Click the '+Element' button and you'll be given four options: video playlist, subscribe, channel, or link (which can send viewers to your Booking Page)
Choose up to four end cards
Add, edit and preview how your end screen will appear
Click 'Save'
To optimize an end screen, consider the ideal next action of your viewer. They're invested – they watched until the very end. Do you want them to subscribe, book a consultation with you, or view more of your videos? Ensure your end screen gives them a clear path.
View illustrated instructions to add an end screen Click here to know more about how to add Setmore booking links to your youtube videos..
And there you have it: 3 ways to add clickable booking links to your YouTube video content. Here's to more engagement, more leads, and more appointments!
A shout out to watermarks.
A watermark is an image of your choice that allows viewers to subscribe to your channel without leaving your video. It can be placed in the bottom-right, center, or cover the entire width of your video.
While a watermark can't link to your Booking Page, more subscriptions increase the view count for your newest videos. By featuring a watermark, you prompt people to stay in the loop with your channel. More views = higher engagement = increased booking potential 🙌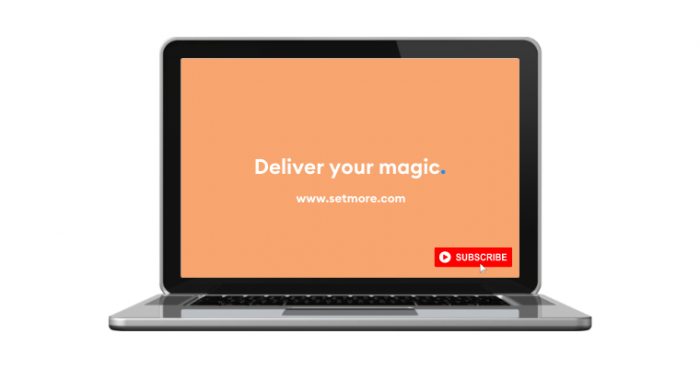 Click here to learn how to add a watermark.
YouTube ads.
YouTube ads that feature a booking link provide one more layer of interaction, and can be a great way to boost bookings from video marketing. Advertising incurs a cost, but a small business owner can tailor a campaign to reach their ideal customer by search topic or demographic.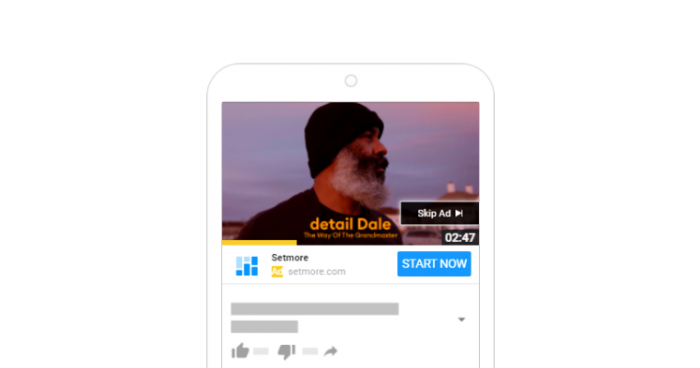 Once you're in front of your target audience, it's time to showcase your Booking Page.
Explore how YouTube ads can help you generate leads and increase bookings, often inexpensively.
YouTube booking… is it really that big a deal?
Yes. Let's break it down together:
Create an all-new conversion channel
Your YouTube channel goes from simply raising awareness to bringing in more clients. Think about the reach of your business when every video viewer can click to reserve your time.
By promoting your booking link through YouTube descriptions, info cards and end screens, you increase your chances of transforming viewers into leads, and leads into clients. If a customer wants to book an appointment after absorbing your content, they'll appreciate immediate access to your schedule and prices.
Without the option to self-book online, you leave time for potential clients to look elsewhere or get distracted. While engagement is high, promote your services via a booking link and draw more people in.
Providing booking links takes your business beyond a transactional relationship with leads and clients. Your videos are interactive and provide visual and verbal cues for the audience to reach out for a solution.
This personalized approach highlights how accessible and approachable your brand is. Viewers are able to learn more about your services and book independently, without the back-and-forth.
Nothin' to lose and a whole lot to gain.
Adding booking links to YouTube descriptions, info cards and end screens is fast, free and effective. If you run a small business and want to get more traffic to your Booking Page, or capitalize on the popularity of your videos, make sure you try these ideas.
Let us know how YouTube booking works for you – we're on Facebook, IG, Twitter and LinkedIn. Need a Setmore account to get started? Sign up for free here. You can also visit resources for more articles and videos to help raise awareness of your services.
Happy scheduling!
by Setmore Appointments
Free, powerful online customer scheduling for businesses of all sizes.