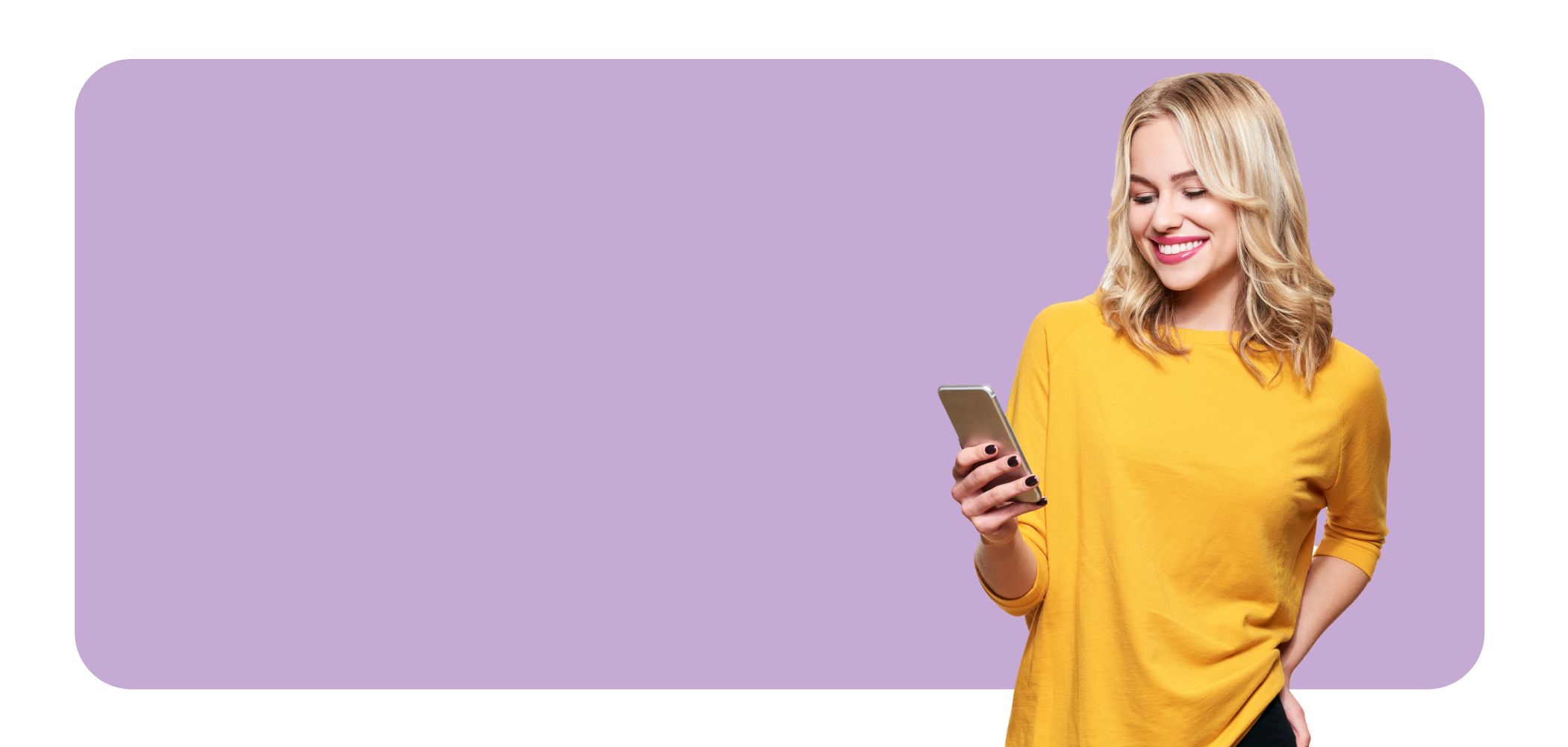 One of our aims with Setmore is to create an app that delivers more than just its list of features. We've spent many late nights, glued to our desks and lost in a sea of drained coffee cups, chiseling away at Setmore's codebase to ensure that the app, above all, remains flexible. With a little duct tape and elbow grease (figuratively speaking), you can get Setmore to do virtually anything you need or want it to do.
So without further ado, here are five MORE hacks for taking your scheduling game to the next level.
And ICYMI, click here to check out the first 5 Setmore hacks.
Hack #1 – Link to your Booking Page in different languages.
Currently, Setmore enables you to change the default language on your Booking Page, and you can customize service names to appear in your preferred language. But did you know you can automatically link to your Booking Page in any language, regardless of the default? Here's how it works:
Step 1: Navigate to Settings> Booking Page > Company Details and locate your Booking Page URL.
Step 2: Append the following text (in red font) to your Booking Page URL. In this example, the selected language is Spanish.
bizname.setmore.com/?lang=spanish
You can do this as many times as needed to share your Booking Page in different languages. Simply swap out 'spanish' for another language.
Step 3: Add the custom URL to your social content, business cards, email signatures and website to give customers access to your Booking Page in their language of choice.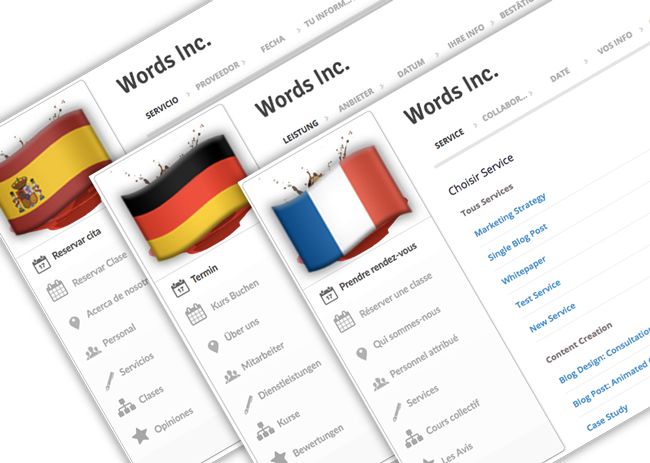 Hack #2 – Forward customers directly to class booking.
If you offer both appointments and class sessions, your appointment services display by default when customers open your Booking Page. Normally they'd have to click 'Book Class' in the left menu to view your classes. However, if you want to give customers a direct link to your classes, here's how to do it.
Step 1: Your class needs to have session dates already planned out. If you still need to do this, navigate to Settings > Classes in your account.
Step 2: Append the following to your Booking Page URL (reference the previous hack for instructions to find your URL):
bizname.setmore.com/bookclass
Step 3: Post the URL across your social channels, marketing emails and more. When clicked, your class services appear right away.
Hack #3 – Offer customers a discount for pre-booking their next appointment.
We previously discussed the value of requesting pre-bookings at the end of appointments, and how you can offer an instant discount if customers book on the spot. While Setmore allows you to apply discounts to services via the cash register, you can also introduce discounted services that are hidden from your Booking Page.
Step 1: Create a duplicate service and update the name to indicate pre-booking or a discount, e.g. 'Haircut: Prebooked' or 'Haircut: 10% Off'.
Step 2: Adjust the service cost to the discounted rate, e.g. applying a 5% or 10% discount.
Step 3: In the service details (located in Settings > Services), toggle the 'Private service' switch to the on position. Now the service won't appear on your Booking Page, so only your team can access and schedule it.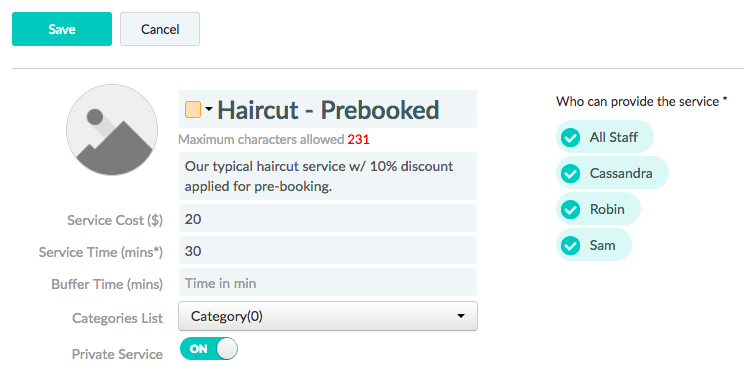 While customers wrap up their appointment, you can now offer to pre-book their next appointment at a discounted rate (rather than applying a discount after the fact) in just a few clicks. Not only does this save you time, but customers are incentivized to keep coming back.
Hack #4 – Use your Booking Page to organize followers, volunteers or events.
Non-profits and volunteer organizations can benefit from using Setmore to plan group events. Even if you're scheduling an office party and need to line up co-workers to bring refreshments, your Booking Page is a versatile catch-all that gets the job done.
Step 1:  Create a new Setmore account and think of 'staff profiles' as the names of your projects. So, staff = projects. As time goes on, you can add new 'staff members' to represent new projects.
Step 2: Create new services but treat 'services' as tasks within each project. So, services = tasks. Tasks can be re-used across multiple projects and you can specify which projects include which tasks.
Step 3: Use your Booking Page as a sign-up sheet. Have colleagues or volunteers choose their 'projects' from the services tab, and their 'tasks' from the staff provider tab.
Hack #5 – Create a public calendar that shows your appointments.
Your Setmore account comes with an all-in-one calendar that displays your appointments and events. You can't share this view externally with customers or on your website. However, if you want to give customers an at-a-glance view of your availability, you can set up a separate Google calendar and use Setmore's 2-way sync to automatically display your bookings. And, the cherry on top, Google enables you to embed this calendar anywhere online.
Step 1: Get a free Gmail account and link it with a staff member in your Setmore account.
Step 2: Enable Google 2-way calendar sync for this staff member. You can do this by opening Settings > Staff and scrolling to the 'Google Sync' section in the relevant profile.
Step 3: Make the Google calendar public. Open the Google calendar and click the gear icon in the top-right corner. Select 'Settings' from the dropdown menu and click the 'Calendars' tab. Select your calendar then click the 'Share this Calendar' tab. Finally, check the box for 'Make this calendar public' and click 'Save'.
Step 4: Share the calendar! Go back to the calendar details menu (Gear > Settings > Calendars > Your Calendar). Google provides an option to embed the calendar code on your website, or you can simply retrieve the URL by clicking the blue 'HTML' box mid-way down the page.
And that's it! Now you can open this URL in a separate tab to see your calendar. With 2-way sync enabled, appointments show up in real-time. This is ideal if you're a contractor or salon specialist who wants to advertise immediate openings in your schedule. It's also great if you're doing Hack #4 and want to share a calendar with a birdseye view of all tasks in a project.
Don't you just love it when a plan comes together?
We hope you found these hacks useful or inspiring. Most of them came from community members trying to customize their accounts, then we charted a path to make the idea work. If you come up with a new way of doing things, be sure to share it with our team.
Happy scheduling!
by Cassandra @ Setmore
Writer, editor and scheduling product expert at Setmore Appointments.