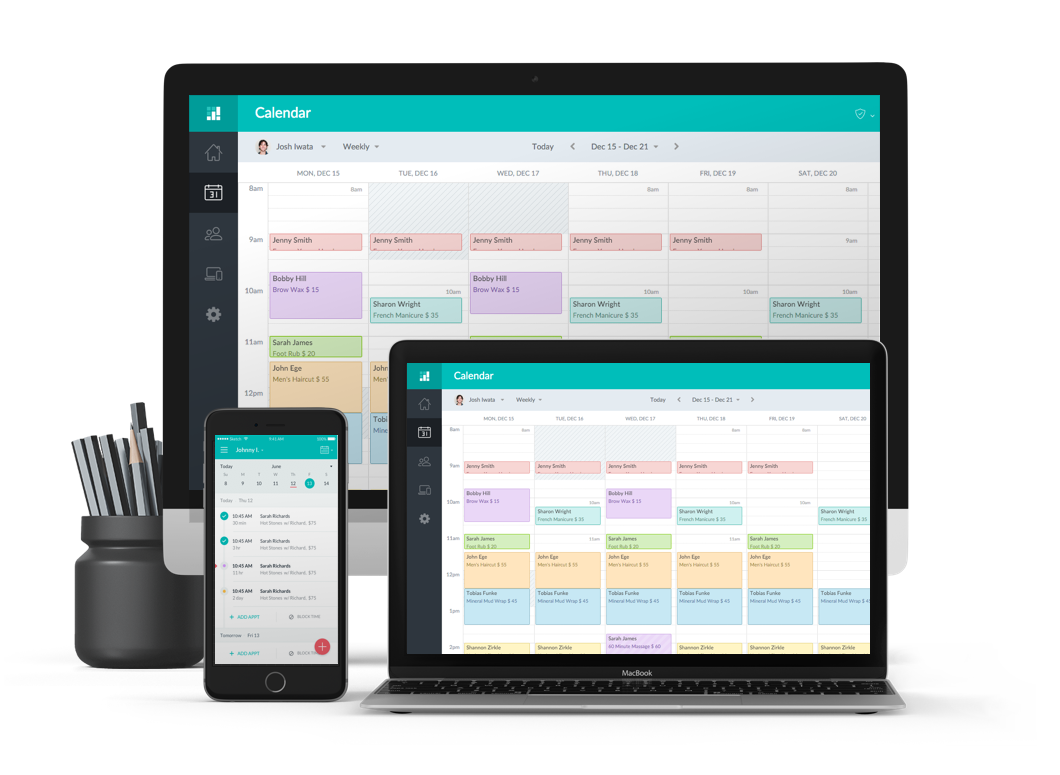 The success of a business is proportional to the passion of the souls involved, and determines the impact that your service has on your customers. Throw online appointment scheduling into the mix and now you've got more time and resources to effectively manage your whole business and your scheduling responsibilities. Setmore, a free online scheduling tool that comes with features and functionalities that help you master the art of booking appointments. Setmore is digital, easy to use, and enables your customers to schedule their own appointments online.
Tools and Tricks to Drive Scheduling
Setmore is the perfect online scheduling tool that's adaptable for your business; it comes with a broad feature set and the ability to customize certain features to meet your business requirements. With Setmore as your dedicated online appointment manager, you get:

An online booking page that enables your customers to view available time slots and book their own appointments.

Instant booking confirmations sent to the email address of your staff and customers.
Powerful integrations that help connect your Setmore account to your existing business tools.
A master calendar that contains the schedules for all your staff members, along with individual Setmore calendars for all your staff members.
A free-to-use-for-life basic plan, or Premium subscription plans at affordable rates that deliver advanced features to help you grow your business.
Round-the-clock access to Setmore's team of support experts who are available to resolve any issues you encounter.
Web, Desktop, Phone and Tablet
No matter what device you use, Setmore enables you to actively view and manage your business appointments online. Use our browser-based web app, download the local app for your desktop, and get Setmore for your Android or iOS phone. Your appointment data automatically syncs across all devices for easy access.
Your Business, Your Rules
Configure the settings of your Setmore account and adapt it to how your business works. Setmore empowers you to steer the ship by giving you multiple customization options, starting right from the initial setup where you can choose the time zone, currency, and elements that appear on your booking page.
Online Scheduling Tool with a Checkout
Setmore helps you take scheduling to the next level with a built-in checkout system. Generate invoices for each appointment and save the payment history for bookkeeping. Accept online payments from your customers through PayPal or Stripe payments from the calendar and the online booking page, all within your Setmore account. The cash register system in Setmore also helps you record transactions when customers pay upfront using cash.
Graphs and Projections
The Setmore dashboard gives you a weekly forecast of what your business is expected to rake in along with a live-streaming panel that lists of all the activities happening in your Setmore account. Identify key clients with detailed customer stats that show spending history, past services, and the frequency of appointments booked so far. Setmore's customer insights help you identify where your business shines to inform and strengthen future plans.
Setmore streamlines the process that goes into online appointment scheduling so that your customers get an experience that's nothing short of phenomenal. Get started with Setmore today and focus on the things that matter; your business and the team members and customers that make it great.