Free Intercom scheduling system
.
Empower your audience to book in seconds, directly from Messenger.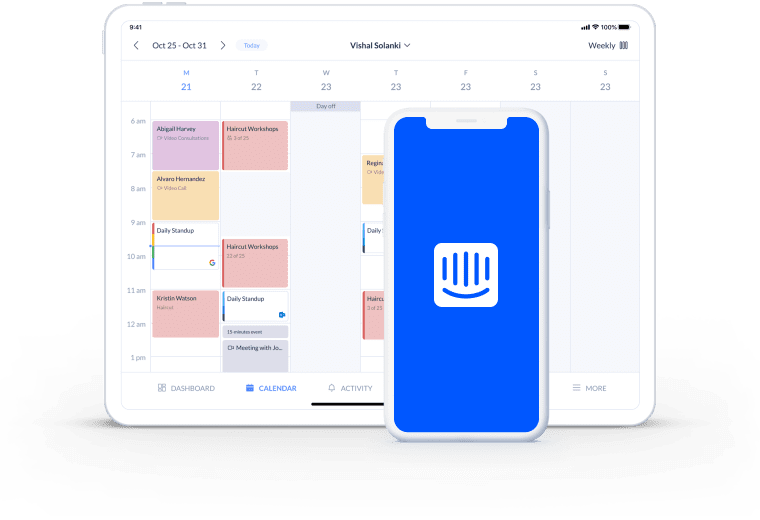 Push the button

Display a booking button in Intercom Messenger and enable people to schedule appointments online, 24/7.

Break the ice

– and get booked. Leads and customers move seamlessly from chatting with you to checking your availability.

Go with the flow

Your audience is directed to select a service and time slot, then confirm their booking – all inside Messenger.
The perfect conversation starter, enhanced
.
Intercom enables your business to become infinitely more accessible. Add a booking button to Messenger and make it easy for leads to become all-new customers.
With one click, your Booking Page opens within the chat window. People can move swiftly from a Q&A to scheduling an appointment. Details appear in your calendar right away, and both you and your guest receive automatic email confirmations.
How to enable Setmore for Intercom.
Log into Intercom and open Setmore's page in the App Store. Install the app.
Back in your Intercom dashboard, click Messenger in the left navigation bar.
Select Add apps to your Messenger and specify an audience: your team or visitors.
Click Add an app and select 'Setmore for Intercom'.
Enter your booking link and personalize the text for your button.
For illustrated instructions, check out our Intercom integration support article.
Get the message, get the booking
.
When your leads are most engaged in Messenger, enable them to book a demo or first consultation then and there. Your Booking Page displays in the chat window, making next steps easier to take.
There's no back and forth calls or emails, making your business more competitive and converting leads faster.
Automate and save everyone time
.
Your calendar updates as soon as an appointment is scheduled. Additionally, email confirmations are fired out and can include a Teleport, Zoom or Google Meet link for virtual services.
Prior to their appointment, your guest also receives a personalized email or text reminder, helping you to reduce no-shows.
Customize to suit your business
.
Every website works harder when visitors have an instant route to reach out and book. Your Booking Page can display individual team profiles, for people to schedule meetings with the most relevant specialist.
Based on the integrations you've enabled, your booking system takes prepayments in Messenger, add leads to email campaigns and more.
Bonus: Drop invites in Inbox threads
.
Share a booking invite with a lead or customer during any Inbox conversation. Invites appear as booking buttons within the thread. The invite text and booking link can be different every time, allowing team members to share their individual appointment availability.
There are no additional steps to set this up and you can send as many booking invites as needed.
Experience next-level automation
.
FAQs
.
Yes. By default, new appointment details reflect in your Setmore calendar. However, you can enable calendar syncs with Google, Apple and Office 365. Details transfer to your other calendar in real-time.

Yes, when adding Setmore for Intercom in your Messenger settings, you can specify your booking button's text and heading.

Please note that the same link will apply to all logins in your Intercom account. At the moment, different team members cannot share different booking links.

No. Setmore acts as a pass-through for data that's sent to and from Stripe. Your customers' credit and debit card details are not stored in our servers.

Yes. You can connect your full Booking Page link to your booking button, or choose an individual staff or service booking link. To use a staff booking link, you'll need a staff login in your Setmore account.

Please note that the same link will apply to all logins in your Intercom account. At the moment, different team members cannot share different booking links.

Yes. Enable the Square, Stripe or PayPal integration. Next, open your Setmore web app and go to Settings > Payments > Booking Page. Follow the directions to accept payments from your Booking Page and specify that payment ahead of time is mandatory. Read more about payments from booking page>
For more information, check out our Support Center

Make the magic happen, we'll make sure it happens on time.
Sign me up