Book Appointments Directly from Customer Emails in Gmail
Gmail is a user-friendly email client from Google that works on any device. With Gmail, you benefit from the expansive G Suite Marketplace, where you can install add-ons to enhance your inbox with special features.
How it works with Setmore
The Setmore add-on for Gmail installs directly into your Gmail web client. Open any customer email and then click the Setmore add-on to start booking a new appointment. The appointment will pull date and time info from the body of the email automatically, saving you time.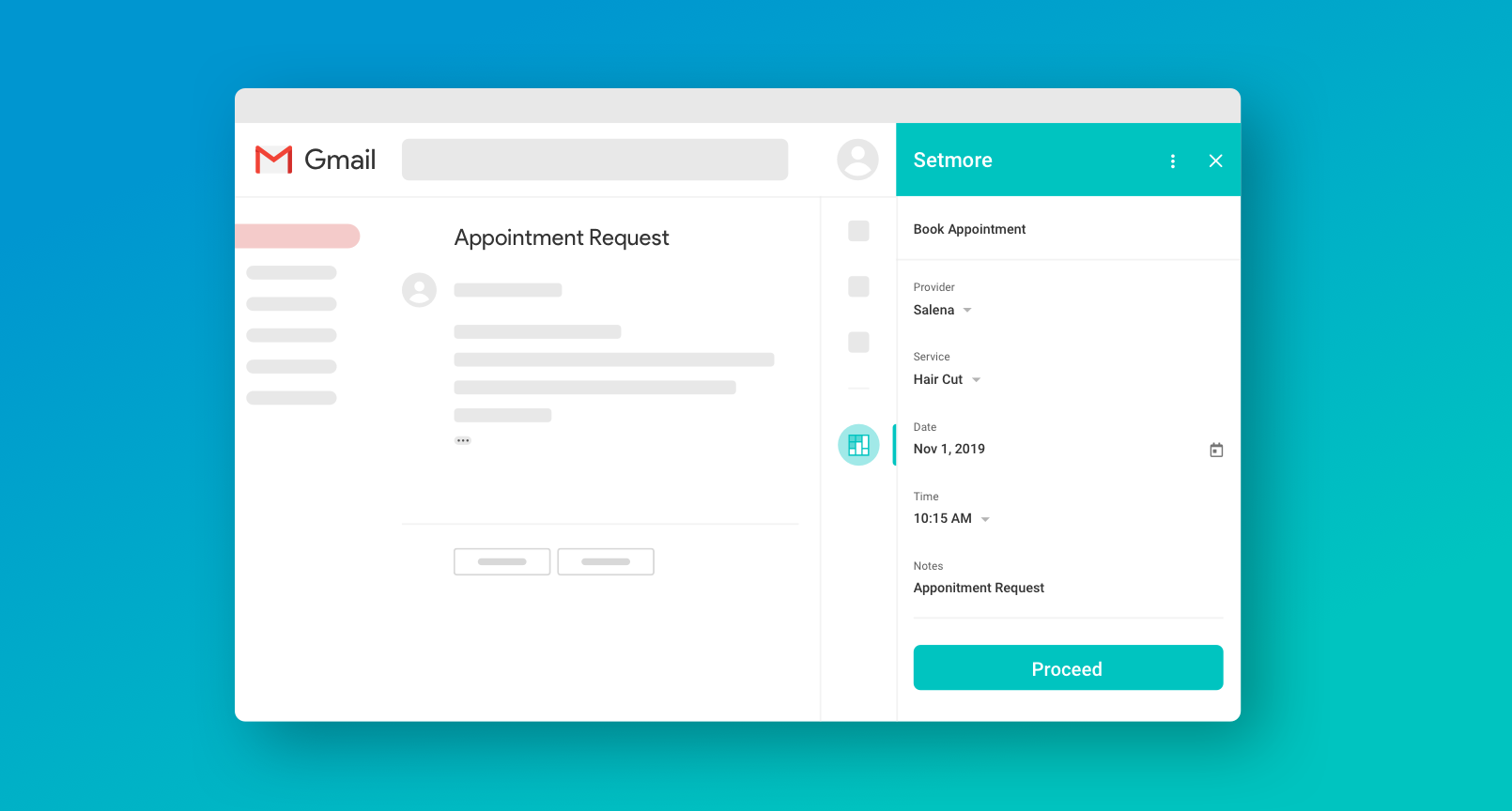 Visit Gmail.com
Free Add-on for Booking Appointments
The Setmore add-on is free to install and easy to set up. Install it through your existing Gmail account, then log in with your Setmore account to link the add-on to your appointment calendar. After activation, you can now click the Setmore icon in your Gmail client to instantly start booking appointments!
Spend Less Time Entering Data
When customers email you with a request for an appointment, the Setmore add-on will instantly copy the date and time into the appointment form. All you have to do is specify the staff provider and customer to complete the booking, and it will instantly appear on your Setmore calendar.
Easy Install Directly from Gmail
The Setmore add-on for Gmail is hosted in the G Suite Marketplace. To install the add-on, first log into your Gmail account. Also make sure you have an existing Setmore account.
Step 1: In Gmail, go to Settings (gear icon) > Get add-ons.
Step 2: Search for Setmore in the G Suite Marketplace and click Install.
Step 3: Open your Gmail side panel using the pull-tab in the bottom right corner. Click the Setmore icon to activate the add-on.
Click here for full step-by-step instructions >
Frequently Asked Questions
I installed the add-on, but where is it?
The Setmore add-on can be found in the Gmail side panel, which appears on the right-hand side of your Gmail inbox. To show or hide the side panel, click the pull tab in the bottom right corner.
How do I make Google events appear on my Setmore calendar?
You may be interested in our Google Calendar 2-way sync feature, which is available with a Setmore Premium account. This will automatically import any Google event to your Setmore calendar, and vice versa. Learn more >
How do I uninstall add-ons from my Gmail account?
In your Gmail inbox, click the gear icon in the top right corner and select Settings > Add-ons > Manage. Click the three vertical dots next to any add-on and select Remove.