Import contacts into Clio from Setmore
.
Automatically send customer details from your calendar and Booking Page to your Clio account.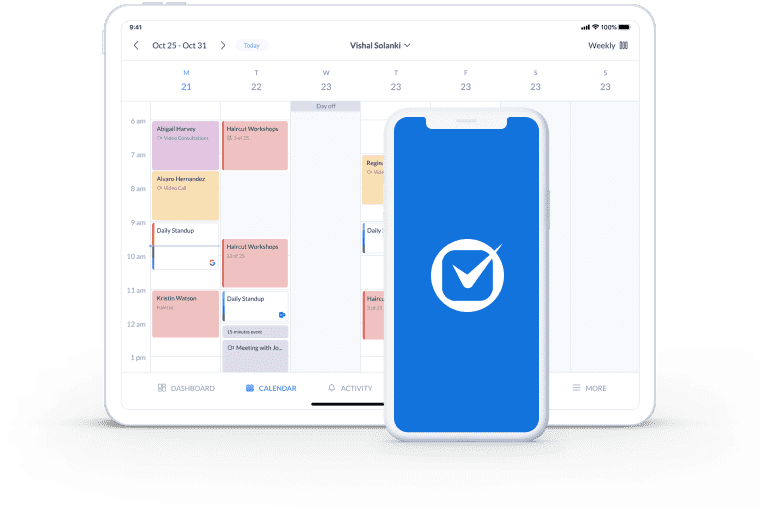 Efficient, end-to-end automation

When clients schedule a consultation via your online Booking Page, their details automatically land in your preferred Clio contact list.

Meet your virtual filing cabinet

Focus on the case at hand with the confidence that your client details are up-to-date, organized and easy to find whenever you need.

Move your paperwork to the cloud

Ensure you and your team have digital back-ups of customer information, stored and accessible in a secure cloud-based platform.
Your all-in-one calendar and client management system
.
FAQs
.
Yes, the Setmore and Clio integration is ideal for enhancing CRM for lawyers. Go to Apps & Integrations > Your Booking Page (Configure) > Booking Policies. Halfway down, you'll spot 'Customer Login'. Tick the 'Required' box.

When new customers book appointments, Clio imports contacts automatically. Customer Logins also account for changes to contact details, so updated information travels from Setmore to Clio.

Navigate to Apps & Integrations > Your Booking Page (Configure) > Booking Policies. Scroll down to the section titled 'Contact Fields'. Here, you can add new data fields to customer profiles. If you're looking to segment your new customers, e.g. for email marketing, this is an ideal way to ask for further details.

Please note, these fields appear on your Booking Page. Customers will be able to input values into these fields when they're booking appointments.

Unfortunately, no. The Setmore-Clio sync integration currently works one-way. New contacts you create in Setmore can be transferred to Clio, but new contacts you create in Clio will not import into Setmore.

You can see your client appointments on your Setmore calendar. They do not appear in your Clio account.

Absolutely. You can take payments from clients directly from your online Booking Page. All customers have access to the Square integration. If you're on a Pro or Team plan, you can also opt for the PayPal or Stripe integration.
For more information, check out our Support Center

Make the magic happen, we'll make sure it happens on time.
Sign me up