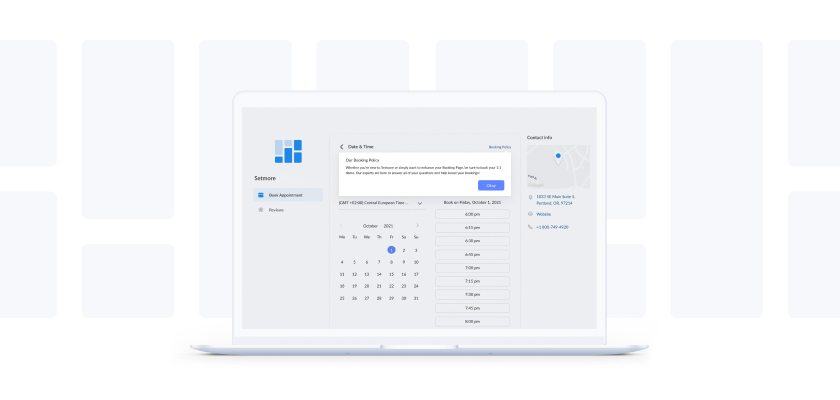 The blog typically highlights the latest and greatest additions to your app. But, we can't forget those mainstay features that help businesses provide second-to-none scheduling. One of these features: custom pop-ups.
Your Booking Page displays your services, availability, fees and more, online. When a visitor accesses your Booking Page, a pop-up conveys crucial info right off the bat. Here's how to create yours and a breakdown of common uses.
How to create a Booking Page pop-up.
Open your Setmore web app and navigate to Apps & Integrations > Booking Page.
Under 'Configure', select 'Booking Policies'.
Scroll to 'Notes for the Customer' and add the text for your pop-up. You have a 223 character limit and the default button under the text is 'Okay'.
Save your changes and check your pop-up appears as needed on your Booking Page.
For an example, view the pop-up our onboarding experts have added to their Booking Page. It offers a few pointers before visitors self-schedule their personalized demo.
Heads-up, you can create a custom pop-up in the web app only. However, visitors can see your pop-up on their desktop, mobile and tablet devices.
Creating a custom terms and conditions pop-up.
T&Cs must be acknowledged before your Booking Page visitor moves on to confirm their appointment.
In your Setmore web app, go to Apps & Integrations > Booking Page.
Click 'Configure' and choose 'Booking Policies'.
Navigate to 'Terms & Conditions' and provide instructions for your visitors. You can add a link to your full T&Cs.
Click outside of the box to save your changes. 
This type of pop-up features a check-box; it indicates that visitors need to acknowledge your terms before booking.
For illustrated instructions, read our support article for Booking Page pop-ups.
What can Booking Page pop-ups be used for?
In addition to displaying your terms and conditions, Booking Page pop-ups have a range of uses.
Special offers.
If you're offering a seasonal or temporary discount, your pop-up can call it out. This is invaluable to both new and existing customers accessing your Booking Page. New customers are more inclined to set their first appointment when there is a limited-time deal, and existing customers get their usual service at a discount.
These types of pop-ups further personalize the online booking experience and can draw attention to particular services. Ensure visitors don't bypass special offers and engage with more services promoted on your Booking Page.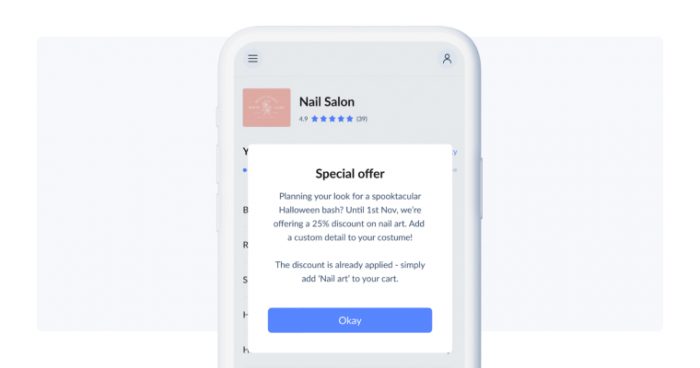 Cancelation policy.
Pop-ups are ideal for informing customers of your cancelation policy before they book. Save time and money by detailing how flexible appointment times are. Do you offer free rescheduling and cancelations? If so, is there a window in place?
Many customers pair pop-ups with payment gateways. If your customers are prepaying, they most likely want to know your refund policy. This helps in the event that they need to cancel their appointment, or if you do.
Pop-ups can prepare your Booking Page visitors for what to expect before their appointment is confirmed. For example, they'll be charged a mandatory deposit. Specify whether this is refundable or non-refundable in your pop-up and avoid confusion if the appointment is canceled.
Pre-appointment info.
Many businesses have location-based policies in place, such as the use of masks or contactless-only payments. Clinics and other medical offices may require client intake forms to be completed. A Booking Page pop-up helps you to outline any expectations of your customers before you deliver your services.
These types of pop-ups can ensure appointments start as soon as possible, and your schedule stays on track. With more customers aware of what they need to do beforehand, they're not rushing to comply with measures when they reach your premises.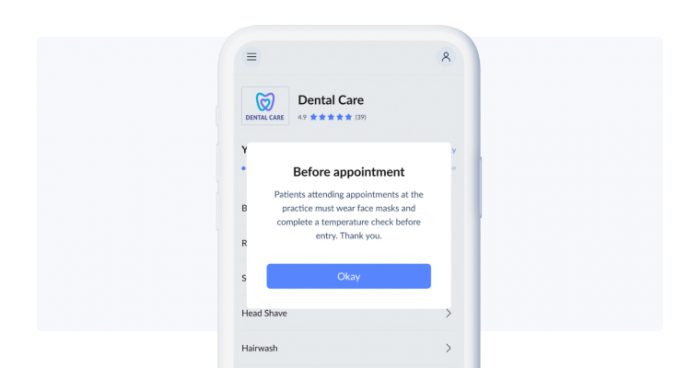 If you travel to clients, pop-ups enable customers to prepare for your arrival. For example, customers are prompted to clean spaces and move furniture before a decorator paints a room. Your time isn't divided as spaces are readied, helping you get to work faster.
You can further highlight pre-appointment details in your customers' email confirmations.
Company news.
Bring traffic to a second location, get eyes on a new bookable service, and more. As your business grows, you'll want to broadcast what's happening to your audience. 
Perhaps your salon had countless requests for tanning services and you invested in some spray tan booths. Ensure you capitalize on new and longstanding interest by introducing the new service in your pop-up. Of course, this works hand-in-hand with your marketing efforts ?
Get competitive by shouting about awards and coverage your business has received. This is invaluable for converting new leads that are shopping around. Pop-ups can instantly show them why your services stand out among the rest.
Marketing.
To enhance your online booking process, be sure to connect it with your business' promotional activities. Your Booking Page pop-up can be utilized to link customers to your website, social media channels and more.
Push your audience to learn about your loyalty program, sign up for your newsletter or receive exclusive content. Every Booking Page visitor could turn into a repeat customer if they join targeted email campaigns with the most current, relevant news for them.
Got your Booking Page yet?
To provide your customer base with the most memorable booking experience, sign up to Setmore today. Every account comes with a free calendar and Booking Page, customizable with your own pop-up. For more how-to tips and videos, head to resources.
Happy scheduling!